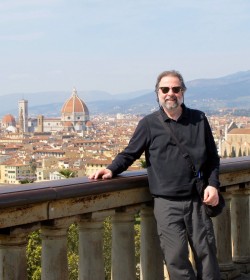 MSUM English professor and published poet Thom Tammaro recently came out with a new poetry collection, published by Red Dragonfly Press. "23 Poems," currently available at Zandbroz Variety and on Amazon, is a compilation 40-some years in the making.
"Some poems were written as far back as the late 1970s, and some as recent as 2015," Tammaro says. "Eleven of the twenty-three poems have been previously published."
This isn't the first time Tammaro has been published by Red Dragonfly Press. In 2009, the press released 135 handmade copies of "31 Mornings in December," a collection of winter-themed poetic verses.
Though "23 Poems" does not have a running theme, its poems are inspired by memories, dreams, and reflections, and follow a more organic creative process as opposed to following any pattern or prompt.
"There's no imposed theme or organizational structure to the collection," Tammaro says. So far, that hasn't kept the book from receiving acclaim from Minnesota's Poet Laureate, Joyce Sutphen.
"Read this book forward, straight through; read it backward, one poem at a time," she advises. "Take out the pages and put them back in a different order… because that's what the poet desires: he wants you to know there's no right or wrong way to read these poems—just let them dance, and you discover a wondrous constellation every time you look up."
Tammaro's other collections include "When the Italians Came to my Home Town" (1995) and "Holding on for Dear Life" (2004), both published by Spoon River Poetry Press. He has also edited several anthologies and has had his work published in journals such as Chicago Review, Midwest Quarterly, North Dakota Quarterly, and Voices in Italian Americana.
Red Dragonfly Press, which is located in Northfield, Minn., was founded back in 1997 as a means of providing exposure for obscure or overlooked poets. Over the years this press has turned its focus to poetry with rural settings and communal and environmental themes.
In 2011, its founder and publisher Scott King edited a 350-page limited edition anthology entitled "Perfect Dragonfly: A Commonplace Book of Poems Celebrating a Decade & a Half of Printing & Publishing at Red Dragonfly Press."
King has also written and published his own poetry collections, translated the work of Greek and Persian poets, and designed the cover of "23 Poems."
"It's a beautiful book, elegant and minimalist in its design," says Thom.
Any upcoming readings or book signings will likely take place later this autumn. For more information, head to reddragonflypress.org.