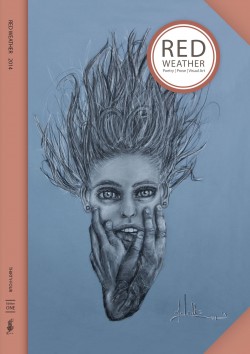 B
This year, MSUM will be printing the 35th issue of its annual literary journal, Red Weather, an independent, student-run project that publishes poems, prose pieces and visual art. Though it has been open to only MSUM students, faculty, staff and alumni in the past, this year submissions are open to anyone residing within 10 miles of the Fargo-Moorhead area.
Red Weather will be accepting submissions until Feb. 15.
"There are no length requirements, but page space is at a premium, so works under 3,000 words are more likely to be accepted," says Kaitlin Priem, who manages Red Weather. "Basically, we look at how much space we have to print on and decide how many pieces of each category we want. From there we select the most polished and creative pieces."
Last year, Priem worked as Red Weather's lead designer, and was selected as managing editor by popular vote.
"We have a team of about 10 people who decide which category of works they are most interested in," Priem says. "From there, each group looks over those types of submissions and selects the best ones. The artist's name does not appear on the work anytime during this process to avoid biased selections."
Issues can be ordered in advance by sending an email to redweather.msum@gmail.com or sending a message to Red Weather's Facebook page. Otherwise copies can be bought at the planned launch party and reading until the end of spring semester.
First released in 1963, Red Weather — originally entitled Convivio — published both creative and scholarly work before shifting its focus solely to creative work. Once Tom McGrath joined the faculty, writing workshops were offered and poetry readings were held regularly, thus generating more interest and material for the journal.
The title comes from the Wallace Stevens poem "Disillusionment of Ten O'Clock," which contains the lines, "Only, here and there, an old sailor / Drunk and asleep in his boots / Catches tigers / In red weather."
"Our purpose is to keep the arts alive and thriving in Fargo-Moorhead and to give credit to the artists who continue to make our community a beautiful and inspiring place to live," Priem says. "If any MSUM students would like to work with us next year, please like or message our Facebook page to stay updated. It's a great resume builder and the people on our team are wonderful and fun to work with. Without our committed and hardworking students, this small literary mag would fade from existence, so we need all the help we can get!"