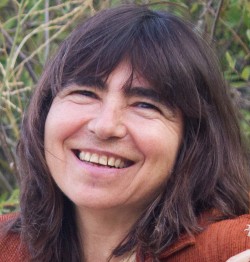 On March 1, Minnesota State University Moorhead's Glasrud Distinguished Lecturer Series will host a panel with writer, shaman and activist Ruth L. Schwartz, with a lecture at MSUM's Library Porch followed by a reading at the Red Raven Espresso Parlor. Both will be free and open to the public.
Her books of poetry include "Edgewater," winner of the National Poetry Series; "Dear Good Naked Morning," winner of the Autumn House Press Poetry Prize; "Singular Bodies," winner of the Anhinga Prize for Poetry; and "Accordion Breathing & Dancing," winner of the Associated Writing Programs competition.
"My first two books of poems contain a lot of stories and images from my days as an AIDS educator, because I wrote many of the poems while I was still doing that work," Schwartz says. "My fifth book contains poems that come out of my hypnotherapy and healing work. I haven't worked as a health educator in many years, but I do still do hypnotherapy and shamanic work."
In addition to poetry, Schwartz regularly has essays published in The Sun and has written two nonfiction books, including a memoir entitled "Death in Reverse: A Love Story."
"In 1995 I donated my right kidney to my partner, and I wrote the memoir to tell the story of the first year after the transplant," she says. "It was a very hard and beautiful year, filled with pain and struggle and deepening love, and unexpected humor, and I found that poetry didn't let me write the whole story out as fully as I wanted to. I actually wrote most of the book during that year, and finished it a few years later, though it didn't get published until 2004."
Her spiritual guidebook, "Soul on Earth: A Guide to Living and Loving Your Human Life," was published in 2012.
"It came out of my lifelong effort to understand what really matters here on earth — how we can live the best, most meaningful and most joyful lives possible, given all the internal and external challenges we face as human beings. It also documents a lot of the shamanic healing methods I've been studying and practicing since 2003, which have had a profound effect on my life, and the lives of many of the clients I've worked with."
For Schwarz, writing in different genres presents its share of challenges and rewards.
"In a way, my writing impulse is always the same — I feel things, I grapple with trying to understand them, and I do my best to put the feelings and effort into words. But writing a memoir required me to structure the story, to tell a sequence of events in linear-enough, but not-so-linear-as-to-be-boring fashion. And structuring 'Soul on Earth' was far more difficult, because there were so many things I wanted to cover. I also had to work really hard to find the right voice, because I wanted the book to be helpful and accessible. With poetry, I don't worry about being 'helpful.' Though of course I hope my poems may help readers. I work much more with sounds and images in poems."
Since 2007, Schwartz has been teaching at Ashland University.
For more information, contact event coordinator and MSUM professor Kevin Zepper at 218-477-2456.
IF YOU GO:
Ruth L. Schwartz lecture and reading
Tuesday March 1
Lecture 4 p.m. Library porch 1104 7th Ave. S Moorhead
Reading 8 p.m. Red Raven Espresso Parlor, 916 Main Ave.
Free and open to the public