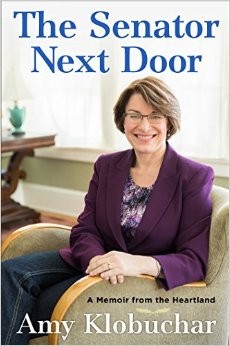 On Sunday, Aug. 30, Sen. Amy Klobuchar's book tour for her memoir "The Senator Next Door" will be passing through Fargo, specifically at Barnes and Noble on 42nd Street SW.
The reading and book signing will begin at 3:30 p.m. Soon after, Klobuchar will head out to Duluth for a reading on Monday night, followed by another at Edina on Wednesday, and finally Rochester on Thursday, Sept. 3.
Recently published by Henry Holt and Co., "The Senator Next Door" chronicles the obstacles Klobuchar has faced throughout her life that have affected her political views and policies. The granddaughter of immigrants, Klobuchar grew up with divorced parents and witnessed her father's alcoholism and eventual recovery. Due to her own experience with a newborn daughter in ICU, she began advocating for laws guaranteeing a 48-hour hospital stay for new mothers and their children.
In 2006, she became the first woman in Minnesota elected to the U.S. Senate, and has since become known for her legislation supporting families, workers and local businesses.
Sheryl Sandberg, COO of Facebook and author of "Lean In," has had good things to say about the book: "Amy Klobuchar's journey is one of incredible perseverance and success. Her story radiates with warmth, humor and candor. I hope it will inspire women everywhere to take part not only in public life, but in all endeavors in their lives, with the same passion."
IF YOU GO:
Amy Klobuchar's book signing for "The Senator Next Door"
Sat. Aug. 30, 3:30 p.m.
Barnes and Noble 1201 42nd St S, Fargo, ND 58103
(701) 281-1002
Free