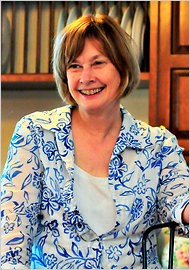 By Lauren Beek
The bestselling author of "Ahab's Wife," Sena Jeter Naslund, will visit Fargo on Oct. 17 through the 19 for a variety of events hosted by the Plains Art Museum and North Dakota State University.
Along with Melville's "Moby-Dick," Jeter Naslund's novel "Ahab's Wife" inspired artist T. L. Solien during the creation of his newest work, "Toward the Setting Sun." This collection is currently on exhibit at the Plains Art Museum, where the opening reception with Jeter Naslund will take place on Oct. 17 at 5:30 pm.
"Sena Jeter Naslund takes a female character only mentioned twice in "Moby-Dick" and builds a tale of epic proportions about a woman whose passionate engagement with the world matches her husband's, but with less disastrous consequences," said Colleen Sheehy, museum director and CEO. "This fictional character was so captivating that T.L. Solien made Ahab's wife the centerpiece of his new body of work."
Directly after the reception, all are welcome at NDSU's Barry Hall to hear Jeter Naslund speak.
"The highlight of the author's visit will be Sena Jeter Naslund's public talk at Barry Hall … she will read from her writing and talk about her craft," said Kelly Sassi, assistant professor of English and Education of NDSU.
Other events over the course of the weekend include a book signing at Zandbroz on Friday, Oct. 18 and a "Writing Workshop for Teachers" on Oct. 19 at the Plains.
"The workshop will be an opportunity for teachers to practice their writing under the guidance of Naslund. Writing workshops with authors are a lot of fun in that authors usually have inviting and surprising writing prompts and activities to engage writers with their own craft. Also, there are opportunities to ask questions and find out more about the author's individual style and working habits," Sassi explained.
And for any students interested in writing, don't miss the Red River Valley Writing Project's National Day on Writing on Oct. 20 at the Plains.
"Both these writing events use literature and visual art as starting points for inspiring original written works," Sassi said. "We are excited and honored to have an author of Sena's stature lead the workshop and share insights on her craft."
Jeter Naslund's visit is supported in part through a grant from the North Dakota Humanities Council. All events are free and open to the public (the writing workshop for teachers requires registration).
IF YOU GO:
Thursday, Oct. 17
5:30 – 6:30 p.m., Author's Reception at Plains Art Museum, 704 1st Ave. N., Fargo
7:00 – 9:00 p.m., Author's Reading at NDSU Barry Hall, 811 2nd Ave. N., Fargo
Friday, Oct. 18
5:00 – 6:30 p.m., Book signing at Zandbroz, 420 Broadway, Fargo
Saturday, Oct. 19
9:00 a.m. – Noon, Writing Workshop for Teachers, Plains Art Museum Registration required, contact Kelly Sassi at kelly.sassi@ndsu.edu
Sunday, Oct. 20

2:00 – 4:00 p.m., National Day on Writing, Plains Art Museum
INFO: All events are free and open to the public, www.plainsart.org/visit/public-programs or www.321fm.org/events.