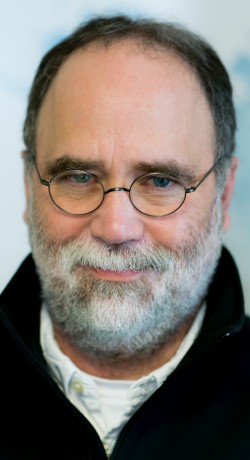 Last Tuesday, travel writer and English professor W. Scott Olsen presented his eleventh book, published by NDSU Press, to a sizeable audience at Zandbroz Variety. The book, "A Moment with Strangers," is a collection of essays and photographs collected from his travels, all highlighting the central theme of brief yet significant chance encounters.
"This whole book is built on the premise of those very brief encounters that you have with someone when you're traveling," Olsen explained. "One of my favorite quotes is from a writer named Saint-Exupéry: 'Love is not staring at each other. Love is staring outward together in the same direction.' And sometimes that 'staring outward together' can be thirty seconds at a gas station in a thunderstorm when you're standing next to someone you've never met before, but you're sharing that event and suddenly you're best friends. In the book sometimes those meetings are with other people, sometimes they're with landscapes, sometimes they're with people I don't even meet."
While patrons dined on sandwiches, stir-fry vegetables, cakes, and soda provided by Mosaic Foods, Olsen began his reading by thanking Zandbroz owner Greg Danz, as well as his colleagues at Concordia College and his editors at NDSU Press.
He then read from his prologue, "A Moment's Dance," which takes place in the Louvre Museum and describes his thought process of photographing a young woman: "I do not know this girl. She will never know I took this picture… This is the image I now carry in my head… the dance of what it's like to be very young and in Paris, at the Louvre.. It is not an extraordinary photograph. But here, I think, is the moment we all treasure."
One way to connect with strangers is through food, as Olsen describes in his essay "Notes Toward a Philosophy of Breakfast." Olsen lists his favorite breakfast foods and restaurants and how they set the scene for meaningful interaction.
"Food is nutrition, yes. It is also circumstance and mood and surprise and joy… The split and toasted blueberry muffins at Jake's Café in Northampton, Massachusetts. The hot chocolate at Le Café in Christchurch, on the South Island of New Zealand… You sit close enough to the other guests that conversation is natural and easy, and soon the room is filled with people who do not know each other behaving like relatives who get along."
YOU SHOULD KNOW
Copies of "A Moment with Strangers" are available at Zandbroz, 420 Broadway N,
Downtown Fargo, (701)239-4729, Mon-Sat 9 a.m. - 8 p.m.; Sun 12 p.m. - 5 p.m.