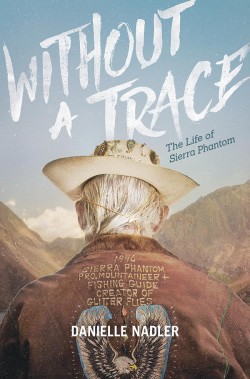 Back in December, journalist Danielle Nadler, a South Dakota native and MSUM alum, published "Without a Trace: The Life of the Sierra Phantom." The book was the result of interviews with John P. Glover, a man who lived off the land with little human contact for 50 years in the Sierra Nevada mountain range in California.
Nadler, who currently runs a community newspaper in Northern Virginia, was introduced to Glover through a mutual friend.
"Within our first conversation," Nadler says, "his story was so compelling and he was really friendly, so at the end of our conversation I said, 'I would love to write a book about you, if you're on board,' and he was definitely on board. I warned him I would be nosy and ask a lot of personal questions. There were some parts of his life he had a hard time sharing, but as our relationship built up, he was more comfortable sharing the more difficult parts of his life."
Glover re-entered society at age 75, when he became more vulnerable to harsh weather conditions. Much of the book deals with Glover's transition to living in a town, where he moved into an apartment, received Social Security, and sat outside a bakery to sell fishing lures.
"He's really quirky-looking, so people began to notice him. That's how he became kind of a local legend. But before that, he was living off the land in the wild and not really connecting with people. So a lot of the story is about his willingness to connect with people later in life, after he spent so much of his life trying to get away from society."
Nadler chose to self-publish this book through Amazon's publishing platform, CreateSpace. She now leads workshops on CreateSpace and encourages other writers to publish their work that way.
"I had a couple offers from agents, and a lot of them wanted a series of books or wanted promises of other books to follow. My passion is journalism and newspaper, so I'm not pursuing a career as an author, necessarily. Amazon has really democratized the publishing process, and it gives people an opportunity to publish things and let the market decide if it's any good."
Nadler will return to her home state in April for the South Dakota Newspaper Association Conference, where she's been invited to speak. She's currently planning on setting up book signings in the Fargo-Moorhead area and in her hometown of Watertown, South Dakota.
"Without a Trace" is currently being sold on the websites of Amazon, Goodreads, and Barnes and Noble, and at several bookstores in South Dakota, California, and Northern Virginia.