​The Lost Prayers of Ricky Graves: James Han Mattson's First Novel
by Brittney Goodman | .(JavaScript must be enabled to view this email address) | Writer's Block | July 7th, 2019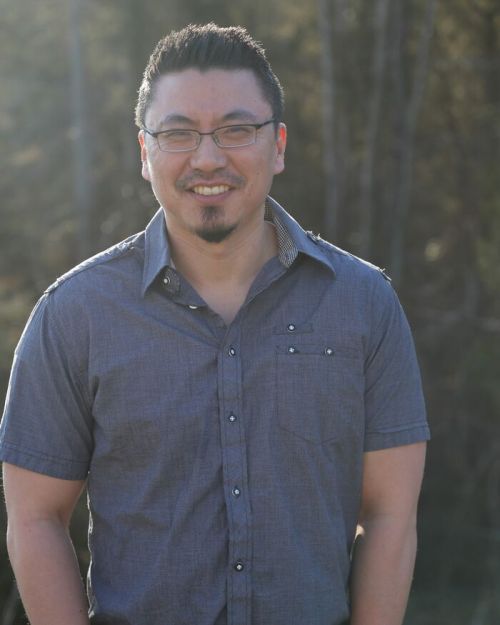 After spending his high school years in Grand Forks, James Han Mattson is now a published author of the novel "The Lost Prayers of Ricky Graves." He will be in North Dakota July 10-11 for book readings in Fargo and Grand Forks, and is also is conducting a young writers' workshop.
Born in Seoul, Korea, Mattson moved to Grand Forks from central Wisconsin when he was ten and graduated from Grand Forks' Central High School.
His first novel, "The Lost Prayers of Ricky Graves," tells the story of a school shooting through the perspective of six different characters. It has received positive reviews from the Los Angeles Review of Books, the New York Post, Lambda Literary, and NPR, and was an Amazon bestseller and Best Book of the Month.
Mattson is an alumnus of the Iowa Writers' Workshop and is a Michener-Copernicus Award winner. He has taught writing across the country and is currently an assistant professor of English and Creative Writing at Murray State University in Kentucky.
Mattson will read at Zandbroz Variety Store in downtown Fargo on July 10 at 5:30 pm and at Archives Coffee House Grand Forks on July 11 at 5:30 pm. He is also conducting a young writer's workshop, a closed event, at the Pride Collective Community Center.
His visit to North Dakota is sponsored by the North Dakota Human Rights Coalition with funding by Humanities North Dakota.
HPR: How long have you been a writer?
Mattson: I've always written, since I was a little kid. When I was real young I would copy books word for word because I liked the act of writing. At the age of 22, I wrote a book, but I didn't try to publish it. After realizing I could write a book, I decided to dedicate my life to it.
HPR: What do you like about writing?
Mattson: A lot of writing is pretty tortuous. The thrill of writing sometimes fades because it is a lot of tedium—to build a world, to take care of your sentences. What I like most is the storytelling – the idea of creating a story that is not particularly my own. I am interested in the lives of other people and how they navigate the world, and fiction allows for that sort of voyeurism. I love conveying stories that will hopefully engage and move an audience.
HPR: If you had to describe your novel, what would you say?
Mattson: This is a very difficult question—and probably the most asked. I spent years of my life on this thing, and now I'm asked to talk about it, which is great, but sometimes I actually get confused about what I've done, and each time I talk about it, my ideas about it change."
The way I describe it in a bare-bones sort of way is this: it's about a high school shooting and it is told from the perspective of six different people all with different relations to the shooter.
It has several themes. One is technology and the way that we interact with each other during traumatic times with social media and other forms of electronic communication. Another theme is the idea of culpability. When a tragedy happens a lot of people want to place blame, and the rhetoric is usually very reductive, taking away the complexity of tragedy. I wanted to complicate the tragedy a bit – none of these characters are at fault but all of them perhaps could have stopped the tragedy. They had some role in what happened. Another obvious theme is bullying and cyberbullying.
HPR: What authors inspired or influenced you?
Mattson: A novel that I think is pretty much perfect is "The Brothers Karamazov." It's funny and heartbreaking and has this sweeping morality to it, but the morality doesn't overwhelm the story itself. It takes a hard look at some tough topics and and examines them from many different angles. It's beautifully complex and expertly executed. I also think Kazuo Ishiguro's "The Remains of the Day" is a near-perfect novel as well.
Other authors I admire are John Irving, Philip Roth, Russell Banks, Donna Tartt, and Marilynne Robinson. When I was younger I read a lot of horror – so Stephen King, Peter Straub and Shirley Jackson.
HPR: In an NPR article, it mentions that your book was inspired by a real life incident, the case of Tyler Clementi, who committed suicide after his college roommate publicly outed him.
Mattson: It was definitely what started the book—I had such a reaction to that news story. When I have a reaction like that, I want to write about it. I was interested in writing about how bullying has become so much more sinister with technological advances.
HPR: Have you experienced bullying?
Mattson: Yes - certainly.
HPR: What was the process of getting the book published?
Mattson: To get anything published in the traditional way, you have to get an agent. I wrote query emails to agents with pages from the manuscript. I queried about 50 agents initially and nothing came of it – although there was some interest, nobody signed me for a while. Was sort of depressing. There was a point when I was teaching at the University of Maryland and decided that I might try to do something completely different. I enrolled in some cognitive neuroscience classes. I wasn't abandoning writing, just thinking of other ways to make a living. Just as I was getting into that, an agent called me, extremely excited about the book. And right after he got excited a bunch of other agents got excited. I got signed within a week after trying for months and months. I worked with my agent to beef up the manuscript, from 60,000 words to 90,000. He pitched it to editors at publishing houses. Then I went through the rejection cycle all over again. On the third round of submissions, three publishers expressed interest. I talked to the editors on the phone and we sold it to Little A. After that, I worked with an editor for about a year.
HPR: What's next? Any new book ideas?
Mattson: For the past three years I have been working on a new book. It's very different. The scope is bigger – it's set half in Thailand, half in Nebraska at a full contact haunted house attraction. It is proving more difficult in terms of research, but hopefully I will have something soon.
IF YOU GO:
WHAT: James Han Mattson Readings of The Lost Prayers of Ricky Graves
WHERE: Zandbroz Variety Store, 420 Broadway N., Fargo
WHEN: July 10, 5:30 pm
WHERE: Archives Coffee House, 3012 University Ave., Grand Forks
WHEN: July 11, 5:30 pm
COST: Free