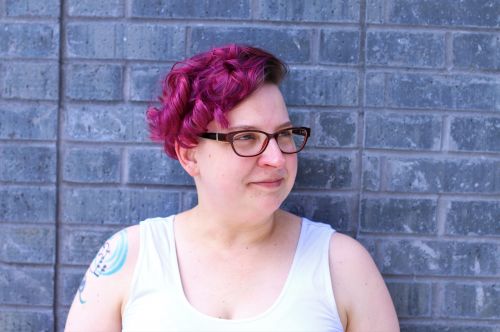 During the next few months, local poet Emily Vieweg will be hard at work on her first full-length book of poetry. With two published chapbooks, a Master of Fine Arts in writing, and an endorsement from our local arts community, it's safe to say Vieweg is heading towards a promising writing career.
"Over the past several months I have pulled together poems, done some editing and formatting, all the necessary business of writing," Vieweg says. "Luckily I have connected with a mentor in Minneapolis to do a manuscript consultation… I hope to have the manuscript complete before the end of the summer, and ready to submit to publishers by winter."
Of the process of finding a mentor, Vieweg explains, "I knew that I needed somebody close to local, and I knew the Loft Writing Center in Minneapolis has many services, so what do they have there as far as that kind of critique and consultation? So I looked on their website and I found a mentor."
When it came to paying for the consultation, Vieweg sought help from The Arts Partnership. Formerly known as the Lake Agassiz Arts Council when it was founded in 1970, this organization supports and advocates for artists in Fargo, West Fargo, and Moorhead.
"Manuscript consultations are very expensive," Vieweg says. "It's typically by the page. So before I placed the order, I applied for a grant through The Arts Partnership, and luckily I got it! I was able to secure these funds and pay for the consultation."
Vieweg's first poetry collection was "Look Where She Points," a chapbook published by Plan B Press. This was followed by a self-published collection, "Conversations with Beethoven and Bach," available through Amazon.
"My first poetry chapbook was a part of my MFA thesis," Vieweg says. "One assignment for my publication course was to submit a manuscript to a small press. I submitted to three small presses, and Plan B Press came out of hiatus to publish my chapbook. I couldn't believe it!"
For her next chapbook, Vieweg looked to classical music for inspiration.
"My poem 'Thoughts on an Appalachia Waltz' came from a scene I visualized as I listened to that piece of music by Mark O'Connor," she says. "I decided to take this inspiration further and create a small collection of poems inspired by the music of Beethoven, Bach, Verdi, and Mozart. I listened to the classical works and felt these images flood in. Beethoven and Bach pieces were the most successful at producing images."
For more information on her work, head to emilyvieweg.com.