The 46th Annual UND Writers Conference, "The Other Half," will take place March 25-27, 2015 at the Memorial Union on UND's campus in Grand Forks. The conference will feature only women authors and artists for the first time since 1973, when Gwendolyn Brooks and Mary McCarthy, among others, shared the stage. The conference will feature readings, panel discussions, book signings, workshops and film screenings. All events are free and open to the public. Free parking is available. For more information, visit www.undwritersconference.org.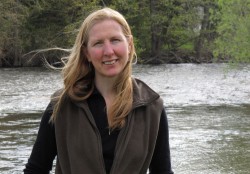 BONNIE JO CAMPBELL
National bestselling author Bonnie Jo Campbell started acquiring writing material early on, growing up on a small farm in Michigan where she learned how to castrate pigs and milk Jersey cows. Her early adventures set the precedent for a lifelong love of adventure seeking. After graduating from the University of Chicago where she studied philosophy, Campbell hitchhiked around North America, took on the Swiss Alps with her bicycle and sold snow cones with the Ringling Bros. and Barnum & Bailey Circus. She also encouraged others to explore and was the president of Goulash Tours, Inc., a company that had her plan and lead adventure tours from Russia and the Baltics down to Romania and Bulgaria.
Campbell has a thirst for knowledge as well as adventure. The 2011 Guggenheim Fellow has two master's degrees, an MA in mathematics and an MFA in writing, both from Western Michigan University. Since acquiring those, Campbell has written several works, including her national bestselling novel "Once Upon a River" and the critically acclaimed short fiction collection "American Salvage."
Currently, Campbell teaches writing at Pacific University in the low residency program and lives with her husband and furry friends near Kalamazoo, Mich., where she continues to work on her well-established newsletter, The Letter Parade, and stays active with Koburyu kobudo weapons training.
Bonnie Jo Campbell will read from her work at the UND Writers Conference at 8 p.m. March 26. She will also participate in the noon panels on Thursday and Friday. All events are held in UND's Memorial Union Ballroom.
~Marie Monson is an alumna of the University of North Dakota.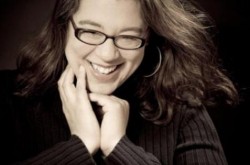 TARA BETTS
Tara Betts, a featured author of the 46th Annual University of North Dakota Writers Conference, "The Other Half," offers a new and contrasting narrative not commonly found in North Dakota. Betts "writes, performs, and loves" in a world where "competition is beauty inherent in the cadence of el trains, toxic pastels in a New Jersey skyline, and the buzzing thrum of hive called NY." Through poem and prose, Betts studies the unique workings of a diverse self and world.
Her debut 2009 poetry collection, "Arc & Hue," explores topics such as home, love, family, gender, violence and race. An excerpt from the poem "Why I Collect My Hair" communicates the conflicts of mixed ethnicity:
Years ago, a college boyfriend left my bed
to go home. His mother honed in
on the brassy streaks
and pulled them off
with what white girl are you seeing?
So, I'm still plucking, gathering up
small tumbleweeds in my palm,
clues that deny brown
coiled inside me.
Betts transforms her interactions with the world, the experiences of women and mixed ethnicities, and the bigger pictures in life into powerful poetry. Betts expresses and shares her talents through performances, projects and volunteer work. She has appeared on the HBO series "Def Poetry Jam" and facilitated short-term writing workshops at community centers, as well as the Cook County Jail and the Cook County Juvenile Detention Center.
Betts currently works as the poetry editor for Blackberry: a magazine and as contributing editor for Radius.
Tara Betts will read from her work at 4 p.m. March 27. She will also take part in the "Living Writing" panel discussion at noon March 25 and 'In the Heart of the City' panel discussion at noon March 27. All events will be held at UND's Memorial Union Ballroom.
~Paula Kaledzi is an undergraduate student of English at UND.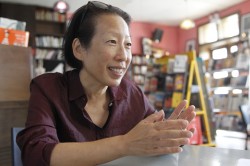 GISH JEN
Celebrated by Junot Diaz as "the Great American Novelist we're always hearing about," Gish Jen navigates the dual worlds familiar to children of American immigrants. "I think that that dissonance led me to become a writer," she said.
Her latest book, "Tiger Writing: Art, Culture, and the Interdependent Self" – a work praised by The Boston Globeas "[p]robing, precise, and extremely thought-provoking" – continues to study this tension through sources ranging from her father's writings about his upbringing in China to Eastern paintings of landscape. Based on a series of Harvard University lectures, the book investigates the role of self-narration in constructing identity between East and West.
"Tiger Writing" also explores questions of how Jen came to write in the "sanctuary of the independent self" that constitutes fiction. Her four novels "Typical American," "Mona in the Promised Land," "The Love Wife" and "World and Town," confront issues of nation and identity in works that The New York Times Sunday Book Reviewcharacterized as an ongoing "search for a true home in multiethnic America."
"Birthmates," a work from "Who's Irish?," her 1999 collection of short stories, was selected as part of John Updike's edited anthology "The Best American Short Stories of the Century," and her story "The Third Dumpster" appeared more recently in "The Best American Short Stories 2013." About Jen's writing, novelist Jean Thompson noted her particular gift for "comedy that resonates and sadnesses that arise with perfect timing from absurdities."
Gish Jen will read from her work at the UND Writers Conference at 8 p.m. March 25. She will also participate in Wednesday and Thursday's noon panel discussions. All events are in UND's Memorial Union Ballroom.
~Paul Murphy is a graduate student of English at UND.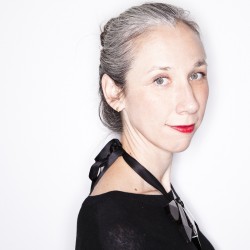 ALEXANDRA GRANT
Alexandra Grant takes a unique approach to literature. Rather than merely reading a text, Grant lets written works inspire her to create vivid expressions of art. The Los Angeles-based artist produces paintings, drawings and sculptures by weaving words and images together to express what she interprets as the essence of the text.
Though much of Grant's work has sprung from the writing of deceased authors, she also works collaboratively with living authors. Known in some circles as a "radical collaborator," Grant has worked with noted French philosopher Hélène Cixous, hypertext pioneer Michael Joyce and actor/writer Keanu Reeves. In response to her artistic process, Grant said, "I'm often asked why I haven't written my own texts. Working with a writer or a text I admire is a commitment to an idea bigger than myself, and a commitment to make the text come alive."
Originally from Fairview, Ohio, Grant completed her bachelor's degree at Swarthmore College in Pennsylvania and her MFA at the California College of Arts and Crafts. She has held nine solo exhibitions and more than 50 group exhibitions. Her work has been shown at the Museum of Contemporary Art (MOCA) Los Angeles and the Los Angeles County Museum of Art (LACMA), among others. She has published two artists books, "The Songs of Maldoror," published in conjunction with LACMA's exhibition "Drawing Surrealism" and "Ode to Happiness," a collaborative project with Reeves, published by Gerhard Steidl.
Grant describes her own work as a process of expression, a means to responding to and interpreting the text. On the purpose of her work, Grant said, "My work investigates where text becomes image and vice versa. I start with specific texts for these explorations in painting, drawing and other media and as a result have collaborated with many diverse kinds of writing and writers, both dead and living. My preference is to work with literary texts, both poetry and prose, that are full of imagery and signifiers and lend themselves to a mapping or parsing process."
Alexandra Grant will read from her work at the UND Writers Conference at 4 p.m. March 25. She will also participate in Wednesday and Friday's noon panel discussions. All events are in UND's Memorial Union Ballroom.
-Brittney Christy is a graduate student of English at UND.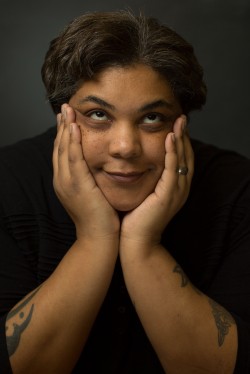 ROXANE GAY
Roxane Gay has works featured in "Best American Short Stories 2012," "Best Sex Writing 2012," "Rumpus, Time," the Los Angeles Times and many other publications. She is also the author of two novels, "Ayiti"and "An Untamed State,"as well as the New York Times bestseller "Bad Feminist."
Self-proclaimed "bad feminist," in a Buzzfeed article, Gay addresses the title of her collection as "I embrace the label of bad feminist because I am human. I am messy. I'm not trying to be an example. I am not trying to be perfect. I am not trying to say I have all the answers. I am not trying to say I'm right. I am just … trying to make some noise with my writing while also being myself: a woman who loves pink and likes to get freaky and sometimes dances her ass off to music she knows, she knows, is terrible for women and who sometimes plays dumb with repairmen because it's just easier to let them feel macho than it is to stand on the moral high ground."
Her writing in "Bad Feminist" and online offers advice for consuming mainstream media. Gay tells us to be critical of messages. Ask who is behind these messages and what is their agenda? What is it saying about gender? Race? Sexuality? Also included in "Bad Feminist"is Gay's take on "Fifty Shades of Grey"and a personal account of playing Scrabble competitively.
While Gay tackles complex issues of privilege, race, sexuality and gender, she is also active on Twitter (@rgay) where she often confesses a deep and passionate love for Channing Tatum. Gay has the talent to take scholarly and complex feminist theories and translate them into works palatable for the mainstream.
Roxane Gay will be reading from her work at the UND Writers Conference at 8 p.m. March 27. She will also participate in Thursday and Friday's noon panel discussions. All events are in the University of North Dakota Memorial Ballroom.
~Sandi Kruse is an undergraduate in the Honors program majoring in English and Women & Gender Studies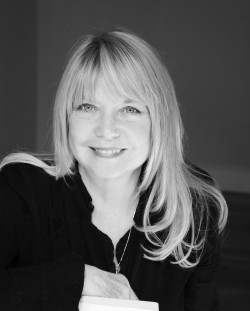 CAROL MUSKE-DUKES
Carol Muske-Dukes was born in St. Paul, Minn., but some of her family hails from Wyndmere, N.D. She was married to the late David Dukes and has written extensively about her experience in Hollywood in her collection of essays, "I Married the Ice-Pick Killer." She is also an outspoken advocate for poetry, declaring in her Paris Reviewinterview: "Writers think there's nothing in the art of poetry for them. They're wrong. I'm a genre leaper. I don't see much difference among types of writing, prose or poetry."
Also a former poet laureate of California, she is the author of seven books of poetry, including "Wyndmere," "Twin Cities" and myriad essays.
Beyond her numerous books of poetry, Muske-Dukes has also established herself as an accomplished novelist. In her most recent book, "Channeling Mark Twain," Muske-Dukes uses her knowledge of words, poetry and meter to construct a novel where each phrase is carefully crafted. It tells the story of Holly Mattox, a young woman who moves to New York City from Minnesota in the 1970s to teach a poetry workshop to the inmates at the Women's House of Detention on Rikers Island.
After offering workshops on Rikers Island herself when she was younger, Muske-Dukes later went on to found the Ph.D. program in creative writing and literature at the University of Southern California, where she still teaches. There she presumably continues to offer some of the same advice on writing that she did in the aforementioned interview: "Most writing students haven't read poetry extensively, broadly, wildly … They read only their contemporaries, no interest in the past as present. Every writing program or conference should offer refresher zones – reading without writing for a brief or long while. Fill up the well if you want to be a writer."
Carol Muske-Dukes will read from her work at the UND Writers Conference at 4 p.m. March 26. She will also participate in Thursday's noon panel discussion. All events are in UND's Memorial Union Ballroom.
~Sam O'Donnell is an undergraduate student of English at UND.