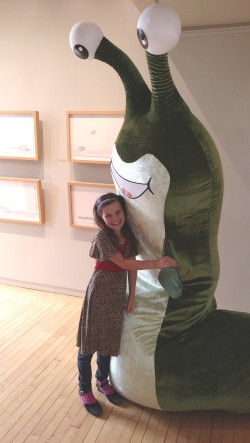 "When I was a little guy, I don't know that this was so long ago -- we didn't have all these formal designations for various learning disabilities and whatnot. I was in special classes for various things but I remember being told very specifically that I could do whatever I wanted -- but there was this weird little caveat at the end of that and that's what the story is about." says Peter Schultz, author of the children's book Peter the Slug.
"All of Peter's friends tell him that he can run the great race -- but remember, dude, you're going to lose because you're a slug."
Schultz is a man of parts. Not only is he an author, archaeologist, conservationist, and entrepreneur. He's also the former Olin J. Storvick Chair of Classical Studies at Concordia College.
He speculates that he searched nearly seven years to find the perfect illustrator for Peter the Slug, Ann Solyst, a former student of his. "She was a watercolorist and she had a very elegant, almost zen kind of style -- so it's very simple illustrations and we just kind of built it after that."
Since it was published during the fall of 2015 it has been translated into Arabic, Bulgarian, Danish, Lithuanian, Nepali, Portuguese, German, English, Icelandic, Irish, Swedish, Russian, and two versions of Spanish. It will soon be translated into Finnish, Greek, Bulgarian, Lithuanian, and Russian.
Part of the Peter the slug project involves Lutheran Social Services as well as Minnesota Head Start. Silver Goat Media has provided LSS with a Peter the Slug welcome package for incoming new American children. LSS staff Amar Hussein and Aayushi Rimal assisted with the arabic and Nepali translations.
Schultz added, "The lady (Rimal ) who helped us do our Nepali translation is looking at it like it's a cool project. It's not what she would normally do in service of incoming kids. I think it's going to offer new opportunities for them too, in terms of outreach."
Cady Mittlestadt, production manager at Silver Goat Media, the publishing company behind Peter the Slug, added "I think they can use that as a tool just because not only the language component but also the story, because the root of the story is --hey you can do it, you can work with what you've got and persevere."
Inspired by the book's Great Forest Race, a second annual Slug Run will take place this Saturday in Gooseberry Park. This free, kid-friendly event will include events such as bear crawls, slug rolls, bunny hops and much more. The event will feature balloon art, chalk art, face painting, bouncy castles, story time healthy snacks, crafts and even massages.
Schultz has also been collaborating with Minnesota Head Start by putting together packages for children in need, including Peter the Slug books and card games. During events, Peter the Slug makes appearances. "He comes in and they go crazy.
Each one of these kids has their own story, right? If you're in Minnesota Head Start, you qualify for free preschool for a number of various reasons. This little guy has a problem with his spine and with his legs. He really loves green -- we didn't know that, of course. He sits on a special green chair because he can't sit on the floor, etcetera."
At this particular stop Peter continued to read and at one point in the story Peter the protagonist realized he couldn't run in the race so he started to roll. Schultz looked up to see the young boy patting his chest and mouthing --"he's like me."
"There wasn't a dry eye in the room. Afterwards the teachers were trying to help him with his bags and he said--no I can do it." said Schultz.
"Everyone is well-intentioned but you have to strike the fire inside. The fire that burns a different way. You have to learn how to tend it and stoke it yourself."
IF YOU GO
Second Annual Slug Run
Saturday, May 20, 12-4pm
Gooseberry Park, 100 22nd Ave S, Moorhead