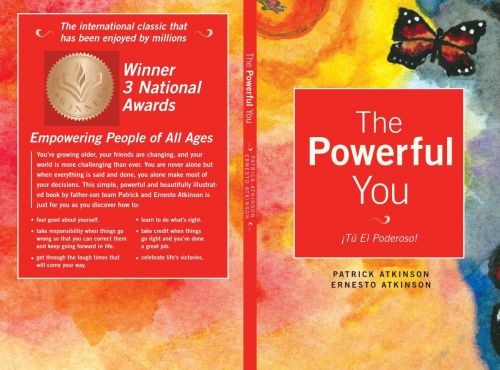 Just last week, the Independent Book Publisher Association (IBPA) announced the winners of the 2019 National Gold Medal—and it turns out one of them is from North Dakota.
Author Patrick Atkinson and his son, illustrator Ernesto Atkinson, received the award in the Gift, Specialty, and Journal division for their 2018 book, "The Powerful You!," published by Beavers Pond Press. This self-help book is geared towards a young audience, and offers guidance on coming-of-age transitional periods.
"Each year I give presentations across our hemisphere to empower our children and teenagers to take charge of their lives," Patrick has said, referring to his work as a keynote speaker. "This is their life, their world. 'The Powerful You!' lays that out in a very straight-forward fashion. It's the perfect graduation or moving-out gift for teenagers and young adults."
Raised in Bismarck, ND, Patrick attended Minnesota State University Moorhead, then lived in New York for a time before moving to Central America. He founded a charity called The God's Child Project, and later founded its sub-program, the Institute for Trafficked, Exploited & Missing Persons. Both organizations have headquarters in Bismarck, Minneapolis, and Antigua, Guatemala.
Patrick's humanitarian work has won him several human rights awards, including the Guatemalan Congressional Medal. Author Monica Hannan has written a book about his accomplishments entitled "The Dream Maker."
His earlier book, "A Message for My Child," was published by Beavers Pond Press in 2012, translated into 11 languages, and became a three-time National Christian Choice Award winner. He has also contributed to the self-help books "Leadership Defined," "Conversations on Faith," and "Conversations on Success."
Though Patrick's son Ernesto was born and raised in Guatemala, he attended North Dakota State University, where he earned a Bachelor's in visual arts, then received his Master's in art therapy from the School of the Art Institute in Chicago.
He currently resides in Milwaukee, Wisconsin, where he manages Integration Healing, a private practice specializing in art therapy. On the facility's website, he states, "As an Art Therapist and Licensed Professional Counselor, my goal is to be a witness to my participant's personal growth by engaging them in an adaptive and creative path of self-exploration."
Ernesto's work has appeared in solo and collective exhibitions in Milwaukee, Chicago, Fargo, Moorhead, Bismarck, Guatemala, and Malawi. "The Powerful You!" is the first book he has illustrated. He is now working on his own book entitled "Integration Art," which will be marketed to fellow mental health professionals.
The IBPA awards have recognized and promoted the work of independent authors worldwide for 23 years. Selections are made by a panel of judges who determine quality of content, design, and production. Later this month, the IBPA will present gold medals to Patrick and Ernesto at an awards dinner in New York City.