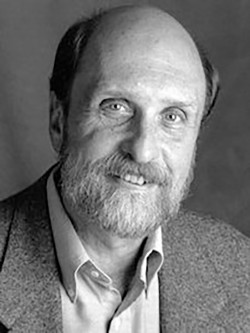 Interview with Mark Vinz about his new poetry collection
Although it's getting close to a decade since local poet Mark Vinz retired from his position as professor of English at MSUM, his literary output is still going strong. Earlier this year Vinz's newest collection of poetry, "Permanent Record and Other Poems," was published through Red Dragonfly Press. He will give a reading of his new work and sign books at Zandbroz Variety in Fargo at 1 p.m., Sunday, Oct. 18.
Later this month Vinz will also be performing Poetry and Jazz with pianist David Ferreira and bassist Bill Law as a part of the Tom McGrath Visiting Writers Series at MSUM, at 7:30 p.m., Tuesday, Oct. 27 in Weld Hall on the MSUM campus. Both his reading and the Poetry and Jazz event will be free admission.
In anticipation of these events, High Plains Reader talked with Vinz about "Permanent Record," how his approach to literature and writing has changed over the years, and what he's got next in store.
HPR: In your new collection, "Permanent Record," your poems are built around memories, progressing through your life, and they are full of specific details from your past. You begin "Head Wounds" with the lines "Remarkable how some things come into / focus again after all these years, perhaps / because they'll soon slip away forever." Was it easy to recall your past and reassemble these moments from your life or are these poems the result of long-lost memories suddenly re-materializing?
Mark Vinz: Many of my poems are indeed built around memories, which is something I've done in my writing for a long time now. And in the book, this grouping is indeed largely chronological, a mixture of what has long been there and what suddenly appears. One thing seems certain — it's easier to remember bits of your childhood as you get older and there are fewer things (like teaching classes) you haveto remember.
HPR: How long have you been working on this collection? Were these poems written over a long period of time and then pulled together because they fit thematically?
MV: Most of the poems were written within the past five or six years but there are also some that go back much further, included (usually after much revision) because they did seem to "fit."
HPR: Judging from the poem "Permanent Record" it seems as though you weren't much of a reader as a child, but "all that changed eventually." Was there a specific moment in your life when you started to connect to literature/poetry in a way that you hadn't before? When did you realize you wanted to study poetry and write?
MV: True, I wasn't much of a reader as a child, but when I discovered science fiction in junior high that began to change. The real connection to literature happened in college, when I began studying literature seriously. In high school (partly because of the launch of Sputnik), I was led to believe that to "matter" in life I'd have to follow a path in math and science. I loved literature and writing but never was encouraged to take it very seriously, though after a year of calculus and an abandoned chemistry major, I gravitated back toward the liberal arts, thankfully. I was terrible at math and science! Fortunately, in college I was able to find some wonderful mentors, which continued when I came to Moorhead State (College) and became a close friend of Tom McGrath.
HPR: What's your writing process like? Have you developed any rituals over the years? Does revision play a large role in how you write?
MV: Once upon a time, when I was working full time, I had to write on a kind of schedule, usually late at night and on vacations, but now that I'm retired I've discovered mornings! In any case, I've always tended to write in streaks. More importantly, I find there's a time for writing and a time for revising, and the latter is where you really learn what you're doing (and discover what your real subject is). My favorite quote in that regard is from the poet William Matthews: "Revision isn't cleaning up after the party, revision is the party." I can't emphasize enough the need for learning to revise — it's the single hardest thing to teach in creative writing courses. Another favorite quote is from the French poet Paul Valéry: "A poem is never finished, only abandoned."
HPR: Are you working on any new projects?
MV: Eventually, I'll put together a collected poems or "new and selected." For now, I'm trying to finish a collection of essays on various subjects, including the writing life. I also have submitted a memoir in prose poems to a publisher.
IF YOU GO:
"Permanent Record and Other Poems" reading and book signing
1 p.m., Sunday, Oct. 18
Zandbroz Variety, 420 Broadway, Fargo
Admisson is free; Copies of "Permanent Record" available for $16