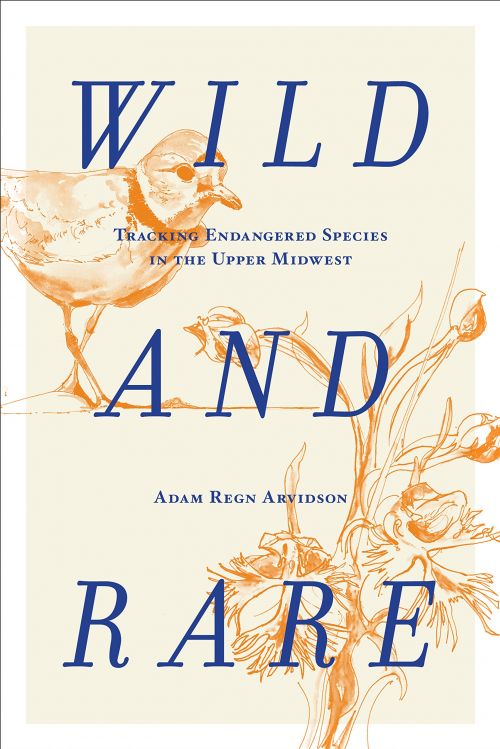 This Monday, Zandbroz Variety will be hosting Adam Regn Arvidson in a reading of his book of essays, Wild and Rare: Tracking Endangered Species in the Upper Midwest, published by the Minnesota Historical Society Press. This event will be free and open to the public, with copies available for purchase.
Arvidson, a nonfiction writer and landscape architect living in Minneapolis, is also the author of Greening the Landscape: Strategies for Environmentally Sound Practice, published by W.W. Norton & Company, as well as an e-book, Nature Writing in America, published by Numero Cinq. Both were released back in 2012.
Arvidson's essays and articles have been published in magazines such as Landscape Architecture and in journals such as Michigan Quarterly Review, Briar Cliff Review, and Flyway: A Journal of Writing and the Environment. In 2009, he received the Bradford Williams Medal for excellence in writing about landscape architecture. He currently works as director of strategic planning for the Minneapolis Parks and Recreation Board.
With Wild and Rare, Arvidson describes the endangered plant and animal species living in Minnesota—everywhere from its forests, grasslands, and prairies to all the lakes and rivers in between—and what can be done to keep them alive and thriving. Species ranging from wolves, lynxes, mussels, and minnows to pine trees, rose roots, and orchids are given detailed profiles of their roles in the ecosystem, their interactions with humans, and the toxic effects of civilization on their natural habitats.
In the interest of coming up with solutions, Wild and Rare also contains input from scientists, conservationists, lawyers, and others invested in protecting the environment, which drives the point home that fulfilling this collective responsibility must be a team effort.
Bill McKibben, author of Radio Free Vermont, has said, "One of our jobs in this hard moment for the planet is to bear witness to that which lives alongside us―especially those glories that seem most likely to pass in our time. This volume is a lovely example of performing that uniquely human duty faithfully."
Despite its exclusive focus on Minnesota wildlife, Christopher Cokinos, author of Hope is the Thing With Feathers: A Personal Chronicle of Vanished Birds, has said, "You don't need to be a Minnesota native or resident to appreciate this quirky and often beautiful quest... [His] book takes you across the landscapes, eons, and emotions as it ground-truths what our relationships to the wild and rare really mean."
IF YOU GO:
Author Event: Wild and Rare with Adam Regn Arvidson
Monday, October 8, 7 – 8 pm
Zandbroz Variety, 420 Broadway N, Fargo