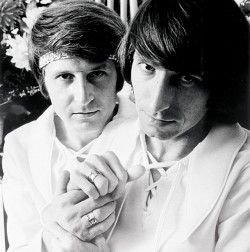 In 1971, over 40 years before the U.S. Supreme Court ruled to legalize same-sex marriage throughout the U.S., Minnesotans Michael McConnell and Jack Baker became the first gay couple to officially marry in the U.S.
On Friday, Feb. 19, 6:30 p.m., at Zandbroz Variety in downtown Fargo, McConnell and Baker will be giving a reading and signing of "The Wedding Heard 'Round the World," their autobiographical account of their milestone wedding.
"The Wedding Heard 'Round the World" is the trailblazing history of McConnell and Baker, following the couple as they navigate through the revolutionary 1960s and '70s, all the while demanding to be recognized as "good as anybody else" and making history in the process. However, the road to their marriage is only half the story – after tying the knot the two had to fight legal battle after legal battle, standing up to discriminatory practices by employers and judicial officials refusing to recognize their marriage.
As a warm-up for the reading event, High Plains Reader reached out to Michael McConnell and Jack Baker for an interview.
High Plains Reader: It's been over 40 years since your marriage. What made you decide to share your story – from your own perspective – now?
Michael and Jack: Marriage equality remains an important part of the gay agenda. As victory neared, we decided it was time to tell a story that credits the University of Minnesota. To us, it was important that young adults knew the when, why and how of their right to marry. My memoir is not just a personal love story of two gay men living openly as a couple. It shows how a struggle against never ending odds need not deny a life filled with pride and joy. I hope it will inspire many young adults and their parents to stand tall, proudly, living their dream.
High Plains Reader: It's been over 40 years since your marriage. What made you decide to share your story – from your own perspective – now?
Michael and Jack: We always believed the right to marry was inevitable. The arguments we made in 1970 are the very arguments that prevailed in 2015 before the U.S. Supreme Court. As soon as we had an official license, we seized the moment and had our ceremony. That assured we were legally married. That way, no matter what the courts ultimately ruled on "Baker v. Nelson," our case for an application to marry initially denied in Hennepin County [Minneapolis] in 1970, we would accomplish our desire – to be lawfully married.
But we did continue pressing our case for a marriage license denied by Hennepin County, going all the way to the U.S. Supreme Court. It was costly and time-consuming to continue, and we didn't really need a decision for ourselves, anymore, since we were already legally married. But we thought it was worth continuing for the sake of other gay couples. If the U.S. Supreme Court had been courageous enough to rule in favor of our marriage license in 1972, think of all the heartbreak and struggles that could have been avoided during the last four decades!
HPR: Your marriage certainly set a precedent and helped prepare the world for the widespread acceptance of marriage equality today. Can you describe briefly how the climate of the early 1970s compares with today's?
Michael and Jack: The gay community was divided back then on the issue of same sex marriage. Many gay activists wanted to concentrate on fighting job discrimination, police harassment, abolishing sodomy laws – getting rid of the threats that drove gay men and women into the closet. Other gay activists thought marriage was beside the point - they were interested in sexual freedom, not long-term commitment. Sexual freedom was actually a pretty common rallying point in the sixties and seventies, among straight as well as gay young people. After all, that was the Woodstock Generation, and many young people thought that marriage was an outmoded institution.
But Jack and I have always demanded full and absolute equality. No exceptions. No excuses. Marriage was the bedrock of our fight, and we refused to budge. We believe – as we have always believed – that gay citizens have the same inherent right to love and happiness as everyone else. If marriage is the way we crown love and commitment in our society, then we demand the same right to marry.
HPR: What was your reaction when the June 2015 Supreme Court ruling on same-sex marriage was announced?
Michael and Jack: It's about time! Seriously, we were and are overjoyed for all the men and women who can finally say "I do" to their lovers. Can you imagine? Love won – after more than 45 years of struggle! And, yes, we feel vindicated. We recognized that marriage was a fundamental right of all citizens in 1970. Finally, in 2015, the majority of America's citizens - as well as our country's highest court – have acknowledged this fundamental right.
HPR: The both of you haven't settled for anything less than equal treatment by the law, and you have always been determined to see that things change for the better. What message would you like to give to others looking to make a change in the world?
Michael and Jack: Our vision – legal marriage for same sex couples – guided the gay agenda for 44 years. It was an issue during four presidential elections. And our vision has impacted other countries, too. In our lifetime, we've witnessed same-sex marriage become a reality in country after country. That transformation of this world into a fairer, kinder place continues to take place. We watch with pleasure as kindred spirits around the globe at last acknowledge what we've always known. Love is the strongest force in the universe. The commitment of two people to love and care for each other is a beautiful, valuable part of being human, a fundamental right of all people. Our advice to others is always to accept only full and absolute equality. No exceptions. No excuses. If you do this, you will win at whatever you endeavor.
IF YOU GO:
"The Wedding Heard 'Round the World" book reading and signing
Zandbroz Variety, 420 Broadway, Downtown Fargo
Fri, Feb. 19, 6:30 p.m.
Books available for purchase at Zandbroz