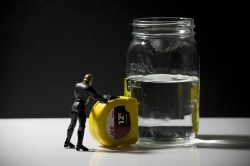 By Elizabeth Nawrot
nawrot@mnstate.edu
I look up from my hotel lobby breakfast astonished to see a framed print of Wassily Kandinsky's "Mit und Gegen," a masterpiece of color and composition that just happens to be my favorite painting. It bursts with vibrant orange-red and bold strokes of black accented with blue geometrics, a study in contrast to my sad little plate of pale eggs and limp sausage. Even the toast just sits there, baffled by the juxtaposition of the mundane and the extraordinary. What are the chances that with stock hotel art consisting mostly of gilded ferns and pastel beaches I would happen upon this unconventional beauty?
My trip so far has included the usual travel atrocities: Mechanical delays, the boarding cattle-call, incredibly expensive airport sandwich (incredibly tiny airplane peanut package), and the typical parade of passenger peccadillos, from the loud cellphone conversation to the cranky baby. The pleasantly surprising Kandinsky print suggests that things are looking up -- and that bothers me.
I am a pessimist, and not just with regard to travel but as a state of mind, a personality trait. Like Candide, I'm a firm believer that optimism is "The obstinacy of maintaining that everything is best when it is worst." If things are going well, then something must be wrong and so I live in a constant state of waiting for the other shoe to drop.
Research shows that pessimism can actually shorten your lifespan. Psychologists who study the so-called Big Five personality traits- like introversion, conscientiousness, and neuroticism -- find that a tendency to view the glass as half-empty can negatively impact longevity.
For example, you've probably heard about the competitive Type A personality, but that sort of ambition comes at a cost. Type A individuals are more likely to suffer heart attacks than their more carefree Type B counterparts. Attitude might even affect cancer survival rates. A British study of nearly 600 women with breast cancer found that patients who expressed a "fighting spirit" were less likely to have relapses than those who reported pessimism or hopelessness.
There are plenty of longevity tests (easy to find online) that use factors such as personality as well as lifestyle, family history, and other demographics to estimate individual lifespan. According to some, a pessimistic personality could sap a whole year from your lifespan, less than smoking but more than being a teetotaler. It turns out that drinking in moderation may actually be better for you than complete abstinence, a result that gleefully led my husband to quit jogging and take up cocktail hour.
I have tried music and art to manage stress, another notorious longevity saboteur, but I'm no Kandinsky. His art seems to express an almost musical composition. Supposedly he heard musical tones as he painted, reporting that yellow was like middle C played on a trumpet. I guess I don't have Kandinsky's sensation-blending synesthesia, except of course for Cyndi Lauper's voice, which sounds exactly like orange jello with whipped cream and pop-rocks (seriously, listen to "True Colors"…).Onboard the flight home, I stab at the reading light only to find that it's inexplicably aimed behind my head. The flight attendant apologizes and assures me that she will inform the captain (so that's what they meant by mechanical difficulties).
Thus unable to keep up on "Celebrities: They're Just Like Us" and "Who Wore It Best?" I lean into the window for a nap. The passenger behind me has similar plans and stretches out, unbelievably managing to thread one leg up between my armrest and the window, her bare foot coming to rest just shy of my elbow-chinrest. I guess you could say that the other shoe has officially dropped. On top of that, the plane sits delayed on the tarmac so I'm sure to miss my connection.
But wait, the connecting flight turns out to be late, too. Maybe things are looking up after all? Damn.