1:48 seconds of Music that Helped Midwife a Cultural Revolution
by HPR Contributor | .(JavaScript must be enabled to view this email address) | Editorial | January 15th, 2020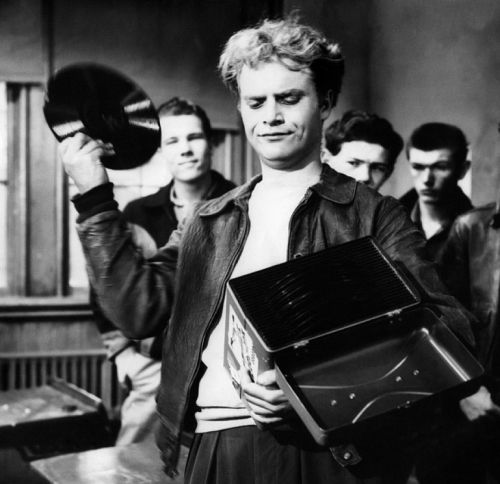 by Gary Olson
olsong@moravian.edu
On New Year's Day, I was sporadically listening to Sirius Radio Channel 5 as they did their annual countdown of top songs from the 1950s and cringing at my fading aural memories. This prompted me to look back on specific years and I noted that in 1954, the list of number one Billboard singles included cloying songs by the likes of Eddie Fisher, Doris Day, Perry Como, Pattie Page, Jo Stafford and Rosemary Clooney, the kind of stuff my parents watched every Saturday evening on "Your Hit Parade" (sponsored by Lucky Strike cigarettes). It was the same White bread fare for the top ten in 1955 with the exception of #6 on the list. And here you must indulge some nostalgia that may or may not purchase any interest.
In 1955, I was waiting in the darkness of my hometown Fargo theater for the film "Blackboard Jungle" to start. I must have heard it was about the challenges facing a white teacher confronted by juvenile delinquents in a ethnically diverse, inner-city high school although I obviously wouldn't have employed that language. Those topics were totally foreign to anything in my sheltered life on the Dakota prairie and the film proved to be an unsettling eye-opener for me. I settled into my seat and suddenly the first scene opened on an empty blackboard and sound powered out of the theater's speakers at an almost ear-splitting volume. First, a drum beat, then an electric guitar played at blinding speed, sax riffs, more drumming, steel pedal guitar and Bill Haley's now familiar intonation, "One, Two, Three O'Clock Rock..." The song continued as the opening credits rolled across the screen, some 1:48 seconds.
Even had I been a precocious young person I could not have given coherent voice to my feelings. I can say that on some vague, undifferentiated level I knew that my life could never be quite the same after hearing "Rock Around the Clock" by Bill Haley and the Comets. It's simply impossible to convey, even now, what it was like hearing the rebellious spirit of Rock & Roll for the first time. The song again played over the closing credits and as an almost twelve-year-old, I left the theater feeling exhilarated but also uncertain about what this experience meant. Only later did I grasp the implicit obligation of youth to use that freedom to question all authority. Robert Palmer, writing in Rolling Stone magazine some thirty-five years later, captured my feelings perfectly when he wrote "We were believers before we knew what it was that so spectacularly ripped open the dull, familiar fabric of our lives...and knew it had the power to change our lives forever."
At some locations showing the film, both here and abroad, kids began dancing in the aisles although not in Fargo's Scandinavian-influenced culture where toe tapping was the outer limit of emotional expression. In other locations, riots or near riots occurred, including some minor vandalism, while a few cities in the South, like Memphis and Atlanta, banned the film. The Atlanta Film Review Board pronounced the film "immoral, obscene, licentious and will adversely affect the peace, health, morals and good order of the city."
Despite all the controversy and undoubtedly to the dismay of many parents, "Blackboard Jungle" received four Oscar nominations. After rewatching it the other day, I felt it held up surprisingly well with memorable performances by Glen Ford as the teacher and Vic Morrow and Sidney Poitier as two of his students.
"Rock Around the Clock" was the first Rock & Roll song used in a Hollywood film and received heavy radio rotation and at more than 25 million, became the single biggest-selling vinyl Rock & Roll single of all time.
Kids danced to it on Dick Clark's American Bandstand (Clark called it "The National Anthem of Rock 'n Roll." Still later it was the first song on the soundtrack for the film "American Graffiti," the theme song for the TV series " Happy Days," and featured in Season 7 of "Dancing with the Stars." RATC's ultimate commodification came in a 2017 TV commercial promoting Subway's new Reuben sandwich.
Finally, and lest we forget, early Rock & Roll was preceded by and emerged from the recordings of many artists who preceded it, especially by African-American music, first called "Race Music" in Harlem and soon renamed "Rhythm and Blues." And a further corrective, as Palmer notes, was that " Much has been made of the Sixties as a vehicle for revolution and social change, but it was Mid-Fifties rock & roll that blew away in one mighty, concentrated blast, the accumulated racial and social properties of centuries." Viewed in hindsight, "...the whole affair turns out to have been the cultural vanguard of a moment toward racial, social and sexual equality that was then only beginning to assume an explicitly political form." (Robert Palmer, RS, 4/19/90) I'm gratified to have been present for a few moments during its conception.