58th Annual Great Midwestern: Viva la revolución!
by Sabrina Hornung | .(JavaScript must be enabled to view this email address) | Editorial | June 21st, 2017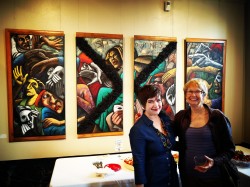 Albert Einstein once said, "The revolution introduced me to art, and in turn, art introduced me to the revolution."
This past Sunday marked the 58th year of the Rourke's Great Midwestern. Though Jim O'Rourke, founder of the Rourke and father of the F-M arts scene, has been gone for a number of years, his spirit is alive and well.
Each year artists from around the country are invited to submit a piece of art with a common theme assigned by the curator. The theme of the Midwestern this year was "Revolution."
Viewers were confronted with imagery surrounding the Russian and French revolutions, feminism, LGBTQ, environmental issues, protest, revolt, organized religion, Native American imagery and reactions to DAPL.
John Lamb, Forum writer and HPR alumnus, and I had the privilege of serving as jurors, meaning we had the arduous task of selecting the top three art pieces, as well as three honorable mentions.
Generally the honor of judging is bestowed upon an artist or one involved with a regional arts organization. This year, curator Jonathan Rutter and gallery manager Cady Mittelstadt invited John and I, as members of the media, due to the media being under siege courtesy of the current administration in a world of "alternative facts."
John and I were on the same page judging the first three pieces, though the honorable mentions were a bit tougher--for the sake of storytelling and sensationalism hashing out the honorable mentions was likely our version of "12 Angry Men," but the real version would be most accurately referred to as "Two easygoing journalists taking care of business."
Judging was an interesting yet challenging task because the subject matter addressed hot topics that were and are discussed in our offices everyday. They were the visual interpretations of the news and conversations that we are surrounded with daily, by the publications that we immerse ourselves in. The multiple perspectives and interpretations of revolution contributed to an extremely important, dynamic, and inspiring exhibition.
During the awards ceremony, Lamb joked that if anyone disagreed with our choices, they could chalk it up as fake news.
Congrats to Sue Morrissey, the first place winner, with her highly expressive and impactful four-panel painting titled Stix and Stones.
Lindsey Brammel received the second place medal with her engaging monochromatic piece, Verbal Exchanges: The transference from mother to daughter, which incorporated her skill as a graphic designer with flawless hand stitching.
Third place medal winner Shane Balkowitsch's collodion wet plate portrait, Death byOil, was extremely striking. Composed of silver and glass, it seemed to echo the turbulent voice of the noDAPL movement.
Also, congrats to honorable mentions John Scott Postovit, Brian Paulsen, and James R. Dean, all three of which took the theme with a lighthearted twist.
In a time of political unrest, visual cues are extremely important. They carry the voice of the people when sound and reason are drowned out.The current exhibition at The Rourke only solidified the importance of expressing our struggles creatively.
We don't necessarily have to agree with each other, but we need to be good to each other.
Well done, Jon Rutter and Cady Mittlestadt. We think Jim would be proud.
The Great Midwestern will be on view from June 18 - September 3. The Rourke is located at 521 Main Ave, Moorhead and is open Friday-Sunday from 1-5pm.
The Best of the Best
Are you excited to see who won? We are, and there are 50+ categories.
Our awards ceremony: it's happening on Sunday, July 16, at the Plains Art Museum, doors at 6, program at 7, and that doesn't mean 7 in the morning. Erik Block is our master of ceremonies. It's an event, but it's a party as well. We hope to see you all there, finalists, friends, friends of friends, and friends we haven't met.
HPR in Norway
Last year HPR and IEI Media began a partnership. The goal was to bring news back from Norway to North Dakota, as seen through the eyes of journalism students. We're excited about our new young writers as they are exposed to a foreign country for the first time. And it's happening again next year! We'll be posting photos and further information online and in social media. Would you like to participate next year? Contact Raul and/or Sabrina, raul@hpr1.com, sabrina@hpr1.com
Don't forget!
Please note that we won't be publishing on July 6. We take two weeks off over the New Year's Holiday, and this year we're taking the 4th of July week off. We may have begun a tradition. We'll be up in Winnipeg for the folk festival. See you there!