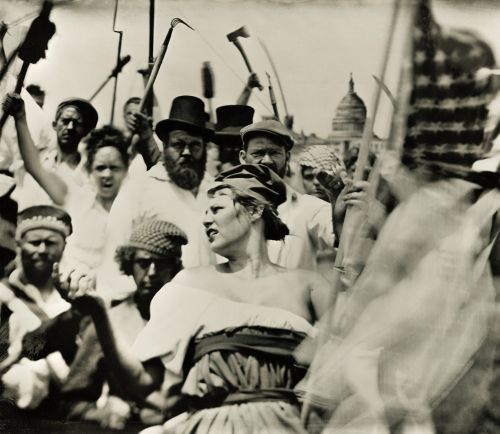 Last week North Dakota made national news again and it wasn't anything for us to be proud of… again. Our friend, collaborator and fellow artist Shane Balkowitsch proposed a 7' photo mural of Swedish climate change activist Greta Thunberg to the city of Bismarck. It was to be funded by Balkowitsch and to be installed on the side of a privately owned building in which a privately run mom and pop business was operating. A local TV station caught wind and all hell broke loose. The business started to receive threats of vandalism and boycotts and the Balkowitsch family soon started to receive threats. Balkowitsch retracted his proposal and soon started to wonder whether or not he should even bother to show his work in his hometown anymore.
The proposed mural featured imagery from an ambrotype that Balkowitsch had created of Thunberg during her visit to Standing Rock High School. He viewed this piece as his most important work. The image went viral with over 2 million likes, 500,000 shares on social media, and was printed by 75 national and international news organizations. The original plate's forever home is at the Library of Congress. Within a day the saga of Balkowitsch vs. Bismarck hit national news.
Within 24 hours he had been contacted by at least 40 national and international news organizations.
The next day his piece "Liberty trudges through injustice," which was based off of Delacroix's famous French revolution era painting "Liberty leading the people," was egged. The targets in which the eggs were aimed were Shane's children who along with 50 other collaborators aided in the production of this piece. Whoever vandalized this piece should be ashamed. Whoever threatened the property owner, the small business and the Balkowitsch family, should be ashamed. Those spewing hatred and ignorance should be beyond ashamed. You are an embarrassment to our state.
If the symbolism of egg in the face of Lady Liberty doesn't stick out like a sore thumb to you, I strongly urge you to stop and reread that last paragraph or perhaps reset your moral compass. A privately funded art piece on the side of a privately owned building is an act of free speech. Do we as North Dakotans want to be perceived as ignorant hate mongers? Because that's what we look like when things like this happen and soon enough that's who we'll attract. It's even worse PR than our state's god-awful new logo and Kevin Cramer.
WIthin 24 hours six sites across the country offered their wallspace and Shane's mural found a home in Fargo behind Front Street Brewing. So, what about this piece triggered the people of Bismarck?
Many western North Dakotans' livelihoods depend on the fossil fuel industry, whether they work in the coal mines or the oil fields. Many see her as a threat to their livelihood because right wing media painted her as some kind of boogeyman who'll take their jobs, but let's be realistic. If and hopefully when our country seeks out greener energy options it won't happen overnight. These things require time, research, education and funding. The second trigger? The mere mention of Standing Rock. Whether citizens were for or against the pipeline, the BisMan area is still deeply divided on the issue. DAPL and the events surrounding the protests are a festering sore. No one wants to admit it but anti-Native sentiment runs rampant throughout our state. Fargo included but that's a whole 'nother can of worms.
It's relatively ironic that North Dakotans would be so adamantly against Thunberg's message, you'd think we'd be stewards of the land with our ag-heavy economy. I think we need to reevaluate our relationship with the land and waterways. Our food and water sources depend on it -- it's a staple to our survival. You may see Thunberg as a radical but she's generating a much needed conversation. As Teddy Roosevelt would say, Bully for her -- not bully her. There's a huge difference. As a conservationist I think Teddy would be really disappointed in the state of our state, especially the pollution of the western edge which he loved so much.
So what's the role of art in all of this? The intent of public art is not to just beautify an area -- but to inspire and provoke thought and feeling within the viewer. To fill in the void when words can't describe. Shane's work does just that. His portraits certainly have soul. At 44 he created his first wet plate and now less than ten years later, he's sharing his work with the world and representing us as North Dakotans for the better. I've worked with him one on one as well as in a group setting. He's a family man, he's a businessman, he has a mind for community and his generosity has no bounds. He just may be one of the most important artists in North Dakota, I mean, he has his own section in the North Dakota State Historical Society's archives, has work at the Smithsonian and so the list goes on. He realizes what he's doing is bigger than all of us and will be here long after we will.
We're proud to call him our friend and collaborator. Thank you for all you do Shane and thank you for sharing your work with Fargo as well as the rest of the world.