​Driving Through Life Defensively
by Faye Seidler | .(JavaScript must be enabled to view this email address) | Editorial | August 8th, 2018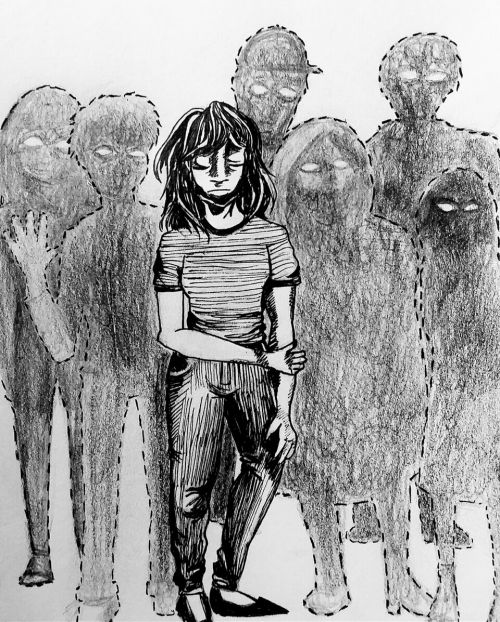 I'm one of the most well known trans individuals in the Fargo/Moorhead area. This is because I've purposely put myself out there as a symbol of visibility. I'm out there to show people that you can be transgender and that you can be happy. I'm also out there to be an open contact that anyone can reach out to with questions or to find resources. In many ways, I've become everything that I needed but didn't have when I was transitioning in this state.
I'm not sharing that to brag, I'm sharing that for context. Despite being so known, despite my name showing up on Google searches, and despite half of my Facebook posts being about transgender issues, I do not mention that I'm transgender at my current or former job. I don't mention that I'm queer in any way. I don't mention nearly anything about myself or the girlfriends I have back at home. And when your life is that of being a trans activist, sometimes it's hard to even talk.
While not just on the job, at every moment of my life I have to make considerations for if it is safe for me to be openly transgender or to be openly a lesbian or openly poly and so on. People like to bash safe spaces because they think it's some ideological safe haven, but the reality is that these places are the ones where you expect to not experience violence or other negative consequence for being who you are.
In many ways the considerations and concessions that people in the LGBTQ+ community make are very similar to the concepts laid out in defensive driving. Since this is a state where nobody knows how to use their turn signal, let me briefly explain what defensive driving is.
"The Safe Practices for Motor Vehicle Operations" defines defensive driving skills as "driving to save lives, time, and money, in spite of the conditions around you and the actions of others." They go on to list some general defensive driving principles like controlling your speed, maintaining a safe distance behind other vehicles, and in general being alert.
This is great advice to consider because the possible consequence of rushing to work to get there on time could getting killed and being dead forever. That sweet feeling of euphoria that some people must get as they ride your bumper like a hungry shark is definitely worth the risk of serious injury if you have to stop short. And while driving a metal monster that weighs a few tons at speeds of 40 or more miles per hour, surrounded by other metal rockets, it's definitely not the best idea to literally take your eyes off the road to text your bestie about plans later on.
When you're transgender and you want to work in a state without any protections, where your employer could fire you simply because you're trans, driving defensively is never talking about your identity. When you can be evicted because you and your husband rent from someone who doesn't like gay people, well then maybe you're just really good friends whenever the owner drops by for an inspection. When you're a gay or lesbian person and talking to a group of coworkers who are talking about their boyfriends and girlfriends, maybe you have a "partner" back home. When you're transgender, maybe you never use a public pool because your body doesn't match any swimwear and going to the pool becomes something that only other people get to enjoy. Maybe when you and your girlfriend are walking downtown Fargo, you don't hold hands or kiss.
At every level of our life we have to make considerations of our safety. We have to be aware of the people around us, we have to pay attention to what they said, and make judgments for how open we can be. We often have to limit our actions because of the possible consequences and usually dance around language to convey some semblance of what everyone else talks about easily, unburdened with our consideration like our bodies or our partners.
Not everyone drives or lives defensively and not everyone experiences consequences for more socially aggressive behavior. There are people who loudly state and defend their identity and love, regardless of the consequences. I'm out there fighting as hard as I can, but I need a job to live and that's when I have to drive defensively.
Fargo/Moorhead Pride is coming up really soon and I want people to understand that this space and this celebration are a time for people to stop driving defensively. It is a time they can be openly themselves, where they can be affectionate in public, talk about their partner, and use spaces without the same fear of consequence they have in everyday life. We don't see a straight pride parade because there is never consequence to being straight.
While this article focuses on LGBTQ+ individuals, I suspect people of color experience a similar world, if not one more sanction by white people with weaponized phones. What I want to leave everyone with is a plea to help make the roads safer for all. We can do this by passing anti-discrimination legislation. We can educate ourselves in policy by attending the LGBTQ+ Advocacy Training being held on Tuesday, August 14th, at the West Fargo Library (109 3rd St E, West Fargo, ND). Please have conversations with friends and family members about what it actually means to be an LGBTQ+ person. It isn't always safe for a person under the rainbow umbrella to advocate for themselves, so it becomes quintessential to have the support and advocacy of our allies. So, basically, let us ride shotgun in your giant metaphorical truck and drive forward to a better tomorrow!