Guns and the human condition
by Diane Miller | .(JavaScript must be enabled to view this email address) | Editorial | January 24th, 2013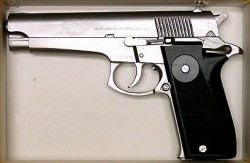 Our opinion/ Let's fight for prevention
Human principle will always prove that prevention yields the most efficient, constructive and positive outcomes. Human principle will always prove that the most effective solutions exclusively attack problems by their roots. Short-term, quick-fix "answers," by nature, tend to backfire.
America's gun violence problem has root issues as well. Unfortunately, because they are hidden, we don't always realize their potency – and we foolishly attach to surface issues instead.
One side offers the notion that if more good citizens carried guns, we'd be safer. We cannot always rely on the police. They inevitably cannot show up in time.
Perhaps more people would have survived the mass shooting at the movie theatre in Aurora, Colo. if a (good) person were carrying a weapon. A school in Utah has already started training teachers to shoot guns, just in case.
In other words, we must trust innocent teachers – or any average American citizens – to perform as sharpshooters in an extremely horrific and terrifying scenario.
Gun handling/safety classes can help, but hardly anyone could afford to pay for truly effective training, which would require regular, ongoing sessions. Just as a college athlete is an ace in season, years down the road, her skills diminish.
Even so, simulating the enormous amounts of fear and stress that extreme violence creates can never be replicated in training sessions. Humans are vulnerable and scatterbrained in times of high stress.
Besides, this "solution" does not address the problem's root. Why arm ourselves for more violence and tragedy when we can just work to prevent it?
A popular reaction to gun violence is to require universal background checks, making it more difficult for people with criminal records and mental health issues to purchase firearms.
Though this rule is unlikely to solve all our problems, it's certainly more ethical, realistic, frugal, non-violent and preventative than gun training.
Because owning a gun is a privilege, its property rights must be earned. This is not a nuisance; it's a blessing. Owning merchandise that not just anyone can have – merchandise that affirms our credibility and responsibility – makes it all the more special.
We commend the president for taking the steps to close the loopholes in our current system, because it's clearly flawed. There are still a number of private gun shops that do not require background checks; and even still, criminals find ways to access firearms with ease.
The human condition
Perhaps the absolute deepest roots of the problem lie in the human condition. While some killers are born with brain damage or suffer from serious head trauma, others are raised from childhood to become violent criminals.
Preventing people from becoming un-nurtured, narcissistic and psychopathic is a grandiose task that, in most cases, is out of our control.
Sometimes, the most grandiose tasks are the most effective; sometimes they are not. Nonetheless, long-term, root-hacking solutions must address the importance of healthy minds. Nearly all dangerous criminal's mental states rot with narcissism, loneliness, sadness and powerlessness.
Our mental health is nurtured through healthy relationships with our family, friends and acquaintances. Those who don't see the value in their relationships with others are more apt to feel powerless, unappreciated and alone.
One idea would be teach human relations and life skills in the classroom. We could start at an early age and have it be a regular course. After all, life skills are a universal necessity for every individual, unlike some other subjects, such as physics and algebra.
How do I deal with stress? How do I deal with bullies? How can I make a good impression on my boss at work? I always lose my homework, keys and other important items, how can I become more organized? My parents are smothering me, how do I approach them about it? My boyfriend/girlfriend is pressuring me into sex, what do I do? How do I become a better listener? All these questions have very meaningful and important answers.
One thing we all can take part in is helping to make our society more empathetic and open-minded. No doubt about it: Loved, appreciated, understood and accepted people have exceedingly low chances of becoming criminals.
The more we do to make compassion part of the status quo, the more we will cultivate happy, healthy people. It starts at home, and it's influenced by culture.