Happy two-year!
by Diane Miller | .(JavaScript must be enabled to view this email address) | Editorial | March 6th, 2014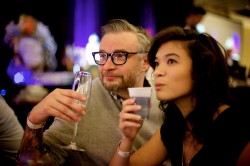 Our opinion/ Tell me what you think at diane@hpr1.com
March is my two-year anniversary as editor-in-chief of the High Plains Reader.
As I usually do, I'd like to push for your honest feedback on my work and the paper as a whole. What makes you pick up the HPR when you see it? What can we do to progress? Do you have a story idea you'd like to pitch?
Email me at diane@hpr1.com. Piece of steak.
While I never thought this is what I'd be doing at the age of 27, I'm 110 percent sure that, in the town of Fargo, there isn't a more fitting job for myself. Yes, I am absolutely still learning (about reporting, the English language, reader sensitivities, copy editing, writing and yah-ta-yah), as I hope I forever will.
But why is this job so fitting for me? It's not because I went to school journalism or English — I did not. Rather, it's because I love art and writing, and I am crazily interested in people, especially those who make a difference and are exceptionally good at what they do.
HPR is a staunch advocate for quality arts, cuisine, entertainment and human resourcefulness. And HPR will forever serve as an alternative voice. Every community needs one, just as every community needs a "normal" or standard voice. Clearly, not all of us think or act "normally," myself included. It's not because we are crazy (for the most part), it's because we are human. We can't all desire and admire the same things.
So with that understanding of where HPR is coming from, come to me with your questions, comments and concerns. Your voice could make quite a difference.
Three cheers for Prime Comedy Club!
I went to the new Prime Comedy Club in Fargo for Chad Daniel's final show last Saturday. I was laughing, screaming, wheezing, yelping, stomach crunching, barking and eye bulging at the comedian.
With a very casual demeanor and delivery, Daniels was able to make the sold-out crowd explode with laughs — especially as he slammed some audience members.
"Do you guys ever get out?" he asked after the crowd responded in shock to some of the things he said about religion, race, his family and one particular woman who kept scowling at Daniels in disapproval. So he absolutely railed on this woman, calling her lewd names and mocking her as people roared with laughter. It was mean. But as someone who has a heart, I thought it was incredible.
"I like your niceness," Daniels said to the crowd. "Outside, but not in here. This is a comedy show. This is not a place for niceness."
Daniels is a Minnesotan who's so shockingly edgy and non-Minnesotan. Not what I expected after watching his so-so performance on Conan. Bring him back — ASAP.
It's about time we found something useful for this "Prime" space, which once was a steakhouse and cocktail lounge. Prime as a comedy club will be the greatest thing that's ever happened to it.
Heck, it's one of the greatest things that's happened to Fargo as of late. At the rate comedy shows are selling out in Fargo, I'd say we're on track to attract big timers like Louis C.K., Zach Galifianakis and Sarah Silverman — cross our fingers.
Not to mention we are also supporting our local comedians by giving them way more opportunities to open for traveling acts. Big up to J.D. Provorse, Adam Quesnell, Spencer Dobson and a number of others I am missing for your hysterical work thus far.
I suppose the only issue, which anyone who's been to Prime is probably wildly aware of, is the peeving, pounding club music next door from The Venue and The Wild Vine. Fortunately, comedy-goers mostly forget about the booming amid their laughter and the undying attention they give to the performer.