​If thoughts and prayers were horses then beggars would ride
by Sabrina Hornung | .(JavaScript must be enabled to view this email address) | Editorial | August 7th, 2019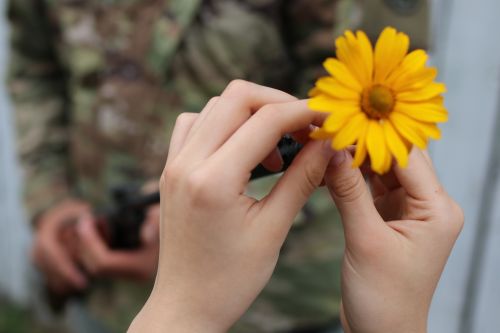 This past weekend there were two mass shootings within a 13-hour period. More than 30 people were killed in less than 24 hours in two mass shootings in Texas and Ohio. Now hold your horses buckaroos, we're not going to talk about guns today, yeah I can already see your jaws tighten and fists clench. What we really need to talk about is the healing process and we need to talk about the epidemic of hate that's spreading throughout our country.
Where do we even start? As of yesterday, three countries, Venezuela, Uruguay and Japan issued travel warnings to our country due to the increase in hate crimes and violence. OUR country--you know our country America, "the land of the free and the home of the brave?"
Maybe it's not just me but lately I get nervous in large crowds… I thought about this when HPR ventured to SXSW in 2018, before we heard about the mysterious package bombs that were being sent to random residential areas in Austin. I was at WE Fest last weekend and I couldn't help but think of the Las Vegas shooting. The people who perished due to these senseless acts of violence in Vegas were just trying to have a good time seeing the bands they loved. Just think about the folks who died in El Paso, all they were trying to do was run errands.
If thoughts and prayers were horses then beggars would ride. We demand action--but what kind of action do we take?
It's only human to try to place blame on something none of us can wrap our heads around. People have been trying to blame music and video games for gun violence since the 90s, bullying has come up in the conversation too, I've also seen online comments about how these mass shootings are the result of people not spanking their kids enough -- cue the collective eyeroll -- another gem placed blame on the fact that the 10 Commandments can no longer be displayed publicly. Uffda.
Mental illness is also a hot topic of conversation. According to nami.org, "one in five adults in the U.S. (46.6 million) experiences mental illness in a given year. Approximately one in 25 adults in the U.S. (11.2 million) experiences a serious mental illness in a given year that substantially interferes with or limits one or more major life activities." Yet these are the programs that are defunded and these medications are the kind that Americans can no longer afford.
It seems that these random acts of violence become more frequent the more we become detached from reality.
Christian Picciolini, a reformed white nationalist said in an interview with The Atlantic, "The internet itself is a platform. Thirty years ago, marginalized, broken, angry young people had to be met face-to-face to get recruited into a movement. Nowadays, those millions and millions of young people are living most of their lives online if they don't have real-world connections. And they're finding a community online instead of in the real world, and having conversations about promoting violence."
These are tough times indeed. We need to collectively and consciously listen more and squawk less. Listen to your friends, your family, listen to your neighbors even those you might not necessarily agree with. Why? It helps shape our perspectives and it helps us heal. Hell, unplug and give someone your undivided attention. A little bit of conversation goes a long way.
Even though we live in a country divided we need to realize the things that we do have in common, even if it is listening to Merle Haggard on a jukebox out in the middle of nowhere.
Maybe we need to work from the ground up and start by looking at ourselves. Maybe we need a moment to reflect upon our own biases to better understand others. Don't give me that "woke" BS. As "woke" as we may be everyone has some level of bias. Recognizing and acknowledging our biases is the first step. We have no control over those around us but we do have control over how we treat others. Maybe the secret to making America great again is to be nice to each other and have civil conversations.