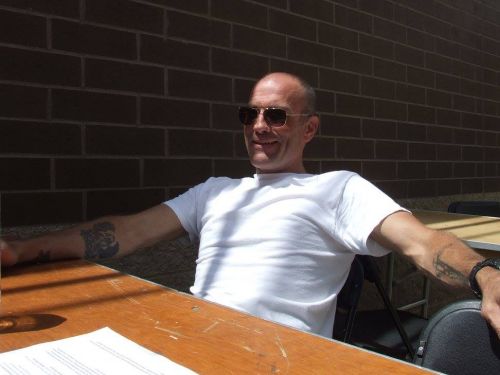 HPR has been a supporter and advocate for harm reduction services here in our community for some time now. We were fortunate to have a strong connection with Jeremy Kelly and there's no doubt he had a lasting positive impact on our perspectives on addiction and its many facets.
Jeremy died last week while facing an arrest for various outstanding warrants. It would appear that he was overdosing at the time of the arrest, but we can't say we know that for certain. Toxicology reports are still forthcoming.
Few voices have been so clear and similarly challenging to our community than Jeremy's over the years. He was absolutely passionate about life and he stood up for countless others wrestling with addiction and yearning for a better life.
Jeremy founded the Good Neighbor Project in Moorhead and then later worked as a harm reduction specialist for Fargo Cass Public Health. It was no secret he was in recovery. In fact, his expertise often stemmed from his own personal knowledge and experience.
We referred people fighting addiction to him. He never failed them. Sometimes it's as simple support, other times he helped them secure housing or even jobs. No matter the time of day, he'd go where he was needed.
Our world and that of countless others is better because of Jeremy.
Auspiciously, HPR published an interview with Jeremy March 16, 2016. It was entitled, "Staying Alive: Jeremy Kelly and the FM Good Neighbor Project."
Some excerpts:
"Addiction is not a disease. It's caused by all the things coming together in your life. It's the person's reaction to it, with the tools they have for dealing with life.
"We help the people we serve find ways to reduce the harm involved with their use, doing things so they don't overdose or catch diseases.
"We distribute clean needles, take used needles off the street. We do naloxone training -- that reduces the effects of opiates in an overdose, and blocks the opiate receptors in your brain.
"We supply other equipment as well, to keep people from using each other's cookers, for example.
"And we do street outreach. I'll do a delivery at two, three in the morning sometimes. I'll go out two or three nights a week, meeting up with people in the middle of the night, after I'm done with my day job."
The Good Neighbor Project was largely funded by Jeremy's own resources, limited as they were, yet essential to others for survival.
"The whole shame thing kills, the stigma behind drug use. It isolates people. They lose touch with society, family and friends. The more you can keep a person belonging and engaged, the better chance they have of overcoming their problems.
"The more time I spend with a client, the more influence I have. They can find value in life again. I see it happen all the time."
While harm reduction is continuing in our broader community, there will be a gap after Jeremy's death. There will also be a huge gap in our own humanity, our collective voice, our will to act to help others.
A dashing fellow with what some would describe as movie star looks, Jeremy was undaunted when it came to speaking up for others at risk and facing discrimination, barriers in society, stigma and fear. He also is remembered for fighting racism and White Nationalists who a few years back attempted to take over a small ND town. Unity ND had Jeremy's fingerprints all over it.
We will miss him, his voice, his passion, his unyielding commitment to others no matter the risk to him personally. We join his family and friends in grieving and we also join in envisioning a better world for all wrestling with addiction, their families and friends.
Some day, just maybe, when the government forces descend upon people like Jeremy armed with badges, guns and warrants, just maybe we'll have changed our culture and the folks knocking at the door are there to help rather than to arrest and incarcerate. Just imagine the different world we'd be in if that were our approach to trying to help folks battling addiction.
Meantime, we have work to do and to continue. Lives are obviously in the balance.
ND Dems support Sanders
While not belaboring the obvious shortcomings visible to us and the rest of the country with ND Democrat presidential preference voting Tuesday, it was immensely gratifying to see hundreds of people braving the elements and standing in line, or perhaps driving hundreds of miles, to simply cast their votes.
We cannot quite fathom the lack of structure and the absence of voting locations for countless thousands of people, yet it is what it is. Even the mail-in voting option was fraught with problems for some, such as this writer who never ever received the requested ballot in advance.
We commend the activists who worked their tails off to get especially younger voters to the polls. Good work!
The blue wave rippled across ND Tuesday and it is eye opening. Obviously living in a rather "social" state helps many here appreciate Sanders' positions.
Much better to have socialism than facism, we'd say. Onward to state and national conventions we now go. And hopefully to a better future, especially for our younger generations.