The world is grieving for Australia
by HPR Contributor | .(JavaScript must be enabled to view this email address) | Editorial | January 22nd, 2020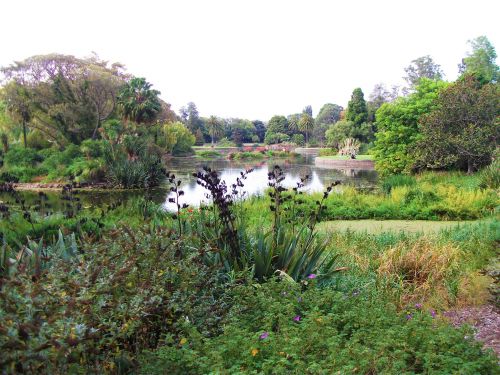 by Erin Thostenson
photo by Erin Thostenson, Royal Botanic Gardens in Melbourne.
ErinAT@far.midco.net
I've lived most of my life in Fargo, but I attended La Trobe University in Melbourne, Australia last year to finish my degree in writing and literature. Australia is a very dear country to me and I care for the people, both the friends that I have made and the regular honest folks who make up the nation, earnestly. It is acutely painful seeing the bushfire and climate disaster they are now facing and surviving.
I know there is not much I can do to help, but I want to help however I can. So, in addition to donating to the NSW RFS and Australian Red Cross, I have written a prose poem to channel the intense frustration and fear that I see in my Australian friends and in myself. It is my hope that this poem may be able to both educate American readers to what is an unprecedented and upsetting global disaster and offer some catharsis to those who are watching and worrying from afar.
Australia is not alone. There are people all over the world who are grieving and want to support in any way they can.
"World on Fire"
When I was 18 years old, I woke up, drew back my window blinds, and saw an acid red sore in place of the sun—bleeding painful, feeble light—staining the sky in a sepia haze.
At that moment I knew—I more than believed, I knew—through the burning in my eyes, the draining chill on my skin, the sudden void in my chest where my heart used to be. I knew— through the soul that I didn't know I had—that the world was ending.
When I was 18 years old, I woke up and saw the sun blazoned in the color of boiling blood, and my body decided for me that the sun was dying, which meant the earth would soon be sucked into the nothingness of unknown space in a moment of ultimate destruction, which meant that all life and all history of life and all future of life and all the life I knew would be beyond gone—ashes swept from the hearth into the night—which meant that my life was condemned, and soon I would be less than nothing and nothing could be done.
I walked downstairs and my mother told me that fires from up North blew smoke hundreds of miles to where we were. She said the fires had been put out. By the afternoon, the sun was bright, and the world had not ended.
But that was five years ago, and now flames burn hotter, smoke blows farther, and nothing can put out the world that is on fire.
Today, a woman in Sydney wakes to the sound of her son choking, retching from the center of his chest, strangled by the air around them—the air, seeping under doors and around window seals, through dog flaps and rusted vents and cracking foundation. The air around them—acrid, venomous smog designed to claw into lungs and squeeze. The air around them—that was once fresh, clear, clean.
Her son coughs in all the ways an engine sputters when you fear it will never start again.
She quit smoking six years ago when she decided she would dedicate herself to the life of her baby, who was born early with eyes bright, clear, clean.
But now, it hardly makes a difference as each day, the city wakes up to a skyline obscured by dull orange poison—hundreds of millions of spent cigarettes, divided up and assigned to every living thing with extreme prejudice. Each day, the city wakes up to the air around them—which they once breathed in as an essential rite to life, but now they swallow down as an unavoidable punishment wrought by those who chose to light one match after another until the world had no choice but to burn and not stop burning.
Today, a woman in Sydney wakes up, looks to the sky, and sees an acid red sore in place of the sun, bleeding and staining every last corner of the country she loves.
In that moment she knows—through the burning in her eyes, the shaking of her hands, the shattering of her heart that pierces her insides and stings and won't stop stinging—that the world is ending.
Today, a man in East Gippsland wakes three hours too late to save the life he has built, the life that his people have built.
The fires changed direction while he was sleeping, whipped recklessly west to his doorstep by wind that it created from its own wickedness. The fires—that can kill from hundreds of meters away. The fires—ripping across the land as an apparition of an old and unheeded evil, finally finishing what it set into motion 250 years ago: terra nullius tandem et aeternum et aeternum. Is this what you wanted? No man's land because there will be no man and there will be no land?
The man in East Gippsland hides in the deep water pooled by the dam he built nearby—built to transform the forest year after year into something verdant, vivid as the rich earth, teaming with vibrant life. He stays submerged for hours in the black water, floating to the surface only for furtive gasps—the border between liquid and sky now becoming the thin line between life and death, flickering possessed by distorted reds and yellows. He hides in the water until the fuel is exhausted and everything he built is razed to the ground—salted to its very foundations.
He surfaces and sees the sky above as one encompassing wound—a gash above the skeletons of trees that will not grow back for 100 years, a burn smeared in the painful red of raw, angry flesh.
He sees no moon, because it has been eaten. He sees no sun, because it has been burned out. In that moment, he knows—knows through the burning in his eyes, the set of his jaw, the way his body has been drained of all sentiment, feeling, and emotion, comprehending that which is beyond comprehension—he knows that the world will not end, because it has already ended.
Donation Links:
Australian Red Cross (https://www.redcross.org.au/campaigns/disaster-relief-and-recovery-donate)
New South Wales Rural Fire Service (https://www.rfs.nsw.gov.au/volunteer/support-your-local-brigade)
Victoria Country Fire Authority (https://www.cfa.vic.gov.au/about/victorian-bushfire-relief/donate)