Top 13 songs of 2013
by Diane Miller | .(JavaScript must be enabled to view this email address) | Editorial | December 19th, 2013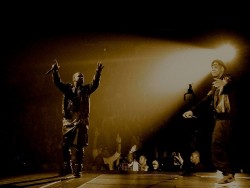 1.Kanye West – "New Slaves"
Not only is Kanye's flow incredibly sick on "New Slaves," so are his rhymes about injustice, power and hate. Yes, I'd much rather be a d**k thank a swallower too, Mr. West.
2.Beyoncé feat. Frank Ocean – "Superpower"
Extraordinary harmonies, extraordinary atmosphere and extraordinary originality – "Superpower" is an immediately satisfying listen. It's off of Beyonce's new visual album, "BEYONCÉ," which has only been out for a few days. Christmas gift?
3.Iron & Wine – "The Dessert Babbler"
"Glorious" is the best word I can think of to use to describe this song. Listening to "The Dessert Babbler" will make you feel warm and fuzzy with its sweet harmonies, Sam Beam's quintessential calming voice and its savvy and smooth instrumentation.
4.Lorde – "Royals"
What a sultry vocalist you are, Lorde, for a 16-year-old. What makes this song effective is its minimalism, reverb and thick beat; its hop-skipping b-section ("but every song's like …") and of course the vocal swell up to the word "Rooooyals!" This ship is hot, yo.
5.Arcade Fire – "Reflektor"
The Arcade Fire is simply one of the best alternative rock bands of our generation. They are so innovative and musically gifted. "Reflektor" is as weird and complex of a single ever, just as it incredibly superior of a single as ever.
6.Vampire Weekend – "Step"
Vampire Weekend took its idea for "Step" from one of my absolute favorite '90s hip-hop groups, Souls of Mischief. And ah, what a beautiful, quirky and banging tune Vampire Weekend created with the lyrics "Everytime I see you in the world you always step to my girl," which is actually a sentence coined by '90s rapper YZ.
7. Justin Timberlake – "Don't Hold The Wall"
Of course, anything Timberland touches with Timberlake turns to gold. This is certainly the case with "Don't Hold The Wall." Its primitive drum beats, unsettling distorted horn lines and creepy female wailing in the background contrasts well with Timberlake's pretty voice singing over a slick melody. Have you got your JT Fargodome tickets yet?
8.Caroline Smith – "Bloodstyle"
Minneapolis singer/songwriter Caroline Smith has gone all R&B on us with her newest album, "Half About Being A Woman." Nearly every song on that record is gem, though "Bloodstyle" stands out exceptionally well because it doesn't try, it just is. Just listen.
9.The Strokes – "All The Time"
Just because no one else seems to think rock n roll is cool anymore, doesn't mean we can forget about how incredible of a band The Strokes is. "All The Time," compared to many of The Strokes' newer Julian-sings-falsetto songs, feels quite familiar to our favorites like "12:51" and "Last Night."
10.Bruno Mars – "Treasure"
We like "Treasure" -- and pretty much all Bruno Mars songs -- because he keeps grade-A classic disco/funk/jazz grooves contemporary and in the hands of our children and pop music lover alike. Though hipster media sources like Pitchfork and Spin seem to prefer pop stars like Drake and Janelle Monae, we think they are making a mistake by overlooking this charming little Filipino gentleman.
11.Haim – "The Wire"
A girly group out of LA that's sweet, sassy and hip? It's easy to fall in love with Haim's vocal style just as much as it is easy to fall in love with their uber catchy and cool-ishly bouncy song style, especially in "The Wire."
12.Jonny Lang – "Blew Up (The House)"
Not just because he is from Fargo, rather, Jonny Lang on this list be because "Blew Up (The House)" is truly an amazing song. For those who love gospel and rip-roaring male vocalists, give this song a listen.
13.Chance The Rapper – "Juice"
Chance is so erratic and often hard to understand lyrics-wise, but his energetic bad-boy character in the track "Juice" is incredibly attractive.
Honorable mentions:
The National – "Don't Swallow The Cap"
Earl Sweatshirt – "Whoa"
Volcano Choir – "Comrade"
Blue Fairy Godmothers - "Never Knew"
How would your list be different? Let us know on Facebook or Twitter.