​Welcome to America
by Diane Miller | .(JavaScript must be enabled to view this email address) | Editorial | September 19th, 2013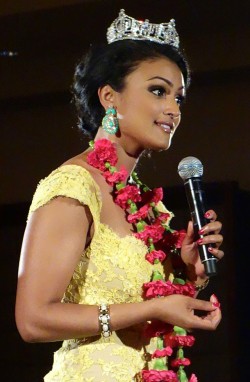 Last Monday, Buzzfeed.com published a list of tweeters who made racist comments about this year's Miss America winner, Nina Davuluri, an Indian-American.
The list included the names and links to the accounts of each of the offenders. After clicking through every account posted on this Buzzfeed page, we found nearly all of the accounts had been deleted or suspended.
In fact, the only ones that were kept active were by foul-mouthed, unapologetic dudes continuing the conversation and keeping on the defense, basically saying, "I'm just an ass. Bite me."
Obviously, the people who deleted their accounts are embarrassed by their reactions.
Though, perhaps they don't quite fully understand why yet. And perhaps they may even feel defensive about their remarks but won't admit it. After all, they probably were pure, honest reactions. And anytime we are bombarded with enormous amounts of criticism, it's only natural to feel defensive.
It's an interesting thing to think about: How are these embarrassed folks deep down defending their racial remarks?
"She was dancing like an Egyptian or something on stage at an American event. Real Americans don't do that," one might say.
Real Americans don't value cultural diversity? Real Americans don't value their ancestry?
We believe most of these uninformed Twitter users are not horrifically bigoted, terrible people. They are just culturally uninformed.
Unfortunately, nobody informed some of these white folks that some 100 percent Indian-blooded people are also 100 percent American.
For example, here are some of the tweets:
"I swear I'm not racist but this is America."
"How the f*** does a foreigner win miss America? She is a Arab!"
"Miss New York is an Indian.. With all do respect, this is America."
Nobody told these uninformed white folks that not all brown-skinned Asians are Arabs either.
Ah, what a fantastic time for us cultured Americans, like many of the Miss America judges, to catch the sheltered ones up to speed. Because those who are unwilling to accept that "the real America" will forever be racially diverse are doomed to lead defensive, exhausting and shallow lives.
Yes, Davuluri was born and raised in the United States. She talks like an American, walks like an American, dreams like an American, dresses like an American, wears makeup like an American and smiles like an American. She's 100 percent Indian – kind of like some of us are 100 percent Norwegian.
So by a racist person's standards, a true American is someone whose descendants are from Europe or Africa – someone like Miss Kansas: a dreamer, passionate, beautiful, go-getter, someone who's using her smarts to learn another language to communicate with the outside world. By a racist person's standards, only white people (and maybe some blacks) have these true American attributes.
My mother was born and raised in the Philippines. I guess that makes me a foreigner to people who think Davuluri isn't American. Apparently I'm not a true American because I was raised by someone with Filipino values, someone who sometimes spoke to me in another language and taught me how to perform Filipino songs and dances.
And yet no one would mistake me as a foreigner past my looks. Ever.
So let's get this straight right away: If you were born and raised in America, you are American. Even if you were not born and raised in America, but you are a citizen, like my mother, you are American.
It would make perfect sense to protest the win of a Miss America contestant who's only spent a portion of her life in the States. It would make perfect sense to protest the win of a Miss America contestant who has poor values or is indecent.
We trust that the "world's largest provider of scholarship assistance for young women" has excellent judgment on who deserves to win such a prestigious award.