​Wranglers, rhinestones and misappropriation
by Sabrina Hornung | .(JavaScript must be enabled to view this email address) | Editorial | June 12th, 2019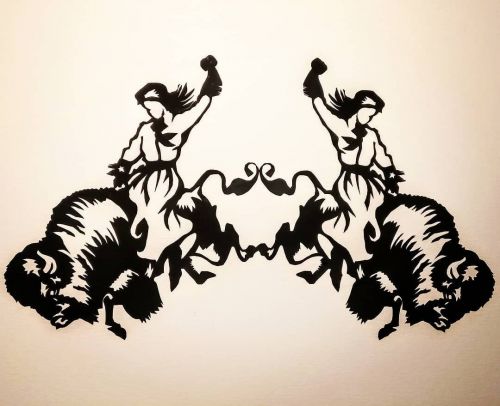 I think Steve Earle described the current state of pop country music best when he said, "The best stuff coming out of Nashville is all by women except for Chris Stapleton," he said. "The guys just wanna sing about getting f***ed up. They're just doing hip hop for people who are afraid of black people."
Talk about having Thundercat "Sight beyond sight" with the relatively recent uproar surrounding Little Nas X and his collaboration with Wrangler. In case you haven't heard a bunch of yokels got their panties in a bundle about the collaboration and are crying, "CULTURAL APPROPRIATION!" Which makes about as much sense as a straight pride parade or boycotting Yeti coolers in honor of the NRA. Cue the collective eye-roll.
According to dictionary.com the definition of cultural appropriation is: "The act of adopting elements of an outside, often minority culture, including knowledge, practices, and symbols, without understanding or respecting the original culture and context." I'm going to take a long shot here and assume--and we all know what they say about assuming--but I'll assume that the folks "boycotting" Wrangler aren't a minority culture.
Little Nas X is categorized as a rapper, he's from Georgia and his song "Old town road" features Billy Ray Cyrus. It has been at the top of the Hot 100 country Billboard Charts for the past ten weeks now. Back in April it went from No. 15 to No. 1 and was removed because it wasn't quite country enough.
According to the lyrics of David Allan Coe's song, "You never even called me by my name" the recipe for the perfect country and western song involves mentioning his (or her) mama, trains, trucks, prison or getting drunk and there's none of that. There's also no mention of a dog, or his lady leaving him. Though he did mention cheating on her so it might be a matter of time. I do hope that he gets bonus points in the eyes of DAC for mentioning his horse--I doubt it though.
According to billboard.com it was removed because of its trap beat, limited country airplay and "no involvement by Sony Music Nashville and mixed categorization and playlisting on leading streaming services."
By Golly do you think them rap-metal fellers had such a hard time being categorized? That was back in the 90s--you know the good 'ol days before streaming services existed. Then again upon seeing his success and the difficulty of trying to categorize his sound in lieu of countless acts that sound like stale regurgitated pop by some dude in an expensive cowboy hat with three first names. There's something about this that feels fishy.
What in the honky tonk badonkadonk is going on here? Well how country is mainstream country anyway? Themes within their lyrics, beats and videos most certainly borrow elements of hip hop culture, so why is Little Nas being singled out in the age of hick-hop? Then again, how many African American country acts can you name other than Charlie Pride and Darious Rucker?
Might we also note that Little Nas has hella style? Imagine enough heavy embroidery, long fringe and rhinestones to make Nudie Cohn proud--no wonder Wrangler reached out.
In 2016, HPR had the opportunity to chat with country legend Garth Brooks. In speaking of his own influences, the conversation led to his perception of contemporary trends in country music. He raised the question, "What were these kids raised on? Hip hop and dance beat driven stuff. Old guys don't like it and say that ain't country, but that's what happens each time you turn the page."
It's interesting especially when terms like "country-trap," "hick-hop," and "hip-haw," have been used to describe hip hop infused country. It's a far cry from the country my grandpa and I used to listen to together. He once told my grandma that we don't like country music unless, "It sounds like a rocking chair goin' over a cat's tail." Full disclosure: I love a good yodel.
A couple weeks ago we wrote a piece on the Cowboy Poetry Gathering in Medora and even had a chance to speak with Meg Glaser, the Artistic Director of the Western Folklife Center in Elko Nevada. The Western Folklife Center is a cultural center that is dedicated to preserving the history and culture of the American west. It is also home to the National Cowboy Poetry Gathering which recently celebrated its 34th year.
In 2020 the cowboy poetry gathering will focus on the African American cowboy and their contributions to (real) cowboy culture, "whether on the ranch or in the rodeo arena, past and present," according to nationalcowboypoetrygathering.org.
When asked to tell us a bit about how diverse cowboy culture really was Meg Glaser replied, "A lot of people use a service statistic that--in those early days of trail rides one in four were black cowboys. Over the years we've presented Mexican and Mexican American cowboys. There's a real strong heritage of cowboying in Mexican culture and a lot of the cowboys in this region are Latino, they're some of the best cowboys, also in this area a lot of Native American cowboys--much like North Dakota."
With the post civil war influx of freed slaves and civil war veterans looking for work. Many found jobs "punching cattle" on the range. Can you imagine the stories, songs and spirituals that found their way around those campfires? When it comes to cowboy poetry, oration is key. So spoken word lyricism is nothing new to country and western culture.
Keep in mind, the folks in Western Folklife Center in Elko Nevada aren't referring to the Coca Cola cowboys of mainstream country radio. They live and breathe real working cowboy culture and have made it their mission to preserve it.
Back to this whole cultural appropriation malarkey surrounding Little Nas and Wrangler. We'd like to know what exactly is being appropriated, spoken word oration or an African American man dominating the country charts, wearing wranglers and making them look good. Black cowboys are a distinct part of cowboy culture that has all too often been overlooked and whitewashed. In fact (real) cowboy culture is incredibly diverse. Whether or not he's considered "country" that's in the ear of the beholder. I mean, it's definitely not a "rockin' chair goin' over a cat's tail," but 'Merica needs to learn and accept that sounds, tastes, and the times they are a' changin.'