A Gold Toilet and a Heat Wave
by Ed Raymond | .(JavaScript must be enabled to view this email address) | Gadfly | October 2nd, 2019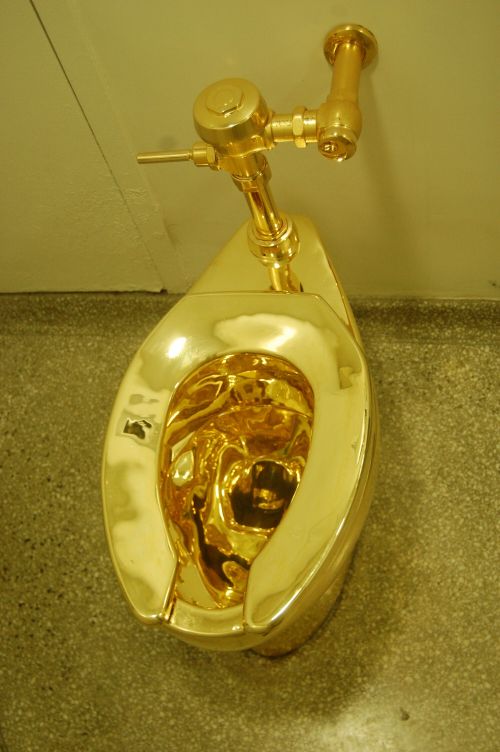 Trump and Cronies: Hear No Science, See No Science, Know No Science
This summer King Donald hosted the Apollo 11 astronauts who stuck the American flag into the moon's surface in 1969. Somebody close must have mentioned to him it would be a political plus to commemorate them and the first manned moon landing by anybody—and say it wasn't a hoax. Here was a president leading a political party that is attempting to destroy private and public science. The Know-Nothing about Science Gang has attacked legitimate science organizations and findings at least 100 times since assuming power. They have particularly attempted to destroy federal science by censoring scientific findings, transferring longtime scientists to menial jobs in agencies dealing with science, whether it's the Energy Department or the Environmental Protection Agency (EPA)—or even the Defense Department, or by firing them. Morale is very low in environmental agencies because of the hostile working environment created by those who have only one goal—filling their own and friend's pockets at the expense of everybody's environment.
Democrats JFK and Lyndon Johnson established the goal of landing the first human on the moon. The momentous task was completed by Republican Richard Nixon. Nixon also created the EPA before the Republicans decided to ignore basic science. It's no secret—except to Trump and his anti-sciencers—that the moon landing was an absolutely world-stunning achievement by government scientists. NASA employed 34,000 workers and supervised 375,000 industry and university contractors to put our men and flag on an object 230,000 miles away. Let us never forget to tell the Republican anti-sciencers that federal and federally funded scientists in the last 50 years have created and developed the internet that all of us use today, have given us all kinds of fiber optics and magnetic imaging technology, and has developed machines and schemes that have provided health and environmental policies saving millions of lives on our planet besides protecting ecosystems and wildlife habitats.
What Is Our Plan B For Planet Earth?
While over 1,600 employees of the EPA have left the agency in less than two years, the agency led by former fossil fuel lobbyists and other anti-sciencers continues to destroy rules and regulations that have given us cleaner air and water and protected the health of millions. As an example, although the staff EPA scientists have determined that the pesticide chlorpyrifos interferes with childhood brain development, the director vetoed their recommendation to ban it. EPA scientists had also agreed to follow the advice of scientists in 55 other countries to completely ban asbestos, a known dangerous carcinogen, but were overruled by Director Andrew Wheeler, a friend of those famous climate-deniers, the Koch brothers. In addition, Wheeler has almost eliminated the advice of outside science advisors by changing the members of advisory committees in the areas of pollution, particulate materials, and ozone, adding only industry-friendly lobbyists.
I have always been fascinated by the writings of Oliver Sacks, a Renaissance-man who recently died of cancer. He was an expert in many scientific areas, particularly in the medical areas. He decided to be a scientist when he saw a periodic table in the New York Science Museum. He had a never-ending sense of wonder about many areas of science: "Science is a human enterprise through and through, an organic, evolving human growth, with sudden spurts and arrests, and strange deviations, too. It grows out of its past but never outgrows it, any more than we outgrow our childhoods. Sacks was intrigued by the capacities of the human brain and often wrote of its very strange goings-on. His story about the medical doctor with very little musical training becoming a concert pianist after being struck by lightning while golfing is just one of his amazing stories. Another one is about an English writer who woke up one morning to read his newspaper—but all the words were in Russian. A brain is capable of amazing turnabouts.
Before his death he summarized his thoughts about science and his death—and hope for this planet: "Only science, aided by human decency, common sense, farsightedness,, and concern for the unfortunate and the poor, offers the world any hope in the present morass.
Between us we can easily pull the world through its present crisis and lead the way to a happier time ahead. As I face my own impending departure from the world, I have to believe in this—that mankind and our planet will survive, that life will continue, and this will not be our final hour." Sacks was always the optimist. Whether we will survive all of the ignorant, paranoid Trumps in the world is open to debate.
Signs Of Regression And Progression
A July heat wave in Greenland melted enough of its ice sheet to cover all of Florida with five inches of water—just in the last two days of melt. Scientists say the melt amounted to an unfathomable 197 billion metric tons of ice for the month. Greenland, covered by 82% of its surface with ice, is the second largest ice sheet; Antarctica is first. There is still a month left in Greenland's melt season. Petteri Taalas, the secretary-general of the World Meteorological Organization issued this statement: "This is not science fiction. It is the reality of climate change. It is happening now and will happen in the future without urgent climate action." Meanwhile, the anti-science Trumpers have tried to erase from law books at least 80 environmental rules and regulations that protect clean air, water, climate,, parks, and wilderness areas. As a reminder of how humans have affected the environment, scientists have just determined that the nine million cows milked by dairy farmers every day give 8% less milk when the temperature exceeds 95 degrees. Dairy farmers are being forced to install fans, cool mists, curtains, and other cooling systems to maintain productivity. Guardian writer George Monbiot has an important article about how immense wealth affects climate change: "For The Sake Of Life On Earth, We Must Put A Limit On Wealth." He writes: "Immense wealth translates automatically into immense environmental impacts, regardless of the intentions of those who possess it. The very wealthy, almost as a matter of definition, are committing ecocide." He cites a letter he received from a worker at a private British airport. The worker writes that he sees Global 7000 jets, Gulfstream G650s, and even Boeing 737s take off from an airport carrying a single passenger, mostly flying to Russia and the US. The private Boeing 737s built to take 147 passengers, are filled with around 25,000 liters of fuel. That's as much fossil energy as a small African town might use in a year."
A Gold Toilet: A Satiric Symbol For The 21st Century Gilded Age
As a symbol of wealth and inequality in the world, a solid gold toilet worth at least $1.25 million, was created as a satire about immense wealth by Italian artist Maurizio Cattelan. At one time it had been installed in the Guggenheim Museum in New York where thousands of visitors and publicity seekers paid cash to use the toilet for three minutes. When King Donald and Melania asked to borrow a Van Gogh painting to show at the White House, the museum offered the gold toilet instead.
For some odd reason the gold-loving Trump declined the offer. It was then installed in Winston Churchill's birthplace, the beautiful Blenheim Palace. It was stolen by two thieves who are still on the loose. They wrecked some of the plumbing while removing it, thus flooding part of the palace. At this writing it has not been recovered. It probably has been melted down, creating wealth for two members of the bottom 90 Percent. It would be amusing to read the results of interviews by therapists of people who paid good money to sit on the gold throne for those precious minutes. What were they thinking as their waste dropped into the gold toilet bowl? Relief? Anxiety? Pleasure?
Scientists Continue To Change Us And The Planet We Live On
Scientists are continuing their very important work of preserving humans and most living things on an ever-changing earth. The last white male rhinoceros died in Kenya over 18 months ago. Only two female whites survive. The world's rhino population has been totally decimated by the Chinese and Vietnamese because they believe the mysterious horns cure some diseases and make human males more horny. We may laugh or cry at them to think so, but perhaps some scientist will discover soon that the horn remedy actually works—for some scientific reason.
Anyway, maybe we will see little white rhinos running around in a white rhino nursery somewhere in Africa soon. Genetic and other scientists harvested sperm from Suni and Saul, two white male rhinos before they died, and fertilized eggs taken from Najin and Fatu, the world's two surviving white rhino females. Two viable eggs developed into embryos and will soon be implanted in surrogate white rhino females. We should know by now that wonders about what scientists can do will never cease. White rhinos are the largest among rhinos, with females at 5'8" and an average 3,700 pounds and males at 6'1" and over 5,000 pounds. What an animal porno flick that mating must make! Taking sperm from a male and implanting an egg into a female has to be an exciting business for all in the invitro fertilization program for extinct white rhinos.
When A Marriage Caused A Divorce
Scientific facts, particularly gender fluidity and identity discovered over the last three decades, has overcome much of the claptrap coming from Leviticus and other ignorant musings in the Old and New Testament. Such facts about our universe have eroded all religion to the point where a large minority no longer "believes." Many recent studies concerning the drop in religious affiliation among younger Americans points out that Trump-loving Southern evangelical "Christians" have swept millions out of the pews of Protestant and Catholic churches and out of religions in America.
Research by FiveThirtyEight revealed that in the early 1990's less than 10% of Americans lacked a formal religious affiliation. By 2019 almost one in four Americans are religiously unaffiliated, led by liberals who are 40% unaffiliated. In 1990 only 12% of liberals were unaffiliated. When the Christian Right was seduced by right-wingers in the Republican Party who agreed to support pro-life and oppose homosexuality, liberals ran through the church doors to the atheistic sunlight. This is exactly when the Republican Party agreed to dump science for votes of Southern Bible Thumpers and the immoral Moral Majority of Jerry Falwell.
Pew Research, one of the most reliable poll sources in the area of religion, has found that in the seven years between 2007 and 2014 mainline Protestant churches lost five million, leaving just 36 million in the pews. One in five American adults raised in a mainline church but only half of them continue to affiliate as adults. The Hartford Institute for Religion Research also points out, that of 4,000 churches in 2010, 71% had full time pastors. In five years 62% did. Even a lot of pastors walked out of the church doors.