Can This Eagle Be Saved?
by Ed Raymond | .(JavaScript must be enabled to view this email address) | Gadfly | December 18th, 2019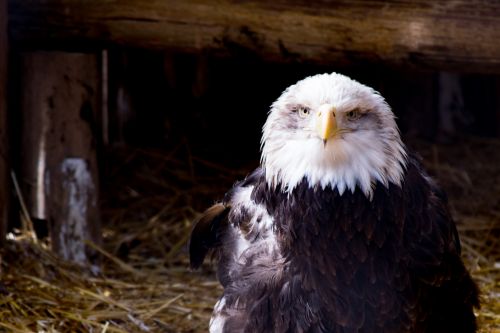 Where Are The Best Capitalistic Countries?
A worker and his family in (_______) is automatically covered by a taxpayer-funded universal healthcare program equal in quality to any on Planet Earth. Twenty percent of the costs of their healthcare does not go to paperwork, insurance companies, doctors out of network, agents haggling and denying exorbitant bills, and fancy boutique buildings. The young children in the family attend a highly professional and ethnically diverse public daycare center with great enrichment activities and professionalism that is almost totally subsidized by taxpayer funds. There is a small payment by parents based on the worker's income.
The children attend K-12 schools which are rated among the best in the world. If they go to college, it will be tuition free. If the worker and his wife have another child, they will both be automatically eligible for a combined leave of almost a year. The worker has unemployment insurance and annually receives up to six weeks of vacation.
It is a fact that almost all of the 36 developed countries belonging to the Organization for Economic Cooperation and Development (OECD) could put their name in the blank above—except for the United States. As of 2017, 36 OECD countries make up 62.2% of Global Domestic Product at $49.6 trillion. It was organized to stimulate economic progress and enhance world trade. Over 20 North American and European countries were the original founding members, and were later joined by Finland, Japan, Australia, and New Zealand. Of the 36 OECD nations, only the United States does not have some form of universal healthcare—and many other "safety net" programs for the poor and the middle classes. Both the World Health Organization (WHO) and the OECD often rank the United States near the bottom in quality of healthcare and at the top of income inequality in the world.
Write "Finland" In The Blank
A must read for all 2020 voters is the article by Anu Portanen and Trevor Carson in the December 7thNew York Times titled "Finland Is A Capitalist Paradise." Although they were both successful freelance contractors in Brooklyn with one child, they described their lives as "deeply insecure and anxious because of a bewildering array of private health insurance plans that were very complicated and expensive. Even the Obamacare plans were expensive." (Just last week I read of a Fortune 400 company that offered a shocking 48 different health insurance plans for selection by their employees. Administrative costs average about 20% for these policies while Medicare has a 2% rate.) They had plenty of other worries about the future: "With a child, we'd soon face overwhelming daycare costs. Never mind the bankruptcy-sized bills for education ahead, whether for housing in a good public school district or for private-school tuition. And then there'd be college. In other words, we suffered from the same stressors that are swamping more and more of Americans, even the relatively privileged." After considerable study, the couple decided to get jobs back in Helsinki, Finland, Anu's home town.
Our Great Leader has described Nordic countries such as Finland as "unsustainable and oppressive---socialist 'nanny' states." "Socialist" is the favorite derisive political word of disaster capitalistic Republicans as they travel on our taxpayer-owned streets, roads, interstates, bridges, and ferries, fly out of our "socialist" airports guided by taxpayer-owned systems, pick up their freight at "socialist" ports on the Atlantic, Pacific, and Gulf coasts, and enjoy our national and state parks. Is supplying K-12 students with a free school lunch capitalistic or socialistic? As North Dakota Trump voters trip the levers in booths, probably some of them are thinking about their Bank of North Dakota 529 education accounts and stopping to buy Dakota Maid products at very important socialistic North Dakota businesses. When will these Trumpers send their "socialistic" Social Security, Medicare, and Medicaid checks back to Washington so the government is really limited?
Reactions Of The Family After Living In Finland For More Than A Year
The couple had been encouraged by relatives, friends, and even a Silicon Valley entrepreneur to move to Finland. This is what they wrote after more than a year living under "democratic socialism": "The difference between our lives here and in the states has been tremendous, but perhaps not in the way many Americans might imagine. What we have experienced is an increase in personal freedom. Our lives are just much more manageable. To be sure, our days are still full of challenges---raising a child, helping elderly parents, juggling the demands of daily logistics and work. Compared with our life in the United States, this is fantastic. Nevertheless, to many people in America, the Finnish system may still conjure impressions of dysfunction and authoritarianism. Yet Finnish citizens report extraordinarily high levels of life satisfaction; the OECD ranked them highest in the world, followed by Norwegians, Danes, Swiss, and Icelanders. This year the World Happiness Report also announced Finland to be the happiest country on earth, the second year in a row." (By the way, this couple experienced the benefits described in the first two paragraphs.)
Why are Norway, Sweden, Denmark, and Finland always at the top of every OECD and WHO index that measures quality of life? Because over a century or two, each has come up with a simple formula that capitalism works better for the common good if workers get paid decent wages and, according to the couple, "are supported by high quality, democratically accountable public services that enable everyone to live healthy, dignified lives and to enjoy real equality of opportunity for themselves and their children. For us, that has meant an increase in our personal freedoms and our political rights—not the other way around."
Reactions After The Family Has Lived In Both Countries
Their reaction is a very powerful statement about the differences in capitalism between Nordic countries and the United States: "Capitalists in the U.S. have taken a different path. They've slashed taxes, weakened government, crushed unions, and privatized essential services in the pursuit of excess profits. All of this leaves workers painfully vulnerable to capitalism's dynamic disruptions. Even well-positioned Americans now struggle under debilitating pressures, and a majority inhabit a treacherous Wild West where poverty, homelessness, medical bankruptcy, addiction and incarceration can be just a bit of bad luck away. Americans are told this is freedom and that it is the most heroic way to live. It's the same message Finns were fed a century ago." (Then, out came the pitchforks in all the streets of Finland.)
How can the Nordic countries with their programs for the overall common good still produce dozens of billionaires? Because the rich pay their fair share of taxes. In Nordic countries most capitalists actually believe in equality of opportunity so they have learned to make investments in all people. They believe that paying taxes is an easy way for capitalists to outsource to the government the work of keeping workers healthy and educated.
Meanwhile, in the United States, capitalists struggle to administer complex and bewildering healthcare plans put together by greedy insurance companies—while attempting to recruit educated and healthy workers. Nordic societies have fought long and hard for high-quality public services for all citizens. Nordic capitalists have finally figured out this is the only way to get government to work for everybody.
A few U.S. billionaires are seeing the pitchforks coming down the streets of the highest-priced Zip codes, but many are still too busy stashing billions in tax havens around the world to notice the pissants with pitchforks. Billionaire Warren Buffett has been saying for years, he should have a higher tax rate than his secretary. Billionaire Peter Georgescu recently admitted "(U.S.) capitalism is slowly committing suicide." Billionaire Ray Dalio has also concluded that "capitalism basically is not working for the majority of the people." The French people knew how to use pitchforks and the Great French Razor to overcome the plutocracy. Today the French pitchfork wielders are using national strikes to protect their pensions from the ravages of government. I highly recommend national strikes. Hotel maids, waiters, Amazon workers, and airline pilots can close the country down.
Can We Fix The Broken Wing On The American Eagle?
There are dozens of important issues in our polarized country that have been neglected by Democratic and Republican governments over decades, but two of them are more important to the country in the 2020 election: healthcare and economic inequality. We have the worst healthcare and the worst economic inequality among OECD countries. We have 55 million people with no or inadequate health insurance. The One Percent has grown its income a 100 times faster than the bottom 50% in the last 50 years. Jeff Bezos of Amazon, Bill Gates of Microsoft, and Warren Buffett of Berkshire Hathaway collectively have more wealth than 160 million Americans making up the bottom 50% of our population.
We have one political party led by an ignorant jerk who has conned white supremacists, racial and religious bigots, and angry, desperate Americans who have been stiffed by both political parties. That's why it's pitchfork time in this country. There's only one answer to our ineffective, terribly expensive, crazy-quilt healthcare "system": a universal healthcare system called Medicare for All. There's only one answer to economic inequality: having every class in America pay fair progressive taxes on all income instead of having rich people and corporations squirrel away trillions on tiny islands, country tax havens—and tax havens in our own country such as Delaware and South Dakota.
In modern times, we have had only one generation that worked for the common good. That's the one following World War II when unions gained real strength and veterans who had been educated by the GI Bill--me included. Then in the 1980's we had Reagan and the California Mafia--and economic equality started to go to hell for a civilized country. A "civilization" is defined as "a condition of human society marked by an advanced stage of development in the arts and sciences and by corresponding social, political, and cultural complexity."
To my fellow Democrats: There are two presidential candidates who have the knowledge, intelligence, charisma, experience, and moxie to convince millions of ordinary people to go to polls in 2020 so Americans can finally have universal healthcare and regain the equal opportunity prevalent from 1945 to 1975. That means dramatically lowering the present economic inequality by raising wages and progressive tax rates on the wealthy. It's way over time for payback for the wealth collected by the One Percent.
Both Elizabeth Warren and Bernie Sanders understand that political and economic power has to be wrested from the plutocrats, corporations, and Wall Street and placed in the hands of the vast majority. I think they should make a deal, and form a team for 2020 to 2028. Bernie at a young 78 can be President for four years and lead the country to Medicare for All. Elizabeth at 70 can be vice-president and have Wall Street and the Treasury Department as her portfolio—then run for president in 2024. We need to fix the broken wing on the eagle.