​Enough To Make You Puke
Gadfly | April 4th, 2018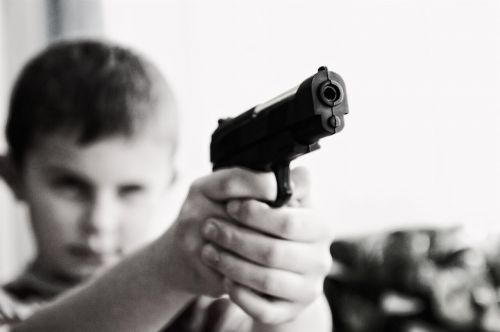 The NRA Gun Lobby And Republicans Pick Guns Over Kids
After the record-setting "March For Our Lives" protest on March 24, the $5 million-a-year National Rifle Association CEO Wayne LaPierre stayed in his bunker and remained tight-lipped, but his trolls dropped their AR-15s, climbed out of their militia foxholes, and put some of the most deplorable crap I have ever heard on the airwaves. One NRA troll said: "Today's protests aren't spontaneous. Gun-hating billionaires and Hollywood elites are manipulating and exploiting children as part of their plan to DESTROY the Second Amendment and strip us of the right to defend ourselves and our loved ones." One added this plea: "Join the NRA and fight for our kids safety!" (Like they did after Sandy Hook?) An NRA video clip on Facebook called the march a "carnival." I worked in carnivals one summer. I don't remember people crying over 17 murdered students and teachers on the midway.
Another NRA troll said: "From where I'm standing, it looks like a march to burn the Constitution and rewrite the parts they don't like in crayon. These kids ought to be marching against their own hypocritical belief structures. The only reason we've ever heard of them is because the guns didn't come soon enough." In Salt Lake City NRA trolls carried signs at "March For Our Lives" protests with these messages: "AR-15s EMPOWER the people" and "Criminals Love Gun Control." Another NRA troll said: "I believe it's their goal to unarm America."
We Now Kill More With Firearms Than We Do With Vehicles
Two students from Parkland's MSD High School have become the targets of the NRA's hatemongers. One is David Hogg, a debater who challenged Senator Marco Rubio on the stage at the CNN town Hall to return his NRA campaign contributions. At his speech in Washington he carried a price tag of $1.05 and pinned it to the microphone, saying that Rubio got $1.05 from the NRA for each student in Florida's K-12 schools.
I guess the NRA trolls didn't like that. Breitbart of Bannon fame accused Hogg of throwing a Nazi salute. David Horwitz, whose claim to fame is verbally assaulting Muslims, has an outlet that said Hoff used "profanity laced tantrums" to make a point and called Hogg and his fellow students "shock troops manipulated by liberals." Alex Jones, the conspiracy guy who has never told the truth, labeled Hogg the "Vile Hogg." Jones is one of the pure assholes in the world, according to this psycho-proctologist. Another NRA troll called the 17-year-old Hogg a "dedicated Marxist!" A Maine Republican for state legislature was forced to drop out after calling Hogg a "moron" and a "bald-faced liar" and Emma Gonzalez "a skinhead lesbian."
Emma Gonzalez is the 18-year-old lesbian from MSD High with the crew cut and the hippy-like clothes gave the speech of her life at a Parkland protest, shuffling handwritten notes in a strong wind while becoming an orator of note. Her "B.S." line is known worldwide. The NRA trolls immediately went after her because they realized here was a young woman with force, charisma, and intelligence who is a dynamic leader. At her speech in Washington Emma gave a two-minute introduction and then kept silent for 4.5 minutes. Her audience of about a million wondered why she stopped talking and just stared. It was the mark of genius in my mind. After the pause she said: "It took 6.5 minutes to kill 17 and wound 14 with an AR-15." That turns out to be five victims a minute.
We Kill 97 A Day And 33,000 a Year With Firearms While Japan Kills One
Some NRA troll put out a video of Emma tearing a U.S. Constitution in half. It was made up from an old video showing her tearing a rifle range target in half. That troll has had his social media account suspended. A college professor said: "This is just a sample of what NRA supporters are doing to teenagers who survived a massacre." Emma often wears a jacket with a Cuban flag. Iowa Republican Congressman Steve King, always revealing his IQ, called her a communist sympathizer, saying: "she's wearing the flag of an authoritarian communist nation, makes sense, they both hate an armed citizenry." Actually, the flag is worn as a tribute to her father, who migrated from Cuba to the U.S. many years ago. The Cuban flag she is wearing has been a symbol of Cuban dissidents against Castro . NRA troll Jesse Hughes, a frontman for the Eagles band, described Emma as "The awful Face of Treason…Survivor of Nothing… Lover of Treason…#stupidity #haters of liberty...#loversofSatan...borntolose... 2ndamendment." I wonder what he was smoking when he wrote this crap.
A Toddler Kills One Adult A Week With A Firearm
MSD student Delaney Tarr suggested in her speech that bump stock bans should be expanded to ban military style semi-automatics. The right-wing Accuracy in Media broadcast that the student movement "wanted to take law-abiding citizens' lawfully purchased firearms and rifles." That's inaccurate! Other right-wing bloggers wrote "only 10% of the marchers were students." Recent research indicates some brains have large air pockets.
Minnesota Republican Representative Mary Franson accused marching protesters in Washington of being Hitler Youth on Facebook. After coming to the few senses she possesses, she deleted the charge. She also claimed the teens were coming after everyone's guns!
Perhaps the dumbest statement about the march was made by former Senator Rick Santorum. He said young people should learn CPR instead of protesting gun violence. He immediately drew intense ridicule from doctors. The NRA trolls amply demonstrated their IQs were much lower than those of the student leaders. The adult level of gun politics is enough to make you puke.
These Kids Have The Brains To Turn Trumpistan Back Into The United States Of America
I know a little bit about high school kids because I taught English, Journalism, and Creative Writing to seniors at Fargo Central for eight years and was principal of Fargo South for seven years and Fargo North for five years. I also was principal of Horace Mann Elementary for 11 years while also serving as spokesman for the Board of Education Negotiation Committee. After retiring I was elected to the Fargo Board of Education.
Elementary students are sweet, beautiful kids with nary a contrary body—except for a few rascals of note. High school kids are another matter. They have already been corrupted by the society which has raised them. They are thoughtful, foolish, sagacious, impudent, brilliant, doltish, quick-witted, lazy-slow, knowledgeable, harebrained, discreet, madcap, inspiring, and sometimes meatheads. Like all of us adults.
But let us remember there are powerful minds in some high school students. I have been exposed to them for many years. Sure, we say the brain is not fully developed until later, but it's probably at about 95%, good enough to solve most problems. A high school with 3,000 students, the size of Parkland's MSD High School, normally has about 16% with IQs ranging from 115 to well over 144, classified as above average intellectual ability to the highly gifted student. About 68% are classified as average in the 85 to 114 range, while another 16% fall in the 70 to 84 range and are described as lower extreme to below average. This would describe the intellectual level of a high school in a city which has all economic levels. But Parkland MSD is based in an affluent suburb with $600,000 average homes and family incomes well above $100,000. Let's face it, presence of wealth means higher IQs.
The MSD students who took charge of the protest come from the top gifted and highly gifted students who are involved in speech, debate, orchestra, journalism, music, creative writing, and student government. Parkland MSD probably has 750 students in that range from gifted to well beyond highly gifted. They demonstrated their IQs when they appeared on national television news and wrote and presented their speeches at an event featuring almost a million participants. They were all terrific. And their parents are really supporting them. They reminded me of the top students I have had in Fargo.
Why Did LA Resident Edna Lizbeth Chavez Learn To Duck Bullets Before Learning How To Read?
I see two local NRA trolls have joined other adult trolls attacking high school students who protest school shootings. Ross Nelson of Casselton wants to have a weapon that can match anything those "jack-booted government thugs" have when they come to take his guns away. Shaun Moser of West Fargo has a problem with the idea the government has more powerful weapons than his AR-15. No matching flintlock muskets now.
The American Psychiatric Association has estimated that 6% of Americans on average are mentally or emotionally disturbed during any one year. That means that 19.5 million of us require extensive therapy or hospitalization while we are bonkers. A few of us become mass killers, about 22,000 commit suicide, and 11,000 are murdered by firearms. Some choose death by police gunfire. Another 100,000 are wounded by firearms. The Secret Service says 64% of mass shooters suffer from mental illness.
Perhaps the local NRA trolls could answer why the NRA and the gun lobby would be opposed to the following gun control measures for all civilians:
1. Ban military-type rifles that fire bullets exceeding 1,200 feet per second.
2. Ban magazines and drums that carry more than six rounds for semi-automatic rifles and handguns. Six rounds are sufficient for any kind of hunting or personal protection .
3. Ban bump stocks and trigger mechanisms that can turn semi-automatic rifles into machineguns. If you have the great urge to fire machine guns, go to a regulated machine gun range and fire a few hundred rounds. As a Marine Corps heavy machine gun platoon leader and rifle company commander, I did not find firing machine guns particularly thrilling. If firing a machine gun turns you on more than once, you are ready for major therapy.
4. Like vehicles that can kill, all guns should be registered with local, state, and national authorities for accountability. Each year about 250,000 firearms are stolen from negligent owners. All guns should be traced and recorded by Alcohol, Tobacco, and Firearms on a permanent federal database.
5. Also ban semi-automatic "tactical" shotguns like the Fostech Origin-12 that are magazine-fed by 20 or 30-round magazines. These guns are called "street sweepers" for a reason. You don't need more than three rounds in a semi-automatic shotgun to hunt geese and ducks.
6. All firearms should be transferred or purchased after a federal background check which includes "red flag" lists for domestic violence and sales at all gun shows and private sales.
7. Ban "Cop Killer" and Teflon-coated ammunition and bullets that will exceed 1200 feet per second. Ammunition purchases should be recorded. Some mass killers have had as many as 10,000 rounds in their possession. That's ridiculous. The Vegas killer fired 1,100 rounds in less than ten minutes.
8. The Centers for Disease Control should be assigned to research why gun violence is a major public health and human rights crisis in the United States—and how we can reduce it.
The above is just a short list of what should be done. Meanwhile, the NRA insanity continues. Kansas Republican legislators are considering a bill which would require all school teachers to carry firearms.