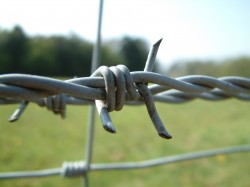 To Congress: How Do You Control 21,415 Miles Of Our International Border?
At our Pelican Lake home we have about 30 wild turkeys show up occasionally to spend a half-hour or so cleaning up under our bird feeders. Blue jays and marauding squirrels have terrible table manners, spilling sunflower seeds, millet, and corn all over the place. If we let the dogs out while they are feeding, helter-skelter results. Some fly 70 feet to the top of trees, some run for the woods and bushes while sounding the turkey alarm.
As a commie-pinko socialist, sometimes Libertarian liberal, I have often considered right-wing Republicans are like wild turkeys, not too bright and dashing off in all directions when challenged by facts. When President Barack Hussein Obama, threw down his executive order gauntlet about immigration, Republicans became wild turkeys flying off squawking in all directions, or dashing for the safety of woods-squawking.
Immediately we had the reincarnation of Wisconsin Senator Joe McCarthy, dead drunk on senatorial power and alcohol, finding hundreds of commies in President Dwight Eisenhower's State Department. McCarthy destroyed people and the truth until he was publicly challenged with this question by Joseph Welch during a hearing after McCarthy berated and ridiculed a witness: "Until this moment, Senator, I think I never really gauged your cruelty and recklessness … Have you no sense of decency, sir, at long last, have you left no sense of decency?" The question destroyed McCarthy. He died of alcoholism and lack of power at the age of 48. Texas Senator Ted Cruz is the reincarnation of McCarthy, drunk on power, an egomaniac who thinks he is the smartest guy in the room. He has labeled Obama as "dictator" and "emperor" while threatening to close down the government because of the executive orders. He has pledged lawsuits and the blocking of any appointees to government positions. This proves he has no thought of governing, he just wants to raise hell. Or perhaps impeach Obama and end ObamaCare.
Let's Take A Look At The Law That Could Have Ended All Illegal Immigration
In 1986 under President Ronald Reagan the Immigration Reform and Control Act (IRCA) with the following provisions was added to other immigration statutes:
Penalties for hiring illegal immigrants: (1) First offenders: $250-$2,000 fine per illegal employee, (2) Second offense: $2,000-$5,000 fine per illegal, (3) More than two offenses: A $3,000-$10,000 fine per employee, (4) If there is a pervasive hiring of illegals an employer could go to jail for six months. If an employer "harbored" more than 10 illegals at one time he could get a 10-year prison sentence.
Let's look at an example of failure to uphold immigration laws. In what was called the largest workplace immigration raid in history, the Immigrations and Customs Service (ICE) with the aid of thousands of police raided six Swift meatpacking plants in the following cities in 2006: Hyrum, Utah; Greeley, Colo.; Marshalltown, Iowa; Grand Island, Neb.; Cactus, Texas: and Worthington, Minn. In this raid alone up to 20,000 illegals were discovered. Many were deported.
But how did thousands of illegals from all over the world, but particularly Mexico and Latin America, find out about jobs in these six plants? Looking for the cheapest labor they could find, American corporations hired "coyotes," otherwise known as labor contractors, to recruit laborers and sneak them across our borders and provide them transportation to all of these plants. Cargill, Tyson Foods, and many California corporations were involved in the breaking of immigration laws. Even Basin Electric in far-away Bismarck, N.D. got caught hiring illegals as maintenance personnel. Lots of "winking" fed the process. It's estimated that between 7 million and 9 million illegals entered the country in the last 25 years. Oh, these companies paid some fines. Even WalMart was fined $11 million at one time for staffing its stores with illegals. The other "cheap labor" corporations sometimes were fined. But I can't find the name of one CEO or even small business employer who went to jail for hiring illegals. No manager, no CEO, no recruiter, no personnel director, no foreman, no supervisor has ever gone to jail for violating the immigration acts (IRCA). One can imagine that the CEOs and Boards of Directors of Swift, Cargill, Tyson, WalMart, and California farmers have hired millions of illegals. I have Googled and Googled government and mainstream media sources to see if one employer has gone to prison for hiring illegals. Nada. Nothing. Not a single soul. Fines have always been considered just a cost of doing business by big business. Fines are no punishment at all when you can just write them off. Prison time marvelously concentrates the mind.
Prevention Has To Be Internal, Not External Forget The Fences And Cameras
There's no doubt that the Walton family of WalMart retail fame and fortune, each worth about $36 billion at last accounting, has made billions of dollars off the backs of illegals from around the world. Meatpacking and food industry giants have made billions off the gnarled hands and twisted backs of illegals for decades. What would have happened to our borders if the CEOs of Swift, Cargill, and WalMart had each served five or 10 years in jail for violating our immigration laws in the last two decades? Would small-business owners of motels, restaurants, and landscape companies have taken the chance of hiring illegals after the big boys ended up in 6x10 cells? I don't think so. That's the only way to keep our borders closed to millions of illegals.
A Walton in prison could have sent an important message. Check out who you're hiring. Set up a process of verification of visa and citizenship. Pass guest worker legislation. To keep people from crossing 21,415 miles of border it has to be closed by a fence of internal law, not an 18-ft. high external steel fence. Have a good work visa program with adequate enforcement. But now it may be too late. The rich want cheap labor so Congress and the Justice Department provide the mazes and sieves for illegals to squeeze through. A case in point: Multi-millionaire Mannem Reddy of Great Falls, Va. admitted defrauding the government for 12 years by submitting 24 fraudulent employment applications and lying about others. He was put on probation and fined $5,000! He should have been put in prison for 10 years according to the law. How many millions did he make off his cheap labor? That's the major problem with this country. Steal a few grams of pot or a $100 and you go to prison. Steal a $100,000,000 and you buy another estate and are appointed an ambassador.
Les Everett of St. Paul outlined our real immigration problem in a Tribune letter: "As long as there is extensive poverty and conflict, there will be an overwhelming demand to escape to countries with greater security and better economics. The United States and Europe cannot absorb the large numbers who want to settle here without degrading our own natural-resource base and quality of life. Water, air quality, green space, and agricultural land are already being stretched to the limit … by a national populace that has tripled in less than a human lifetime." Congress has given no evidence they understand what Everett is writing about.
Observations From Coast-To-Coast
With a brother in Florida and a brother and sister in California, Corky and I often motorhomed between coasts during the winters after we retired. We observed illegals waiting for their "employers" to pick them up from the street corners in Mesa, Phoenix, Tucson, San Diego, Los Angeles, and many other smaller cities. In San Diego in 1997 we enjoyed the story of a California millionaire complaining to the San Diego City Council about the filthy illegal camps in the hills and canyons near his huge home in the hills. The camps "were unsanitary and lowered his property values." He wanted them out of sight and out of mind. But a reporter followed him out of the meeting after his strident complaints. The complainer drove in his new Jaguar to a local street corner and picked up several illegals to do his lawn and garden chores. The reporter found out later that the complainer paid the illegals half the minimum wage. Welcome to the real problem. We lived in Sun City West one winter so saw many of the immigration problems first-hand on the streets of Mesa, Phoenix, Apache Junction, and Tucson. I remember the famous "pink underwear" sheriff of Maricopa County Joe Arpaio saying he was going to conduct a two-year search for employers in the area hiring illegals. If one drove around the county early in the morning you could see hundreds of bosses hiring illegals and loading them into vans and trucks for rides to worksites. It happened every morning. Poor, Joe! After looking for employers breaking the law for two years, he admitted he couldn't find a single one!
Immigration Is A World-Wide Problem—And Opportunity
Remember when the Catholics and Protestants of Northern Ireland were committing violence against one another for centuries? Violence is again erupting in that part of the Emerald Isle again, this time between immigrants from Pakistan, China, India, Africa, and many other countries—and Northern Irelanders. The European Union has an open border policy because some countries need workers. Many legal migrants try to settle in Britain and Ireland because of the quality of life and higher salaries. An average of three hate crimes a day are reported to the police in Ireland now, hate crimes defined as crimes against race. But of the 14,000 race-related crimes reported over the last five years, only 12 were successfully prosecuted. Over 70% of the hate crimes reported come out of Belfast. Housing is a major problem, even if only 1.8% of the population are immigrants. American Klu Klux Klan flags have been spotted flying in Belfast, and both Catholic priests and Protestant ministers rant at the public with remarks such as this: "Islam is heathen; Islam is Satanic; Islam is a doctrine spawned in Hell." Actually many Catholics from Poland have immigrated to Ireland since 2004.
Over 2,500 refugees have made Calais, France, their home until they are allowed—or can sneak—into England. Although these refugees are from most of the conflict zones of the world such as Afghanistan, Pakistan, Syria, Iraq, Libya Eritrea, Somalia, and Sudan, most of them speak English and want to migrate to Britain. These refugees often try to make the 21-mile journey across the channel stowing away on trucks, trains, and cars. Some have been caught hanging on to axles of trucks and semis. In the meantime French citizens of Calais want the police to clean out the camps and arrest those violent migrants who are getting desperate. Over 130,000 refugees have tried to cross the Mediterranean, with several thousand dying in the process. The Coast Guards of countries surrounding the Med are kept busy saving refugees from sinking ships and boats and recovering bodies of those who didn't make it. So the US is not alone in having immigration problems.
American Corporations Say They Are Struggling To Fill 3.7 Million Job Openings, Many Of Them In Science
At the present time 13% of our population is foreign-born. In 1913 it was 15%. Not much difference. Since 2007 we have lost over 900,000 undocumented illegals. Curiouser and curiouser, in a February 2014 Washington Post poll, 60% of Republicans approved "a Path to citizenship." But if President Obama's name was added to the language of the poll only 40% of Republicans approved the "path." Ain't race and politics wonderful? Although the latinos crossing the Rio Grande get 99% of the publicity in the mainstream press, the US has undocumenteds from all over the world, including every Asian nation, every South American nation, every European nation. Look at the percentage of foreign-born in these states: California, 27.2%; New Jersey, 21%; New York, 22.2%; Illinois, 13.7%; and Texas, 16.4%. California is home to one-third of our 11 million undocumenteds, even if it has only a 125-mile border with Mexico, much of it guarded by 16 ft. and 18 ft. fences. Remember when politicians kept yelling about building tall fences to keep illegals out—at $2.8 million a mile? They are still trying to recover from a serious case of Stupid Virus. They did create jobs making 17 ft. and 19 ft. ladders. The California illegals from Mexico, Philippines, Central America, South Korea, and Japan pick our lettuce and broccoli in the Valley, have manufacturing jobs in LA, and work as programmers, housekeepers, maids, cooks, and gardeners keeping our Silicon Valley billionaires happy in their multi-million dollar homes. Half of California illegals have lived here at least 10 years, and one-sixth of California children have at least one parent here illegally.
Let's face reality. We convinced illegals to come here to do our scutwork on the cheap. Wall Street corporations representing our major industries went around the world recruiting cheap labor to fill their own pockets instead of the pockets of their American neighbors with decent wages. Now the American middle class is being turned into charity sharecroppers. Illegal immigration has to be solved soon.