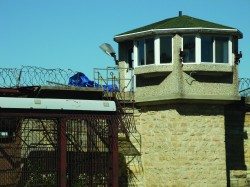 Of Crippled Mice and Men
A few years ago conservative Republican judges on the US Supreme Court chastised their liberal counterparts for citing foreign legal cases in their written opinions because courts in other countries had nothing intelligent to offer American jurisprudence. We can learn nothing from civilizations that have lasted much longer than ours? The arrogance and resulting stupidity is absolutely astounding. The New York Times published an article recently that sanely and dramatically shows we should learn from offshore banks of intelligence. Jessica Benko wrote a fascinating expose' The Radical Humaneness Of Norway's Halden Prison where she elaborates on the goal of the Norwegian penal system is to get inmates out of it as soon as possible.
We already know of the international war crimes committed by Bush-Cheney-Rumsfeld at Guantanamo Bay and the "black" sites where we flew detainees to Poland and other world dungeons for numerous tortures committed by even less humane friends. The longer countries and tribes are on earth they seem to develop more diabolical tortures. We already know what happened to prisoners of the KJB in the Kremlin basement during Stalin's time. The Chinese, one of the oldest organized countries on earth, have become particularly exotic in their torture, turning the highest animal to lower levels in the chain of life. At the Chongqing Song Mountain Investigation Center the jailers have come up with real imaginative tortures to get higher animals to talk. We already know of the "Death by a Thousand Cuts" where jailers carefully keep slicing off body parts until the victim dies after a couple of days. One of the newest tortures involves burning off the pubic hair with a torch and then blacken the head of the penis with flames. They often use the "Noodles in a Clear Broth" torture where strings of toilet paper are soaked in a bowl of urine, and the prisoner is forced to eat the toilet paper and drink the urine. There are other tortures which make it difficult to keep a meal down. Welcome to the real world.
The Crazy World of The Incarceration Nest
The largest mental health center in the United States is not some medical center, it's the Cook County Jail in Chicago. Over 60% of the inmates have been diagnosed with schizophrenia, severe depression, manias, psychoses, and numerous other disorders. A study by the National Sheriffs Association reveals that there are three times as many mentally ill in prisons and jails as there are in hospitals. About 40% of people with serious mental problems have been arrested at some point in their lives. They are more likely to cause problems and injuries in jails because they can't follow rules. Why are they in jail instead of another institution? Sixty years ago we had one bed in psychiatric hospitals for every 300 citizens. Now we have about 40,000 psychiatric beds, or about 14 beds per 100,000 people. Not strange at all is the fact that the increase in prison populations has been diabolically equal to the decrease in the number of people in mental institutions. Jails and prisons have become our mental institutions. Thousands have been moved out of mental hospitals and placed in poorly funded community treatment programs and halfway houses. These thousands end up in homeless shelters and ultimately in jails and prisons.
The story of Army vet Michael Anthony Kerr is not unusual. In a North Carolina prison because of his mental condition after two of his sons were murdered, he was diagnosed with schizoaffective disorder which results in delusions, hallucinations, mood disorders, and depression. He kicked at his cell door, plugged up the sink and flooded his cell, and was often placed in restraints for days at a time. Finally he was handcuffed in his cell after a month of solitary confinement, off his meds, and lying in his feces and urine. By the time they got him to a prison hospital in Raleigh he was dead. On his final trip he was driven by eight hospital emergency rooms. His sister said: "They treated him like a dog." Actually, they treated him like a pile of garbage.
What is the Confluence of Punishment and Humanity?
There's no doubt that our judicial system is based primarily on punishment, not rehabilitation. Contrary to what our Republican conservative members of the Supreme Court say, maybe we could learn a little about both from foreign countries. Benko wrote about Norway's top maximum-security prison. No one has even tried to escape from Halden. Yet it is called the most humane maximum-security prison. It has no coils of razor wire, no lethal fences, and no sniper towers. It seems to express Norway's philosophy about the merits of punishment and rehabilitation. Norway does not have death or life sentences. The maximum term is 21 years regardless of the crime. Halden has 251 inmates at the present time and half have committed violent crimes such as murder, rape, and assaults. A third are in for smuggling drugs. Only three-fifths of the inmates are from Norway, the balance are from 30 countries. Many prisoners do not speak Norwegian so the prison language is English. One of the inmates is Anders Brevik who achieved worldwide notoriety a few years ago for killing 77 people, wounding hundreds, and bombing a government building in Oslo. The isolation cell used for solitary confinement has never been used in the five years the prison has been open. Neither has a limb-restraining bed. The prison has three units: A, B, and C. Unit A usually has eight inmates who live in the cell block. They require close psychiatric and medical supervision. The rest are scattered between A and B. Guards spend a lot of time with inmates carrying on casual conversations and drinking tea and coffee with them.
A huge concrete wall surrounds the prison, always a reminder to the inmates of Halden. But rehab has the emphasis, so the facility is designed to relieve psychological pressures and lessen conflict and friction among inmates. The grounds are covered with trees, bushes, and flowers. Inmates walk up and down hills to their prison jobs to buildings through pleasant surroundings. Prisoners have a waffle day once a week, a tradition in Norwegian families. Cell furnishings, furniture, beds, and tables are made of wood instead of steel. They look like college dormitory rooms. Kitchens where prisoners often prepare their meals have ceramic plates and cups, metal silverware, and kitchen knives tethered by lengths of rubber-covered wire. Just like many homes.
The Hell of America's Most Maximum-Security Prison
We have Congressional Republicans who want to keep Guantanamo prison open because they don't want terrorists on U.S. soil escaping from prisons. Our highest security prison is at Florence, Colo., often called the Alcatraz of the Rockies. Residents include Ramzi Yousef, the 1993 bomber of the World Trade Center, Oklahoma City bomber Terry Nichols (buddy of Tim McVeigh), crime family boss Vincent Basciano, Dr. Michael Swango who poisoned 60 patients, FBI and Soviet spy Robert Hanssen, serial unabomber Ted Kaczynski, Gangster Disciples leader Larry Hoover, the famous abortion clinic and Olympic bomber Eric Rudolph, and a few murderous terrorists. These are guys you would not bring home to mother. Florence was designed as escape-proof to hold the worst lifers, described as "a very small subset…who show absolutely no concern for human life."
All Florence inmates are in solitary for 23 hours a day. One inmate has been in solitary for 23 years. Some prisoners scream and bang on cell doors for hours each day. All furnishings are made of steel. On any given day 80,000 US inmates are in solitary confinement. The cells at Florence are 12X7, a single window 3 ft. by 3 in., have concrete slabs covered by thin mattresses, and are graced by built-in TVs and showers. All meals come through slots in doors. Cells are placed so prisoners cannot see or hear each other. Interactions between inmates, guards, counselors, and chaplains take place through slots in doors. Inmates can go for days without having a single word spoken to them. Warden Robert Hood once told an inmate: "This place is not designed for humanity. It's a clean version of hell." No one can walk in the halls. The "gym" is a windowless individual cell with a chinning bar. The site of the prison was scraped clean of any trees and plants so prisoners have no place to hide behind. Razor wire and guard posts are everywhere.
How Prisons Become Cuckoo Nests and Asylums
Because of a lawsuit the Bureau of Prisons had to allow a forensic psychologist to examine and survey Florence inmates for mental problems. She determined that 70% had at least one serious mental illness. The 500 prisoners are served by two psychologists and one part-time psychiatrist. Inmates have swallowed razor blades. Some inmates have been shackled to their beds for days or weeks lying in their own waste. One inmate ate his own feces so often the staff psychiatrist made a note of it only when he ate it with "voracity." One inmate slashed his throat with a razor so severely he had to be rushed to a local hospital. Upon return he was given a mop and bucket and ordered to clean up his own blood. Another inmate, who regularly heard from God and often sent threatening letters to President Clinton, put a tourniquet around the base of his pinkie finger, chopped the rest off, and then ate his finger with a bowl of ramen noodles. Prior to this event, he had been a vegetarian for several months.
There are 216,000 inmates in U.S. federal prisons with 10 percent receiving medication for depression, bipolar disorders and acute schizophrenia. The feds spend $36.5 million on drugs for over 20,000 inmates, and 45% of all federal inmates have a mental problem. The federal prisons are 43% overcrowded so the US Sentencing Commission has made 50,000 fed prisoners eligible for early release.
The United Nations has considered that anything more than five days of solitary confinement is torture or cruel and inhumane treatment. A psychology professor at the University of California has research on solitary confinement which indicates that ten days of solitary results in very negative psychiatric conditions. The story of an inmate in a maximum security prison in solitary for 25 years illustrates many points about how our judiciary and prison system treats prisoners. A prisoner in solitary began to feed an injured mouse in his cell. The mouse did not have the use of its back legs so the inmate built a little chariot out of Styrofoam, sticks, and cloth. The mouse soon learned to move around on the makeshift wheels. The mouse and the inmate enjoyed each other's company. A guard discovered the mouse and killed it. Why? What's the purpose? The inmate said: "I had three dogs I loved when I was growing up, and I loved Mouse every bit as much as I had loved them. For the months he had been with me (in solitary) he had been in good company in a place that can be a lonely world, and I miss him dearly." I repeat: why? In Norway's maximum-security Halden guards socialize with inmates every day in casual conversation and often have tea, coffee, and meals with prisoners. Guards often play cards with prisoners. Very few surveillance cameras are used and prisoners often move to training centers and workshops within the prison yard by themselves. Sure, Norway has only 3,800 prisoners in its entire system while the US has 2.4 million. Norway has a population of 5.08 million and the US has 313 million. The chief difference in the treatment is that Norway authorities believe that interpersonal relationships between guards and inmates is the primary factor in maintaining safety within the prison. That sounds like a good idea—even if it comes from a foreign brain.