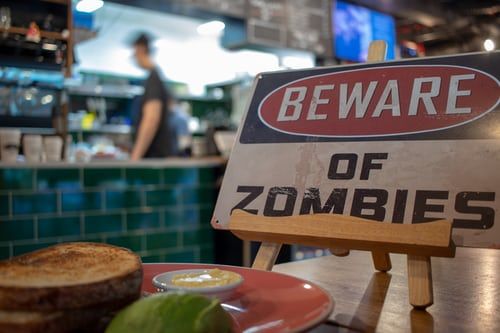 The New Normal: The Senate Of The Living Dead
In the 1968 film classic The Night Of The Living Dead, the dead have come back to life and are marching through forests and farms looking for food. They look just like us except for the eyes, the drooling, and the rotten tattered clothes they wore in their caskets. Driven by instinct and ravenous appetites, they are carriers of an infection that turns the people they bite into more zombies. Reminds me of the Trumplicans in the House and Senate of the U.S. Congress.
We presently have a couple hundred million Americans who are either hungry, sick or dying from COVID-19, without health insurance, waiting in long lines at food banks, facing eviction or foreclosure from their homes, or maxing out credit cards and retirement savings to put a roof over their heads or food on the table. What is the Senate doing? It's on a month's vacation! The House passed another bill to provide some help to the victims of our pandemic. Senate majority leader Mitch McConnell is home raising campaign funds for his re-election. The three North Dakota mouseketeers, Hoeven, Cramer, and Armstrong, are not even squeaking about the situation.
Madeleine Olson of Michigan, threatened by many aspects of the pandemic, is blunt: "I blame Mitch McConnell the most. To watch these people (the Senate) who never have to worry about a dollar in their lives, go on vacation for a month without even thinking about the fact that people are going to be homeless and dead at the end of it, because they want to take their vacation, it's crushing. I don't even know if they realize what's going on, because they can't see it." Actually, the zombies went back home to infect more voters.
This Country Isn't Going To Hell—It's Already There!
Remember that scene in The Godfather when the guy wakes up and discovers the bloody head of his race horse on his bed? H e realizes immediately it's a death threat from the Mafia. Our present militia and gun culture fanatics aren't using horse heads to threaten us, they are using Hawaiian shirts, AR-15s loaded with magazines and drums, armored vests, caps with militia insignias, and flags with various messages as they strut the streets and halls of capitol buildings--or ride in the back of Trump campaign pickups shooting paintballs at protesters. The gun culture has sold three million firearms and millions of rounds of ammo to go with them since the end of March. Gun stores say they are short of firearms and ammo now! We have to face the fact that we are only a few trigger-pulls away from a national disaster. Smith & Wesson doubled its sales to $230 million so far from 2019, admitting sales were due to the pandemic, civil unrest, and the election. Joshua Powell, Wayne LaPierre's former chief of staff, admitted the NRA was "rife with fraud and corruption." The gun culture kills over 100 and wounds 350 Americans of all ages per day—and it's only going to get worse. The millions of "thoughts and prayers" said about victims has resulted in thoughts forgotten and prayers unanswered.
It has come to this. We have the Trumplican cult wearing Boogaloo Hawaiian shirts and AR-15s during Black Lives Matter protests and going without masks or spacing during a world-wide coronavirus pandemic. That's beyond crazy. It's zombie life. Maybe the Trump campaign should stick to two-boat lake parades. I see four parade boats were sunk while parading around a Texas lake. Something about not obeying safety rules. Maybe hugging the Bible and a loaded AR-15 at the same time doesn't rhyme.
We're Flooded With Firearms, Militias, Viruses, And Bodies
I have been keeping files on anti-government and right-wing militias since North Dakota anti-taxer Gordon Kahl refused to pay his taxes because the Internal Revenue Service was controlled by the "Synagogue of Satan under the 2nd plank of the Communist Manifesto." A decorated tail-gunner in World War II, Kahl owned a 400-acre farm in Wells County. He spent time in Texas working in the oilfields and started the Texas branch of the Posse Comitatus. He served eight months in prison and was fined $2,000 for not paying his taxes. His claim to fame was killing two U.S. Marshals at a ND shootout when they tried to arrest him for violating firearm laws. He was later killed in an Arkansas shootout, a state known for anti-government groups.
The anti-government movement was fostered by the Branch Davidian shootout near Waco, Texas in 1993. They thought President Bill Clinton was preparing to take their weapons. In 1996 authorities counted 858 anti-government groups. Timothy McVeigh, the Oklahoma federal building bomber who killed 168 people, was a member of a Michigan militia. Michigan currently has more than a dozen militias, some with thousands of members. Most of them engage in paramilitary training.
What Can We Do With These Men And Women?
Facebook recently closed down over 100 Boogaloo accounts representing organizations all over the country. In 2017, during the first years of Trumpistan, the Southern Poverty Law Center identified 689 anti-government groups, including 273 militias. The western states are loaded with militias that use the term "Patriot" in their names. Most of them oppose Latin American immigrants, Muslims, blacks, gays, federal regulatory agencies such as the IRS, the Bureau of Land management, the Environmental Protection agencies, and the FBI, and, of course, gun controls. Several militias believed that the Obama Administration had concentration camps in Texas where thousands of citizens would be held and "rehabbed." Does anyone have an answer to get these organizations to voluntarily disband? Don't they realize 330 million diversified people in a country spread around the world need a functioning government?
A militia member likely believes freedom is not wearing a seat belt or helmet. If he considers himself a Christian, he likely believes the Christian Identity genesis that God created blacks and browns to serve whites. He might be a Bible Hugger who believes every word. He probably thinks it's OK for my Marine Corps to be 43% black but has only two generals out of the top 42. If he is Catholic, he likely believes gays are "intrinsically disordered." Fox News has convinced him King Donald is a good businessman. He is anti-contraceptive and anti-abortion—as if that makes any sense. He enjoys going to Black Lives Matter protests carrying AR-15s and loaded magazines to intimidate. He most likely believes his sheriff is a Constitution expert who has declared his county a "Second Amendment sanctuary." Above all, he does not wear a mask so he will always be identified as a Trumplican. Gee, I wonder why the nine states with the highest virus rate per capita are all Trumplican…..
I will repeat a line I used earlier: "We are only a few trigger-pulls away from a national disaster." During a protest in the Michigan capitol, white militia members intimidated legislators on the floor, some of them black. The next day three black firefighters armed with AR-15s and handguns escorted a black legislator wearing an armored vest to her seat on the floor. That was a clear message. Blacks are now forming militias across the country. Knowing the blacks I had in my Marine machinegun platoon and rifle company, I'm a little surprised they have waited so long.
What Ever Happened To The Republican Party?
The now extinct or endangered Republican Party used to be a strong coalition of various interest groups: moderates, conservatives, a few liberals, and many corporate business interests. Let's take a look at these planks in the 1956 Republican Party platform:
** "America does not prosper unless all Americans prosper."
** President Dwight Eisenhower: "Labor is the United States. The men and women who with their minds, their hearts and hands, create the wealth that is shared in this country—they are America."
** The protection for the right of workers to organize into unions and to bargain collectively is the firm and permanent policy of the Eisenhower administration."
** "The Eisenhower Administration will continue to fight to assure equal pay for equal work regardless of sex."
** "We condemn illegal lobbying for any cause and improper use of money in political activities."
** "The Republican Party commits itself anew to advancing the rights of all our people regardless of race, creed, color, or national origin."
** "The Republican Party supports an immigration policy which is in keeping with the traditions of America in providing a haven for oppressed people, and which is based on equality of treatment, freedom from implications between racial, nationality, and religious groups." Perhaps the North Dakota Three Mouseketeers could tell us why they don't support these party planks in 2020.
We Should All Be Worried About Accidental And Deliberate Trigger-Pulls
With over 400 million firearms flooding every state of the union causing 450 Americans to be wounded or killed every day, all of us have to be concerned about the gun culture virus. We never know when we will be struck down. Here's a few examples of the gun virus infecting us:
!. Steven LaCourse was at a Toledo bar when Vashawn Dixon got upset over how the bartender made a Black Russian. LaCourse tried to lighten the mood, but Dixon took exception and shot LaCourse. He bled to death on the bar floor. They hadn't known each other. His obituary described him as "being the life of the party." (Even Wyatt Earp did not allow "sixguns" in Tombstone bars.)
2. In North Carolina a father picked up his son, whose foot hit his father's holstered pistol. It fired and hit his mother in both feet.
3. In North Carolina two best friends argued while drunk. One shot the other in the face.
What will happen when black and white militias exchange gunfire at a protest march, even if an AR-15 fired by accident starts the exchange?
Susan Glasser of the New York Times has been around Washington for a long time. Her analysis: "I can't think of a time when Democratic Washington had less in common with Republican Washington, or when they were less on speaking terms. And then there is just the nuttiness of trying to cover this moment: the rage-tweeting, the nasty nicknames and schoolyard bullying from the president; the incredible flip-flopping by Republicans who called Trump a kook and a loser but now clamor to play golf with him; the turmoil, backstabbing; and the enormous turnover within the most powerful institutions of government, a flood of lying that has tested the press and the public's ability to process all the misinformation. No previous American president called the press "the enemy of the people." Trump is at more than 20,000 lies."
So long, Republican Party, it's been good to know you at times. Hello, Trumpistan. So Trump wants to join other presidents on Mt. Rushmore. There's no room. But Devil's Tower in Wyoming is actually in the Black Hills range. I suggest that the evangelical Christians who elected him pay for the carving of a large middle finger or a teenie-weenie penis out of the rock---and put up a gold Trump sign near the top of the 857 ft. national monument so we remember this disaster.