Are you ready for a revolution?
by HPR Contributor | .(JavaScript must be enabled to view this email address) | Last Word | March 11th, 2020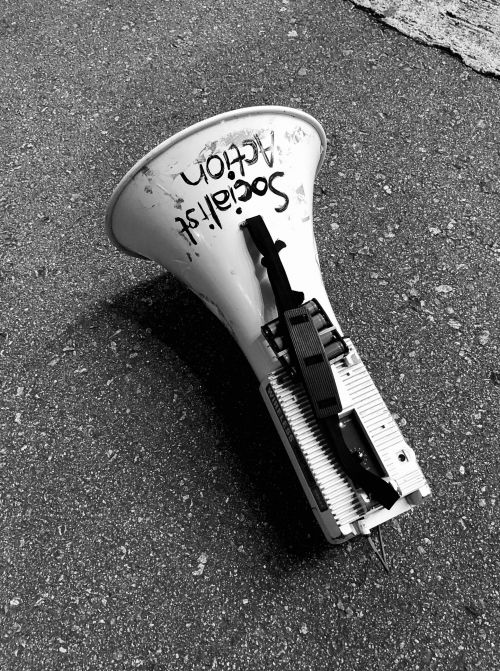 by Waylon Hedegaard
retiringwithcats@gmail.com>
As we all can see, battles are raging for the soul of the Democrat party. Who are we? Who are we becoming? Who do we want to be?
Many want a return to the elegance and decency of the Obama years, and that option certainly has its attractions. Who wouldn't want a highly educated, thoughtful president who constantly reads and improves himself?
Unfortunately, judging by this primary season? About half of us. These progressives do not view a return to the past in a kindly manner. They want change and action, a new direction altogether.
Half want a resumption of the status quo, the other? A revolution.
But do we really want a revolution? Though a good question, it's no longer quite relevant. The real question is are we going to have one whether we want it or not.
Looking at which progressives are for revolution or for the status quo, one can see some clear patterns. Though numerous exceptions exist, most of the people I know who stand against a revolution are older or have a more settled future. They often have good jobs and decent health insurance. They look forward to retirement and know how they are going to educate their children. They have found a way to thrive or at least survive in the status quo. They are not in the top 1% or even 10% but they're likely in the top 50%. They are afraid of radical change because when you have "enough", the fear is always that when things start changing, you may end up with less.
In contrast, those on the lower end of the economic scale have no such fears because they are not thriving now. They are not even surviving. They exist paycheck to paycheck. They are either grabbing at every handhold to stop their long inevitable slide down an increasingly steep economic slope… or they are young and have realized that they started their life at the bottom of that slope.
Our children and grandchildren can't see much hope in the future we are leaving them, and neither do I.
I'm 52 years old and chose early retirement. My wife and I are carefully living off modest savings, and to continue in modest comfort, we need things to stay stable. Our entire position in life should lend itself to caution. Live out our retirement. Don't rock the boat. Keep the status quo baby!
It would certainly be rational.
But the majority of our children can no longer see the same way forward as I had. My own economic paths to success are closing behind me, and few are taking their place. In the last thirty years, the plight of the American Worker has gone from dicey to desperate. Every year, the billionaires and millionaires dominate the government and control more and more of the economic pie.
Think about this. Our children are now paying more and more for educations that in strict economic terms are worth less and less. Every year, American companies demand more from their workers while offering fewer protections, less real compensation and far less overall security. Overseas outsourcing, automation and the gig economy have vastly reduced the number of decent jobs available with terrible results. Every decade, the dream of owning a house or having a secure retirement fades… and nothing takes its place.
Our children don't exist in the same universe that we lived in. We have allowed the forest to overgrow and their only route to the middle class is through the briar patch.
With little doubt, the people we love are losing hope.
As a"progressive" society, a call for the previous status quo appears to be a system where many of us boomers and Gen Xers desperately hold onto our own security by tossing the futures of those we most love into the flames…
And we excuse our behavior by claiming the Millennials just don't work as hard.
Not to mention the fact that as a society, we are rapidly using up irreplaceable resources and causing irreparable environmental harm that our children will have to deal with one way or another. Then we lie to ourselves about the cost.
Though it may harm my financial interests, I will state firmly that we do not need a return to Obama. Though intelligent, thoughtful and decent, his policies continued the vast expenditures on war, on ever expanding prison populations, with too little relief in our draconian drug laws or expanding worker's power. Even under the beloved Obama there was far too little concern for those forever on the bottom 50% of the economic barrel. The ultra-secretive Trans Pacific Partnership is a great example, the largest trade deal in history and workers and their representatives weren't even allowed in the negotiations.
Even ObamaCare in the height of its fevered dream was merely a bandaid put on a terrible system, a band aid that helped more people into a system that still kept all the profits and inefficiencies in place.
To those on the bottom, a return to status quo from the depredations of Trump is like lifting them from being held a foot underwater to just an inch beneath the crashing waves. They're still going to drown. It'll just be a little slower. So our youth do not need Obama light, or Obama plus or Obama a little to the left. Our youth need a future…
As they lose more power to the billionaires and as they grow more desperate, they are going to do what desperate people have always done and burn the system down.
There are several points in history where the powers that be have had to adapt to a changing world. Some of these chose to surrender some of their power and survive and some chose to cling to the status quo and were destroyed. Great Britain under Queen Victoria decided to bow to growing democratic pressure throughout Europe and surrender the bulk of their power to a more egalitarian system. Many of the other monarchies of Europe refused that pressure to their utter demise.
Human beings can tolerate a lot of suffering, but once they lose hope… well that's when things change. In the immortal words of Janis Joplin, "Freedom's just another word for nothing left to lose."
The beauty in that lyric contains a very dangerous core… and there are a vast and growing number of people with little to lose. Desperate people do desperate things. Our country cannot demand loyalty from people it has not been loyal to.
It's not that the rest of us have any power to choose whether we have a revolution or not. That pressure is building, and the boiler is going to eventually rupture. The most we can do is accept the current reality, and do what we can to help. We stand at the crossroads.
So the question of wanting a revolution isn't relevant because it's coming. Whether we are ready or not, whether we want it or not, and whether we can deal with it or not, it's coming.
One can almost hear it scratching on the door.