Charleston more complex than just gun debate
by HPR Contributor | .(JavaScript must be enabled to view this email address) | Last Word | July 1st, 2015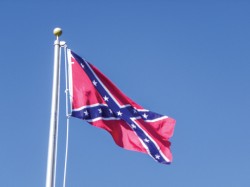 By Dean Hulse
Dylann Roof, the alleged perpetrator of the recent (I dare not write latest) hate crime involving members of Emanuel A.M.E. Church in Charleston, S.C., is quoted as saying he killed nine black people in hopes of igniting a "civil war."
While gun control is an expected topic for reaction to this atrocity, it's not the only subject requiring further scrutiny. Before Roof aimed his weapon, he satiated himself on hatred. And conjuring that detestable surfeit was part of a plan, as history shows.
The so-called Solid South once represented a bloc of southern states consistently supporting the Democratic Party — from the late 1800s (after Reconstruction) up to the mid-1960s. With the passage of the Civil Rights Act of 1964, Democratic control of these southern states began to slip. A case in point: in 1964 South Carolina Sen. Strom Thurmond switched from the Democratic Party to the Republican Party.
As early as 1948, liberals within the Democratic Party — namely, Hubert Humphrey — began pushing for civil rights. This effort led to the reactionary creation of the States' Rights Democratic Party (Dixiecrats), which favored segregation and nominated its own candidate for president that year: then-Gov. Strom Thurmond of South Carolina.
Jump ahead to the 1960s and the Southern strategy, a scheme generally credited to Richard Nixon for gaining Republican support in the Deep South by appealing to regional racial tensions and the history of segregation. In 1964 Barry Goldwater won five formerly Confederate states: Alabama, Georgia, Louisiana, Mississippi and South Carolina. Otherwise, he won only in his home state of Arizona. In 1968, Nixon won Florida, North Carolina, South Carolina, Tennessee and Virginia — all former Confederate states.
Shortly after winning the Republican nomination for president in 1980, candidate Ronald Reagan appeared at the Neshoba County Fair, located near Philadelphia, Miss. In his speech there, Reagan used the phrase "states' rights," which critics believe was a cynical, coded appeal to white segregationists. In the 1980 general election, Reagan carried 44 states — including all of the southern states except President Carter's home state of Georgia. (Note: Philadelphia, Miss., is where in June 1964 members of the local White Knights of the Ku Klux Klan murdered James Chaney, Andrew Goodman and Michael Schwerner. Those three young men were working on the "Freedom Summer" campaign to help black residents register to vote.)
When Reagan died in 2004, Washington Post columnist William Raspberry had this to say: "It was bitter symbolism for black Americans (though surely not just for black Americans). Countless observers have noted that Reagan took the Republican Party from virtual irrelevance to the ascendancy it now enjoys. The essence of that transformation, we shouldn't forget, is the party's successful wooing of the race-exploiting Southern Democrats formerly known as Dixiecrats. And Reagan's Philadelphia appearance was an important bouquet in that courtship."
In 2005, Republican National Committee chairman Ken Mehlman formally apologized to the National Association for the Advancement of Colored People for exploiting racial polarization to win elections and ignoring the black vote.
After the 2008 presidential election, the Tea Party wing of the Republican Party began influencing conservative politics to an extent unequaled since Jerry Falwell's "Moral Majority" in the 1980s. The Tea Party's mantra, "take our country back," begs some questions: From whom? To where?
If the recent murders in Charleston suggest answers to those questions, then the Republican Party still needs to keep the apologies coming.