Essentially unessential: From the eyes of a North Dakota restaurant worker
by HPR Contributor | .(JavaScript must be enabled to view this email address) | Last Word | May 9th, 2020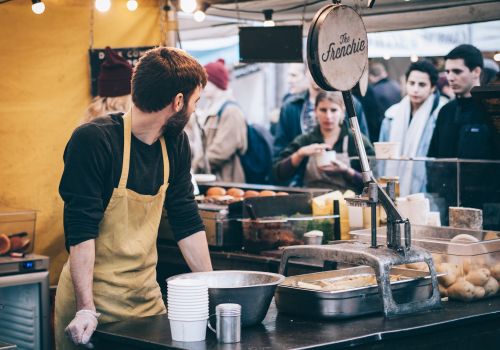 by Michael Str!ke
We got the news just over two weeks ago. The state of North Dakota was going to reopen for business on May 1st. Restrictions and guidelines were promised by both the state and by our own management and owners of the restaurant I work for. I'm a kitchen worker forced to return to work during a global pandemic, and my story is probably like many others.
Like over 60 percent of Americans; I work paycheck to paycheck. I'm lucky enough to work at a place where for the most part, we feel like a family. Friends at the very least. But now my family, both real and beyond, is in danger. We love that we've returned to work. Came back to familiar faces, and familiar feelings. Almost like familiar times. When we need to realize these really aren't familiar times.
The rise of this global pandemic is a documented threat, and there is an overall consensus among the scientific community at large that we are opening too soon and too fast. We have not seen the peak of what will almost certainly be just the first wave of the spread of Covid-19. But we have been told we CAN work. We have the OPTION to work. And at the end of discussions with our district manager, told to stay home if we were scared to put ourselves or others in danger of working. That would've been our choice. and would have put us to the very quick process of financial disaster by no longer working and no longer being able to collect on the small amount of funds they have been trying to boost back through to keep the engine of America moving.
While our family, and the team managers of our restaurant, have been working excruciatingly long hours and bending over backward to try and offset the skeleton crew of a staff that has felt brave enough to work in the public; our district manager and owners have failed to follow through on promises and assurances hastily communicated in a non mandatory 25 minute meeting. We feel that during this time, when we're all in danger of spreading or getting this highly contagious virus, there should be proper compensation for the risks we put ourselves through, as well as stricter guidelines to ensure the safety of our customers and our staff.
We were promised masks that were literally referred to as "pieces of shit" by management and have for the most part taken it upon ourselves to purchase and make CDC approved PPE. With our operations now and our limited staffing it's been near impossible to ensure proper sanitization between the public's use in the lobby. Our lobby is very compact, and the rate of traffic and turnover rate almost daily is too much to clean and sanitize in between a very avid clientele. We were promised limited hours, to help limit exposure as well as workload, and have been forced to work much more to ease the hardships of our limited crew. Even going so far as to plead with employees to stay and work even though they had concerns regarding their own health and feeling suspiciously ill.
The crew of Vinyl Taco are refusing to come into work today, and we have a list of demands that will ensure that we operate as safe as possible for ourselves and for our community that we love to serve.
These requests are as follows:
1) Every employee at the start of their shift has their temperature taken. If temperature is over 100 that employee is sent home and not allowed to return until temperature reads below 100. If an employee calls in with Covid symptoms and is unavailable to work that employee is sent home for 14 days or until tested and proven negative.
2) Everybody that is working or in the kitchen must wear appropriate PPE according to CDC guidelines.
3) Vinyl Taco is a small, high volume, high turnover restaurant. If the dining room remains open we ask that there is either a host or a designated FOH manager that can stymie the flow of guests ensuring social distancing and time to properly clean and sanitize tables, chairs, and pens. We would like the dining room to close at 4 pm and then switch to take out orders only.
4) Employees in the back of the house should make 15 dollars an hour during the Covid pandemic. This is to compensate them for the lack of staff, increase of take out orders, as well as risk.
5) There should be a detailed list of tasks for both front of house and back of house for sanitation. We suggest it be added as shift change cut work. Day crew can sanitize between 3-4 pm and then again for night crew after close.
6) We would like to have a definitive plan of action as to what the restaurant will do if a member of staff tests positive for Covid. We would like to close down for 14 days, testing for employees, and a thorough sanitation before returning to work.