In Intra-Elite Battle: Dems Preferred the 'Stache to the Donald
by HPR Contributor | .(JavaScript must be enabled to view this email address) | Last Word | September 18th, 2019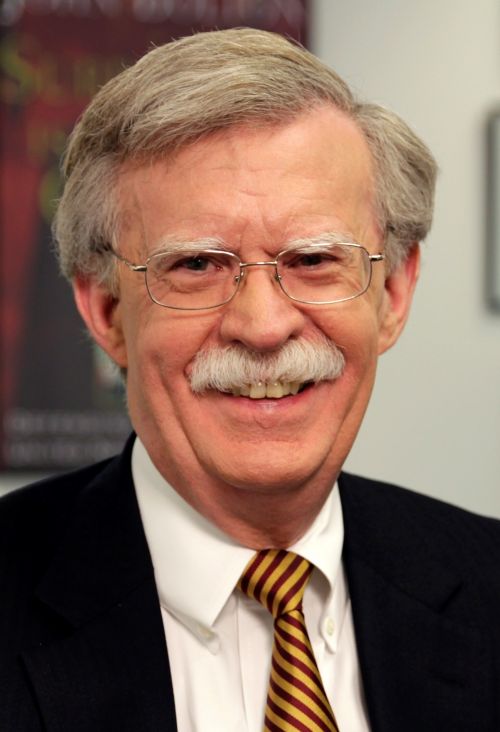 By Gary Olson
olsong@moravian.edu
While actual leftists were elated by Bolton's ouster, corporate Democrats were publicly circumspect and even critical, using terms like, abrupt, chaos in the White House, disarray in foreign policy, unstable situation and even "I'm legitimately shaken."
In part, this response is because expressing unqualified relief would be giving Trump a boost. However, the motives behind these reactions are more disturbing and more sinister. None other than Tucker Carlson pinpointed it when observing that Bolton was "a man of the left." In Carlson's skewed view "the left" means neo-liberal Democrats who are firmly entrenched in the foreign policy establishment. In truth, as Black Agenda Report's Glen Ford notes, Bolton has " legions of soul mates among the Russia-obsessing Democrats." They have more in common with the 'Stache than with the Donald."
If Trump makes a serious effort toward peace with Iran, N. Korea and Afghanistan prior to the election, high-ranking Democrats will vehemently oppose him. Their ultimate nightmare is Trump greeting the last U.S. troops in Afghanistan upon their return to the United States. More seriously, this turn of events would undermine their Bolton-like preferred strategy of protecting and furthering the empire through incessant military interventions. For them, "losing" Afghanistan would be a serious and precedent-setting blow to their globalist imperial strategy.
Trump, who once joked that if Bolton was the ultimate decider, the U.S. would be simultaneously fighting four wars, wants to avoid getting U.S. troops bogged down in endless wars. At his press conference after firing Bolton, Trump said, "John was way out of line on Venezuela" and on North Korea, Bolton "pushed the Libyan model but that was not a good statement to make. Take a look at what happened with Gaddafi...not a good statement to make." Finally, Trump sarcastically spouted, "John is known as a tough guy. He's a tough guy that got us into Iraq. He's that tough."
For Trump, these conflicts are distractions from more important goals like devising a successful strategy to confront China. Further, as Middle East expert Juan Cole asserts, Trump "believes his base is tired of seeing U.S. blood and treasure squandered in the Middle East" and exiting these wars would be enormously popular with his supporters. Needless to say, it would be ego-gratifying and might even garner Trump a Nobel Peace Prize.
Finally, lest I be misunderstood, from the beginning of Trump's tenure there's been fierce intra-elite in-fighting over the best strategy for advancing the American empire and the interests of those it serves. Neither side is remotely concerned with the interests of those here or abroad who suffer the consequences.
[Editor's note: Gary Olson is professor emeritus of political science, Moravian College, Bethlehem, PA]