​In Pursuit of Culture: Bacon and Beer
by HPR Contributor | .(JavaScript must be enabled to view this email address) | Last Word | April 3rd, 2019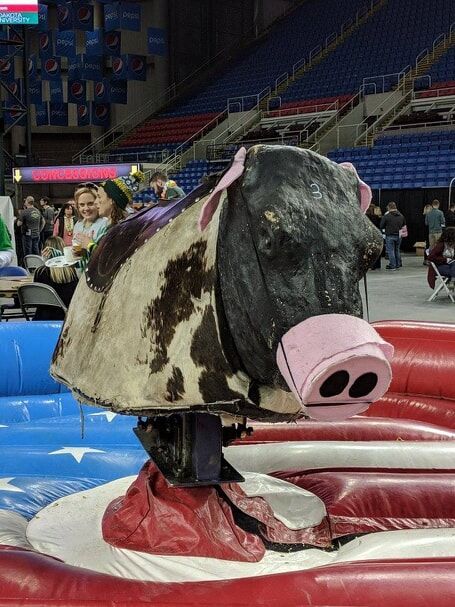 By Zach Nerpel
zachnerpel@gmail.com
Surely, it wasn't lutefisk all the way down, lefse or friendly attitudes. There had to be something more to our Upper Midwestern, white culture. I'd done extensive scientific research into the regions of our Great Country™ which led to intriguing, broad generalizations that we just couldn't match. The East - old America, the melting pot. Commerce and tall buildings. Mafiosos, hot dog vendors.The West - manifest destiny, everything from surfing to rainforests. Silicon Valley. Liberalism and Sasquatch.The South - sweet tea and racism. Large hats and racism. Country music and racism.
But us? Jellied fish made with lye. And perhaps corn farming. All other culture seemed to belong to Native Americans or cowboys, neither of which I could claim wholly. So I decided to set out and find it on my own. What are we? What am I a part of?I had heard about a recurring event in our area, Bernie's Bacon & Beer Festival. Dozens of breweries and distributors vying for your attention with endless samples of alcohol and foods. Hundreds of people in one building, drinking to their heart's content with little supervision. The implications were almost too much to handle and I was giddy with excitement. I decided this was where I would first search for our identity.
It was March 16th, my birthday. We arrived, purchased our tickets, and stood in line under NDSU Bison banners. After a short wait, we were allowed in and onto the ground level of the Dome into a carnival of sorts. There were tents and people everywhere and I realized this place was much larger than I had anticipated. So large that, despite the mass of bodies, there was never a sense that the space was crowded. It was bright, though. Far brighter than the light in which I am accustomed to drinking and this worried me. People tend to restrain themselves when they feel seen, and I wanted everyone at their worst.
I forgot about it at the sight of food. I put some manner of caramel bacon sweet into my mouth and, unsurprisingly, enjoyed it. Everyone seemed to have the same idea, though, as most food items were desserts. It would have been impossible to try them all without contracting the Rot - when your stomach, so fed up with sugars and fats, acts out against you, causing internal panic and unrest. They were all very good, however. Other stalls supplied miniature sandwiches, deviled eggs, tacos, and macaroni and cheese. But I wasn't here for the food, I was here on a very important mission.Much more beer than food was consumed, anyhow. The foods were, in fact, only punctuation marks in the long paragraph of getting drunk. There were two types of people at this event - those who waited in line for a specific drink and those who simply went to whatever was open, acquiring booze posthaste. We were in the latter category at first as our thirsts required immediate attention.
If I were to find the core of Midwestern whiteness, I was going to do it drunk. There was no other way.
There were lagers, malts, stouts, porters, sours, IPA's, blondes, ambers - One that tasted like cigarettes. One that tasted like lemonade. One that had no taste at all! Big names, small names, invented names - names that shouldn't exist. Ciders! Seltzers! And necklaces made of pretzels! But worst of all, there was a mechanical pig in the center of this hoppy orgy. My spirits had never been so high, picturing the bone breakage of a drunk lad dressed in flannel, flying off at sixty or seventy miles per hour in a desperate attempt to prove his masculinity. Yes, that would be incredible.
We continued to walk around, slowing our pace and taking in the beer with more nuance. Some were absolutely dreadful and unfit for consumption. Others were real treats and eye-openers. There were also a lot of familiar beers that I'd had many times in the past. The overall mixture of familiarity and experimentalism was comforting, but I was beginning to fear there was no point to any of this.
There was a lingering in the air that grew every half hour or so: that the climax was right around the corner, hat any minute, everyone would start vomiting at once. Riots would break out over the last drops of alcohol. The mechanical pig would gain sentience and punish us for our astonishing gluttony. My cohort did not agree with me. They suggested that what I was feeling was my own drunkenness steadily increasing, but I wouldn't have it.
There must be more to this, I needed there to be. This couldn't only be a celebration of consumption, could it? A place for people dressed in plaid patterns to only catch a buzz and snag a bite to eat? No, no, no, no, no - this was not good.I began to take in the event for what it was. These people liked drinking beer for reasons other than intoxication. It was unfathomable. It was too much. I would become the storm if we stayed much longer. Recognizing this, my esteemed colleague suggested we call out for our ride. I'd had dozens of brew samples by now and it was time for vodka, which was inaccessible here. And if we didn't leave soon, I'd begin to loudly question why. But something magical finally happened as we began to leave the building. Not a hundred feet away, the much distinguishable sound of shattering glass celebrated itself in my ears.
Finally, the ruckus was starting. Confused groups of people argued loudly over the price of Ubers and Lyfts. The bathroom stalls were filling at a record pace and everyone was all of a sudden smoking cigarettes. Bittersweetly, the funnel clouds were forming as the event was ending.
I came seeking disaster and culture and for this reason, I left feeling disappointed. Those who put together this event knew very well it needed to come to a close when it did. Had it gone on any longer, my awful dreams would have come true… and then I understood something-something I had actually known all along.
Drinking is cultural, of course, but drinking to the point of breathtaking stupor - that is ours.
I knew deep in my heart that if this event carried on for just two more hours, it would have been a shrieking mess. I knew that any event with alcohol in the Upper Midwest, given the right amount of time, would erupt into the familiar chaoses of ravaging political discourse, haphazard sentiments, mental and physical collapses, and wanton mischief. This re-realization hasn't left me as comforted as I'd hoped, in the end, but it gives good reason to try and find different facets of our culture in other unknown situations.
The Bacon & Beer Festival is, shocker, a good time if you like to drink to beer and eat bacon. I wish the lights would have been dimmer and that there were desserts, but overall it was an alright time. You'll be hard-pressed to get better value out of fortyish bucks anywhere else, to be honest. But do not go seeking anarchy. It is not here, unfortunately.