Medical Marijuana: no armored cars needed
by HPR Contributor | .(JavaScript must be enabled to view this email address) | Last Word | November 20th, 2015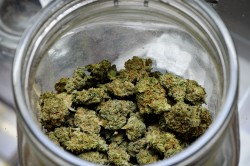 By Rilie Ray Morgan
As Chairperson of the North Dakota Medical Marijuana Committee, I feel compelled to respond to my old college professor, Lloyd Omdahl and his column on Medical Cannabis. Omdahl's comments have some fatal flaws.
In fairness he does have a couple of things right, the first being that the initiated measure was started because of the inactivity of the North Dakota legislature. Had the legislature even considered studying the idea, we would not even be talking about an initiated measure for medical cannabis.
Secondly he says the legalization of medical marijuana is a good idea. Spot on.
But then Omdahl strays. He goes into the woes of how some states are regretting the decision to have medical marijuana.
He quotes car dealer, Steve Zabawa, from Billings Montana, who wants to repeal it even though he originally supported it. Zawaba says that without adequate regulation of the industry "it really got out of control and wasn't about medicine."
While we did use a small portion of Montana's law, the vast majority came from Delaware and to a lesser extent Arizona. Our proposal isn't Montana's law. Our proposal is extremely regulated.
So much so that Omdahl complains that the most serious flaw is that the measure calls for a whole new bureaucracy to control production and to be sure the distribution is confined to people with medical justification.
Well you just can't have it both ways. Complaining about no regulation in Montana and complaining of too much bureaucracy in the North Dakota proposal doesn't make a any of sense. We wanted a well-regulated measure that tells all North Dakota voters we are serious about not letting this get out of control.
He states (and I am paraphrasing) Colorado and Oregon failed to "keep the bad actors out of the business." I believe that those states may be having some problems with the recreational marijuana industry, but we aren't talking about recreational marijuana in North Dakota and I don't believe the "bad actors" will be breaking down the doors to try corner the North Dakota medical cannabis industry.
He quotes PEW research that both California and Michigan are still struggling to put the worms back in the can. What worms? What can? Again how does this relate to North Dakota?
He goes on to say that the initiative passes on Nov. 8, the law will become effective Dec. 8 and if the state health department fails to act within 120 days, petitioners can ask the court for a writ of mandamus to force start of the program, ready or not. Yes, if the state health department decides to sit on this for 4 months and does absolutely nothing, I will personally take them to court. I know the wheels of government turn very slowly but if they can't figure out where to start in four months, it might be time for some personnel changes at the health department.
And since the legislature will be meeting at about the same time this proposal will hopefully become law, they can authorize the staffing levels that will be need to get the law rolling.
He says that North Dakota should not even consider authorizing in-state cultivation of marijuana since it can be purchased from 23 states in the medical marijuana business. In theory that's a pretty good idea but the transportation of medical marijuana across state lines (even medical cannabis) is frowned on by many state governments which don't have medical cannabis laws and by the Federal Government. It's a very impractical idea at this time.
Omdahl also wants marijuana to be sold by prescription solely through pharmacies in the same manner as other drugs. No pharmacy is going to take the risk of losing their license or federal payments by selling an illegal drug in the eyes of the federal government. So that is not going to happen until the federal government takes marijuana off of the Class 1 drug list. Don't hold your breath on that idea.
He closes by saying that the financial beneficiaries will be lobbying in every legislative session to liberalize the rules so they can make more money. Omdahl apparently didn't read the measure that closely. The owners of the compassionate care dispensaries are to be non-profit corporations. Yes, they will need profits to pay for staff, licenses, rents, etc. but they aren't going to be someone needing an armored car everyday to cart away the cash. Plus the legislature has every opportunity to just say no to anyone who lobbies them.
Our committee feels that the North Dakota Compassionate Care Act will provide help to many North Dakotans who are suffering from various ailments. We believe our measure is well regulated and worth your yes vote, if and when we get permission to start the petition drive and the necessary signatures to put the measure on the ballot.