​Memories Of A Darn Good Governor
by Jim Fuglie | .(JavaScript must be enabled to view this email address) | Last Word | April 4th, 2018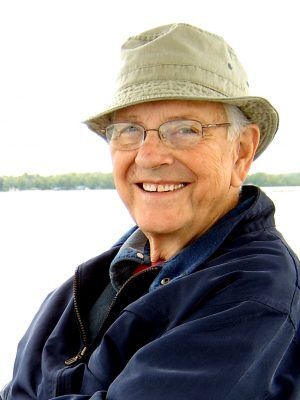 Calm was the day in late July

And bright was the sun across the sky
But inside his chest the calm had broken
Governor Sinner had started croakin'.
I laughed the first time I read that, and I'm still laughing every time I think about it. It's a poem written by a sixth grader from Turtle Lake about Governor George Sinner's heart attack in 1991.
Well, Bud Sinner has finished croakin'. There. I said it. Bud Sinner. That's the first time I've called him anything but "Governor" in more than 30 years. It wasn't just respect for the office that kept me calling him that, it was respect for the man. Our last really good governor. He died March 19, in the presence of his great big family.
Governor Sinner was a careful and thoughtful man. He didn't screw up much. He pretty much got things right. But sometimes he took things on that he wasn't very good at, and had to do a little on-the-job training.
One of those things was hunting. When he came west to be governor from his home in Casselton, he hadn't hunted much, but as a new westerner, he wanted to learn, and he did. He got pretty good at it, eventually, thanks to the patience of a few of his friends and his sons. Here are a couple of my memories.
I was the State Tourism Director when Sinner was governor, and whenever I had an outdoors writer or outdoors television show personality in the state to do a hunting story, I'd call and ask him if he'd like to go hunting with us. He almost always said yes. Not only did he enjoy it, but he saw the promotional value in it for the state. And of course the writers and TV producers loved being able to do a story about going hunting with a governor.
I took a big-time writer to my farmer friend Vern Fredrick's place and the governor came along. There was a little snow on the ground, and the governor didn't own any hunting boots, so he came in street shoes with four-buckle overshoes on. We were walking along Louse Creek when a pheasant got up and the governor shot it. It landed across the creek, which was pretty narrow at that point, and he walked up to the creek bank, set his gun down, backed up a couple steps, and took a mighty leap to get across the creek. He didn't make it, and landed in ankle deep water, just deep enough to get a little water inside his overshoes.
He was game, though. I handed him his gun and he picked up the bird and hunted that side of the creek until we got to a crossing. And hunted a while longer with wet feet. When the story appeared in a magazine, it said "Governor George Sinner cleared two feet of a three-foot creek."
Another time we were hunting the same ranch with Tony Dean, who was doing one his outdoors television shows. Our host, Vern, was taking us from one end of the ranch to the other. Tony and the governor were riding in the back of Vern's beat-up old pickup and the cameraman and I were following behind. As we were driving along slowly on a bumpy two-track trail, a pheasant got up beside the pickup. The Governor raised up his old ten-gauge and shot at it from the back of the moving pickup. By some miracle, he hit it and it dropped into the field.
I swear, in all my years of hunting it was the best (okay, maybe luckiest) shot I ever saw. Two problems, though. He shot it from a vehicle, which is not allowed, and it was a hen. Luckily, Tony's cameras were not running.
He shouted at Vern "Stop, I got it!" Tony leaned out around to the cab of the pickup and said "Don't stop, Vern. It was a hen." Vern kept going.
THE DAY WE LOST THE GOVERNOR
Back in the 1970s and 80s, North Dakota was part of a five-state tourism consortium with South Dakota, Montana, Wyoming and Nebraska, called the Old West Trail Foundation. Governors were pretty interested in the tourism industry in those days, and from time to time we'd have a "Tourism Summit" and the five governors would attend. They were usually held at some nice destination resort and it was a chance for the five of them to get together and visit and relax.
One year we were in the Black Hills, and in the afternoon we had some kind of event up at Mount Rushmore. Governor Sinner's driver that trip was Bob Jansen, his press secretary. There must have been some kind of big dignitary there, because South Dakota Governor George Mickelson, a good friend of Sinner's although they wore different political stripes, made a dramatic arrival in front of the four faces in an Army helicopter.
When the ceremony was over we all headed back to Rapid City to our headquarters hotel, the historic Alex Johnson. Shortly after I got to my room, Bob Jansen called me and said he couldn't find the governor, and asked if he had ridden back from Mt. Rushmore with me. I said no, I thought he was riding with you.
Oh, damn, we both thought, we left the governor up at Mount Rushmore. But we didn't panic. Not right away. Bob said he would go look around the hotel and I said I would make some calls, and if we couldn't find him, we'd notify the highway patrol. I called the front desk, told them who I was, and asked if they would put me through to Governor Mickelson's room. They did, and Gov. Mickelson answered the phone. I told him who I was, and said we had misplaced our Governor, and asked if he had seen Governor Sinner.
"Oh, yeah, he hopped on the chopper with me and we're just sitting here having a martini," Mickelson replied. I thanked him and ran out of the room for the elevator to find Bob and tell him where the governor was. Later, at the banquet, Gov. Sinner apologized to both of us for not telling us he was going back on the helicopter. And told us we should probably keep a better eye on him.
POLITICAL FRIENDS
In the early spring of 1984, four giant Democrats—Bud Sinner, Art Link, Buckshot Hoffner and Walt Hjelle-- were running for the Democratic-NPL endorsement for Governor. They were criss-crossing the state, appearing at each of the District Conventions seeking delegate support. Fairly early in the process, they were all in Bismarck for a district convention, and the five of us were gathered just outside the door after they were done speaking (I was executive director of the Democratic-NPL Party at the time). Link was being driven around in a big van driven by Bob Valeu, but the other three were driving themselves. They were all headed for another convention, in Beulah, I think, and then coming back to Bismarck for the night. Sinner said something like "Guys, it's nuts for us to take four cars up there and back. Why don't you all just ride with me?"
So they all jumped into Sinner's big blue Ford station wagon and hit the road. That story got out, and the legend spread across the country that in North Dakota, there were four candidates for Governor and they were all traveling around the state together campaigning. I don't know how many more times they did that, but it was a great story at the time. Of course, they were all great friends—they had served together in the Legislature (all but Link were actually in the Legislature at the time), and had all been involved in party politics for many years—so they didn't find anything unusual about it. But it made for a great story.
BAD BULL JOKES
Governor Sinner loved to tell jokes, but he wasn't very good at telling them, and he had a hard time remembering them, so he just told the same ones over and over. He was not a man given to foul language, or to dirty jokes, but he felt his "bull jokes" were pretty risqué, and I guess they were, to him. I'll try to write them like he told them. God knows I heard them enough times to get them verbatim. (His family and everyone who ever worked for him is groaning now. You're excused.)
"A fellow over in Minnesota had a prize bull, one of the best in the country, so one Sunday afternoon Janie and I loaded the kids in the station wagon and went to see his bull. We pulled into the yard. It was a hot summer day and there was no air conditioning in cars in those days, so there were kids hanging out every window. The fellow come out to meet us, and I said we were there to take a look at his famous bull. He looked over at my car and asked 'Are all those kid yours?' I replied that they were. He said 'You wait here. I'm going to bring that bull out here and have him take a look at you.'"
"A neighbor had a pretty good bull, and I was visiting with him one day and asked what the secret to that bull was. He reached in his pocket and took out a big black pill, and he said "I give him one of these every day.' I asked him what was in it. 'I don't know,' he said, 'but they taste a lot like licorice.'"
"I heard a story about this guy who had taken his wife out for a drive one day and was visiting a neighbor who had a really good bull. So they went to take a look. The neighbor bragged, while they were looking, that the bull was so good that sometimes they bred him ten times a day. The wife poked her husband with an elbow and said 'Did you hear that? Ten times a day!' The husband turned to the bull's owner and asked 'Same cow?'"
Well, that's a few of my favorite Bud Sinner stories. I hope I got them right. I tried to tell them as I remembered them, but, as a caveat, I'Il quote my friend and famous newspaper editor Mike Jacobs: "Never let history get in the way of a good story."