Of Politics and 'Star Wars'
by John Strand | .(JavaScript must be enabled to view this email address) | Last Word | June 5th, 2019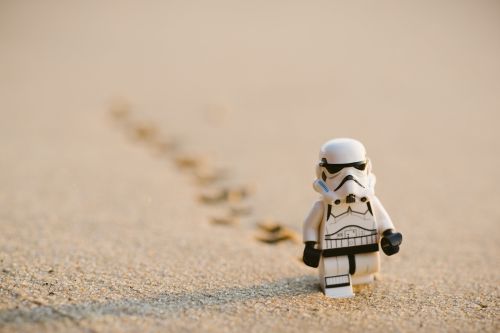 By Zach Nerpel
zachnerpel@gmail.com
Sometimes there is no compromise to be made, especially when those who you presume to level with are those who would lock you up for even questioning their authority. There is no "middle ground" in what has been shown to be an inherently flawed system, completely derelict of moral well-being with regard to The People as a whole. And make no mistake, this is not a Democrat vs. Republican stance. It is not even a Liberal vs. Conservative stance. It is a Left vs... er, it is an anti-Centrist - uh, hmm - it is...
You know what I loved about the most recent Star Wars movie that everyone else seems to cite as its fatal flaw? The casino scene. It gave a glimpse into what a late stage, capitalistic, boring dystopia would look like in a fantastic, intergalactic setting. Strange and privileged people who clearly worked extremely hard for their wealth, gambling away the average person's rent money on one roll of the dice - and hardly even getting a kick out of it. Certainly all these suits earned their wealth squarely. They must deserve it, because they have it. Right?
Very few people seem to understand what "side" they even belong to in this grand and disgusting exhibition of power. They treat politics like a sports game and assume the two views presented are the only two views in existence. Or, even worse, that there is truth to be found somewhere in between them. The fact that there are four well-established and entirely different quadrants of political belief - and that the two choices we are always and only given belong to the same square- escapes people.
I'm not here to explain this, though. I don't even fully understand everything myself and I wouldn't trust anyone else that claims to. I can say, however, there is a difference between a Leftist and a Liberal. Liberals, for instance, are naturally Capitalists. As are Conservatives. As are Democrats and as are Republicans and as are all the spineless, inching caterpillars that claim Centrism and glue them all together with their protective and gross cocoons. You're all one quadrant. One fourth of political ideology that shuts its eyes and considers nothing beyond the darkness and insides of your eyelids. Straight lines that can't be bothered to learn about shapes and whose meals consist of potatoes and sexless marriages.
... And whose butterflies are global wars, suppression of human rights, wage thieving, property seizing, and blame deflection.
It is a "those who 'Have' vs. those who 'Have Not'" stance. Who never will "Have." Who can't even fathom the opportunity to "Have" in a world where, relatively, we aren't talking about much at all. Your six figure income, beautiful house, and gigantic truck pale in comparison to the billions which evil monsters fall into and hoard. Monsters spending money to bend laws and evade giving even a cent back to the people on whose backs their empires rest.
It is a People vs. Monster stance in a world where there are just a few monsters. Monsters who are convinced they are important and have convinced other people that if they support them, they are also important - which turns them into monsters. Humans, entirely forgotten of their humanity. Wearing the same shoes we all put on every day, but using them to stomp their fellow people in some sick attempt to appease or impress the monster masters they are loyal to.
This is not how we all succeed. The terrifying part of this, though, is that a good chunk of humanity does not want everyone to succeed because, as far as they've known success, it has only ever been relative to the failure of others. It is natural for some to assume that, unless they are doing better than someone else, they are not doing well at all. It's a devastating mindset the likes of corporate overlords and vampiric politicians would love for everyone to have. It's a really classic and well understood maneuver which keeps pockets lined and powers intact.
The most important takeaway from all of these rancid and stale insights is that The Last Jedi is not a bad "Star Wars" movie. It has its flaws, sure, but there at least three other "Star Wars" movies that are much worse. As with politics, there is no pleasing everybody, especially when you consider how diverse a country like ours is. No matter what you do, someone is going to be disappointed. But to disparage a movie because it didn't live up to your expectations or match whatever story of your own you had concocted in the vacuum of your skull is senseless and a total waste of energy.
Alabama is becoming a terrifying theocracy and yet I still hear people complain about the prank "phone call" opening of "The Last Jedi" as if the entire series isn't chock full of campiness and embarrassing dialogue. Remember in "The Return of the Jedi" when Chewbacca wakes up a thawed out and blind Han Solo? The bipedal alien bear gurgles about, presumably, Luke Skywalker for half of a second and Han responds, "A Jedi Knight!" How did that gurgling mean that? This remains one of the most confusing and frustrating moments of any movie I have seen to this day. And if you can justify that, you can surely justify anything in this most recent addition. It's just "Star Wars."
And that's what this whole entire thing is about. It's all about "Star Wars." It's "Star Wars" and Applebee's and disappointment and a general lack of political understanding all the way down. What a terrible time to be alive when every election is a choosing of a lesser evil and I get into lengthy arguments once a month about an extraordinarily silly space opera and Amazon paid $0 in Federal Income Tax last year and I stubbed my toe today. These are all somehow related, I'm sure of it. They must be, I just don't know how yet.
It's probably the government's fault. Or maybe it's our fault for allowing it be the government's fault. Or maybe it's my own fault for not looking where I'm walking. These are confusing times.