RIP, North Dakota Democratic-NPL Party
by Jim Fuglie | .(JavaScript must be enabled to view this email address) | Last Word | November 14th, 2018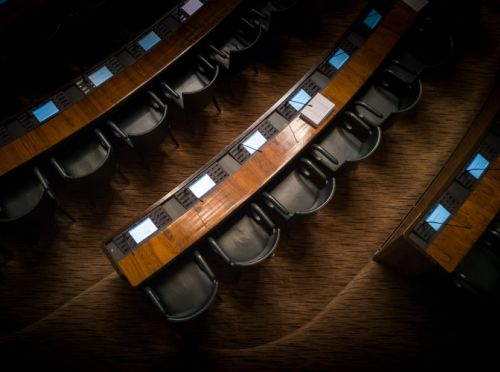 For all intents and purposes, the North Dakota Democratic-NPL Party is bankrupt. North Dakota is now a one-party state. That's sad. Because it wasn't so long ago that we had an active two-party state government. Now the Democratic-NPL Party has ceased to exist. It is no longer competitive in elections. It no longer plays a role in governing North Dakota.
This is the party created by some visionaries and patriots when North Dakota's Democrats merged with the Nonpartisan League in 1958 and elected our state's first-ever Democratic-NPL Congressman, Quentin Burdick.
This is the party of Quentin Burdick and William Guy, elected U.S. Senator and Governor in 1960, Guy serving as our governor for 12 years and Burdick as our Senator for 32 years.
This is the party of Rolland Redlin, North Dakota's second Democratic-NPL Congressman, who we sent to Washington in 1964 to represent us as Congress passed landmark legislation including the creation of Medicare and Medicaid and the Voting Rights Act, and who came back home and served 27 years in the North Dakota Senate, where he was known as the Senate's greatest orator.
This is the party of Arthur A. Link, our third Democratic-NPL Congressman, who served one term in Congress after being elected in 1970 and then came home to serve as our Governor, becoming the champion for protecting our landscape and our environment by giving us the strongest mined-land reclamation laws in the country and developing our lignite industry in a cautious, orderly fashion.
This is the party of Backes, Buckshot, and Barth, and of George Sinner, Byron Dorgan, and Kent Conrad, strong leaders who gave us a Coal Severance Tax and an Oil Extraction Tax, providing funding for the creation of the best elementary, secondary, and post-secondary education system in America.
This is the party that gave us leaders in government like Bill Heigaard, John Schneider, Rick Maixner, Bruce Hagen, Walter Christenson, Byron Knutson, Wayne Sanstead, Roger Johnson, Tracy Potter, Jim Kusler, Myron Just, Lloyd Omdahl, Robert Hanson, Glenn Pomeroy, and his brother, Earl Pomeroy, our fifth and longest-serving Democrat-NPL Congressman.
This is the party that used to head for Valley City to find strong leaders like George Gaukler, David Strauss and Gorman King to run the party operation.
This is the party that recognized women as equal partners in government, the party of Corliss Mushik, the state's first female Assistant House Majority Leader, and Tish Kelly, the state's first female Speaker of the House, Ruth Meiers, the state's first female Lieutenant Governor, and the party of Sarah Vogel, our state's first female Agriculture Commissioner, and Heidi Heitkamp, our state's first female Tax Commissioner, Attorney General, and elected U.S. Senator, and the party that appointed our state's first female North Dakota Supreme Court Justice, Beryl Levine.
This is the party that filled at least one of our U.S. Senate seats continuously for nearly 60 years, from 1960 to 2018, and both of those seats for 24 years, from 1986 to 2010.
That WAS the North Dakota Democratic-NPL Party, a once-proud party now relegated to the ash heap of history, a party now existing only in the clutter of just a handful of Legislators in a Capitol completely dominated by Republicans.
Whether or not it will rise from that ash heap to once again represent the proud traditions of Prairie Democracy is open to question. Will new leaders emerge? Will old leaders re-energize?
Or does North Dakota head into the future as a one-party state, the reddest of red, with a government once again dominated by the outside business interests that led to the prairie rebellion called the Nonpartisan League which, after merging with the Democratic Party, provided decades of government by and for the people of our state?
C'mon, North Dakota. C'mon, Democrats and Leaguers. Rise up. Don't let these words be your obituary. There are a lot of people cheering for you.