​The chain restaurant: A pillar of Americana?
by HPR Contributor | .(JavaScript must be enabled to view this email address) | Last Word | May 8th, 2019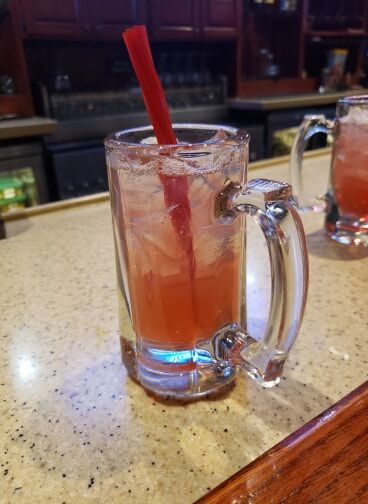 By Zach Nerpel
zachnerpel@gmail.com
Something's amiss.
There is a general uneasiness in the air and the scent comes from too many directions to find the source; a waft in every wind. The same dread one receives when waiting in the principal's office permeates nearly every living being I encounter, especially those included in my Millennial Generation. A sense that something very dire is about to occur but we are too powerless to prevent. Is it me? Us? What have we done wrong to deserve this sensation of peril? We are constantly ridiculed and blamed for everything from the slow death of chain restaurants like Applebee's to the increasingly barren housing market, yet none of us know why. No manner of "Choose Ninety-Nine Appetizers for Ninety-Nine Dollars" deal will make me appreciate Applebee's and I simply cannot afford to buy a house, not even at the age of nearly thirty. I can't afford proper dental care in this supposedly first world and free™ country, let alone land. I am helpless in this respect. We are too soft, they say. We don't rip upward on our bootstraps with enough grit. We make lousy spending choices on things like AirPods and avocados and this is why everything is wrong. It is our fault. Our entire generation is to blame for the downfall of Applebee's, a pillar of Americana -- and avocados are clearly communist.
This was where I had gone on and written a thousand additional words on a particularly troublesome Friday evening about the directionless blame put upon my generation and the anxieties that came with said blame. It was full of too much edge and gloom and other things that had been said and understood a dozen times over.
Instead, I had an epiphany. Time was ripe for me to again pursue culture. Destination: Applebee's, in fact. There are three in Fargo and we would hit them all, I decided. Yes, I would find out about Applebee's and why it is so important. I would find out about culture. I would find out about Dollaritas® that came with their own strawberry Twizzlers straw. I would find out about the American Midwest.--
There were three of us. Three confused and impulsive late-twenty-somethings with good hearts and an appetite for alcohol. It was nearing four or five in the afternoon by the time we arrived at the first Bee's and I ordered a Manhattan for the sake of ordering a Manhattan. The adventure, for better or worse, began.Naturally, we sat at the bar. There were handheld devices loaded with novel video games that were great for our short attention spans. It didn't take too long for us to breeze through every Couple's and Friend's quiz and I began to evaluate my surroundings. To my left, some man in a suit with an earpiece. Clearly important -- I didn't inquire as he would have loved that. On the far right of the bar, an eavesdropping man entertained by our antics but too shy to make the move to include himself -- what I assumed was a regular. Behind us, what looked to be a very well kept restaurant. Everything was made to appear wooden and cabin-like and as inoffensive as possible. There were young couples and one family enjoying…whatever this was.
There was nothing else here. Nothing at all. There were two Manhattans and a beer and that was it. I was on edge when we left for the second location because, so far, I had nothing to speak of. Here, at 13th Avenue, things needed pick up - and they needed to pick up fast.
I was desperately trying to find something that would make this excursion worthwhile and in the process, drinking twice as fast. Another Manhattan. A Cosmopolitan. Don't you dare judge me. Another Manhattan. A tall beer.Somewhere in the middle of this, I came around. I chatted with the bartender, trying to find out the Scoop. Were there regulars? Sure, of course - We were looking at them. Most people at the bar were regulars, I guess. And, indeed - extremely normal people drinking extremely normal drinks and eating extremely normal food. Here they were.
For a moment, this was astoundingly great. Our own camaraderie had gotten to me and I attributed it to the establishment. I was up, up, and away and in love with the Bee's. Perhaps we should come here all the time. Yes! Let's invite more friends. Oh, geeze. There are now four additional people here - one a child. We can't sit at the bar anymore. Move to a table.
What would you like to order? For food?
Uh, French Onion Soup - I'm not that hungry.
Sure, I'll try your quesadilla. Yeah, not bad. Not bad fries either. Burger looks good.
Yeah, it wouldn't actually be bad watching the game here.
So many TVs. Oh, hey, this price isn't too bad.
Thanks for coming out. Nice meeting you.
"Let's get out of here."I said it hastily. We needed to get out of here, you see. We could not stay in this den of mediocrity any longer. There was still, somehow, absolutely nothing to speak of. I had loved it for all of two hours, but it had become enough. We needed to get to the third Bee's posthaste. I was told somewhere in the haze of the second Bee's that this idea, this idea shaping up to be a wash, was not even original. That just last year, a group of young adults toured not only every Applebee's in Fargo, but every Bee's in North Dakota. This only made me more tense. I couldn't fathom it.
The third Applebee's.
Surely, there would be something of note here. It was by the airport and there are all sorts of freaks in transit, all needing to eat French Onion Soup eventually. Alas, nothing. I broke into a rant about the Boomer generation and I am positive that it was not a good look. We were surrounded by them. Boomers on my left, Boomers on my right. Manhattan. Manhattan. Manhattan. And finally - Strawberry Dollarita®. The worst thing I have ever tasted in my entire life is the Strawberry Dollarita®. It coated the teeth worse than SunnyD and rotted the stomach worse than three entire packages of Fun Dip. But that was all.
Every Manhattan I had was a good Manhattan. And every beer I drank was reasonably priced. All the food I ate was Fine. Everyone around me was exceedingly Normal. But I can't effectively describe how mind numbingly Nothing all of this was. It is simply Applebee's. Even the people. They are Applebee's people who live in Applebee's neighborhoods, driving Applebee's cars and trucks - completely devoid of the very thing I sought.
No culture.
Imagine being asked to draw inspiration from a blank sheet of printer paper sitting in perfect lighting. Perfect lighting so there are no shadows cast upon it which may accidentally provoke a thought.This could not have anything to do with Midwestern culture. Because if it did, then it was as I feared - our culture was zilch. Applebee's is the safest version of a restaurant. It is the Platonic form of a restaurant.
So then why are they so damned important? Can people not imagine a world without endless familiarity? Must everything be prepackaged and measured and safe?
Well, sometimes yes. If the entire city was downtown unique and "North of Normal," I'd probably complain about that, too. The Bee's, I guess, is important because many people need to know there exists something that won't fail them. People tired from their jobs or with large family need to know there are places they can go that just work. While casual-dining chains are on the decline, they will always exist. They are simply being leveled out and humbled as more unique places arise but they will never be ousted.
There isn't supposed to be culture at chain restaurants. I was significantly wrong to assume there might be and I will never make this mistake again. The culture at a chain restaurant exists in the people you bring with - and this isn't an article about them.Have a beer, relax, watch the game. Order food you aren't going to be blown away by but probably won't hate either. Just chill in an Applebee's. Chill in neutrality. Chill and don't think about it. But don't even begin to believe, not even for a second, that there is anything important about anything you do here. You're killing time - which is fine. Just fine.One thing to note - as of today's date, there is not one menu item on the Applebee's menu that includes avocado.