The ten year reunion
by HPR Contributor | .(JavaScript must be enabled to view this email address) | Last Word | June 19th, 2019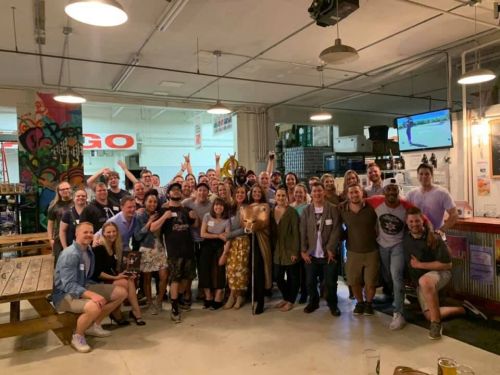 By Zach Nerpel
zachnerpel@gmail.com
I was going by "Zach" on this particular evening. Not like I'd go by anything else in any other situation, but tonight it was determined I'd wear a nametag. I showed up to the Fargo Brewing Company shaky, not from any lack of booze (I don't think), but out of sheer nervousness. Many of the people I was to engage in conversation with, I hadn't seen in ten years. It was a reunion, after all.
I arrived alone and apprehensive, doubting that the amount of alcohol I was planning to consume would be acceptable to these people. In my ever-calculating mind, I had figured a number of roughly thirty beers necessary to properly explain myself in front of the semi-familiars.
You see, I wasn't very present in high school. Not a part of any sports, activities, and for all intents and purposes, a startlingly average student. You also see, not too long after graduation, I rebelled entirely against this mostly nondescript nature and developed a desperate stimulant, egh, "problem" and turned weird for a few years, to say the least. Anyone who had the misfortune of following me on the public forum known as Facebook can attest to this with great credence. All of these things were on mind when I ordered my first beer, drank it, made small talk with no one, and ordered my second beer. I hadn't spoken in earnest with most of these people in high school, so why would I talk to them now? I would find one or two and gradually converse, but mostly I was orbiting aimlessly - very similar behavior to mine a decade earlier. And it would seem, at least up until now, that everyone else was reverting, or maybe even maintaining, their old behavior as well.
The same groups of people that clustered then, clustered now with little overlap. Catching up, filling the air with empty speech bubbles and accomplishing nothing. A few had changed, sure, though not by a lot. But as the night progressed, I started to believe that maybe this wasn't a bad thing and, as the booze mixed with the contents of their stomachs, so, too, did they mix with the other familiar strangers.
I never completely hated anyone in my graduating class. There were a few reprehensibles, sure, but few were here. My class was relatively big, a few hundred, and only an eighth or so were in attendance. And while I may not have been friends with, or even had conversations with, many of these strange bodies, there wasn't anything inherently wrong with them. In fact, shortly after my fifth beer in what couldn't have been any longer than an hour and a half, I began to feel good and realize that I had something in common with a handful of these hazy faces - We were drinking heavily and wondering what we were doing here.
You always hear that ten year reunions are flexing contests and forums in which to tout your accomplishments. Yet, I don't think I heard one person talking about their job when not prompted. I was boozily bouncing from re-introduced head to head and I was having a moderately okay time doing it. When we all decided to migrate to another bar, I took it upon myself to drink into oblivion and try to get what I could for an article out of it. Why not?
Because I am an astonishingly responsible, normal, and respectable adult, I left my vehicle at the brewery and pooled with two others. I was stumbling and extremely charming already, criticizing the amount of space I had in the backseat and very vocally letting them know how difficult it was to get in and out of the vehicle. Off to a great start.
Upon arrival, I ordered a vodka soda immediately. I drank it immediately and ordered a vodka soda immediately, faithfully trusting my instincts and scanning the bar for a worthy muse. Hell, they all looked ripe for my annoyance. The order of events is now prohibitively foggy, but I can say with certainty that I made great conversation with many unfortunate targets. I bought shots, I made promises to keep in touch with many souls that will go unfulfilled. The promises... and the souls.I bought shots, I smoked cigarettes and joked with people who I would never have expected to. To smoke cigarettes… or joke with.
I bought shots, I had a heartfelt conversation with someone who I think really needed it. The shot… and probably the conversation. I bought shots and I very nearly vomited on the bar. Naturally, the next course of action was to go around and ask if everyone understood what quadrant of the political compass they belonged to. This, I am absolutely sure, was not a good look. There is something to be said about people who, when approaching a blackout, can only think to do one thing. The one thing being incessantly prodding everyone on how they feel about every issue in every instance of said issue. Those kinds of people probably have an agenda - probably one that involves telling you that a redistribution of wealth and a heavy tax on the rich is the only thing that will prevent this country from falling further into a capitalistic hellhole, despite your ill sensibilities that everything is Fine.
Those kinds of people go by "Zach" on particular evenings and they blot out entire nights on occasion. They are oftentimes abrasive, especially if alcohol is involved. They are probably worried about at least a dozen extremely strange things they said while on a handful of illegal drugs nearly a decade earlier, and they'd probably apologize if they could remember what they were.
They probably smoked two entire packs of cigarettes despite not being a regular smoker and their last memory is probably standing alone in the bar parking lot, wondering where everyone went before realizing the bar has been closed for half an hour, then proceeding to struggle with ordering an Uber. They probably sludged through work the next day before retrieving their car from the brewery where it was the only one remaining, a testament to their insistence on being the last one standing in nearly every situation.
My ten year reunion was, shockingly, not a bad time at all. I believe it's natural to find difficulty in reconciling our past selves with our current selves and presenting our current selves in front of people we haven't seen in ages. I also believe it's important to understand that, in just ten years, people don't change much at all - they develop. And development is far removed from change.
Coming from a class riddled with trouble, most of it stemming from total consumption by the new opioid crisis, the overall sense of wellness was a welcoming one - fake or not. If you have the strength to maintain an appearance while guzzling drink after drink - that's something. Something every good functioning alcoholic and social anxiety fiend eventually develops.
Oh, also. Why are you having kids already? We're not even 30.