Updating the American and French Revolutions, without Guillotines or Guns
by Charlie Barber | .(JavaScript must be enabled to view this email address) | Last Word | June 22nd, 2020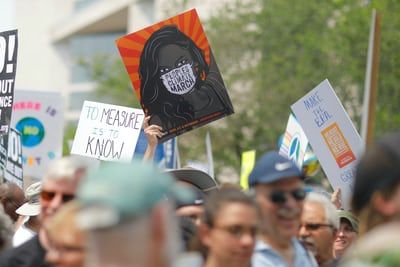 #15 of On Tyranny: Contribute to Good Causes – "Be active in organizations, political or not, that express your own view of life.Pick a charity or two and set up autopay. Then you will have made a free choice that supports civil society and helps others to do good." - Timothy Snyder
"Wanting to be wanted; needing to be needed…"-Rosabella, in Frank Loesser's Most Happy Fella
"The (French) National Convention (Parliament) declares slavery abolished in all the colonies.In consequence it declares that all men, without distinction of color, domiciled in the colonies, are French citizens, and enjoy all the rights assured under the Constitution."- Paris, January, 1794
"Your freedom and mine cannot be separated."- Nelson Mandela to P.W. Botha, 1961
"Just as terror…ruins all relationships between men (and women), so the self-compulsion of ideological thinking ruins all relationships with reality. The preparation has succeeded when people have lost contact with their fellow men as well as the reality around them; for together with these contacts, men lose the capacity of both experience and thought. The ideal subject of totalitarian rule is not the convinced Nazi or the convinced Communist, but people for whom the distinction between fact and fiction (i.e., the reality of experience) and the distinction between true and false (i.e., the standards of thought) no longer exists."-Hannah Arendt, The Origins of Totalitarianism
"…the Tulsa race riot ('massacre') is not a lone aberration rudely jutting out of a saner, calmer past. (Similar events) are part of the histories of Boston, Providence, New York, Philadelphia, Washington, Atlanta, New Orleans, Detroit, Chicago, Duluth, Omaha, Los Angeles, and scores of other cities and towns in every part of the nation…The story of Tulsa is very much a story of America." Scott Ellsworth, Death in a Promised Land: The Tulsa Race Riot of 1921
"We (the United States) are a rich country, with (so many) poor people.It makes no sense."- Joseph Steglitz
"We're only pretending everything is normal because we don't know what else to do."- Naomi Alderman
"You can run from white privilege, but you can't hide from it."- Chicago Dog's tribute toMax Schmeling
German and World Heavyweight Boxing Champion, Max Schmeling, was the only man in history with the courage to step into the boxing ring with Joe Louis (twice) and also say "no" to Joseph Goebbels and Adolf Hitler, when they insisted that he fire his Jewish boxing agent in New York City.Saying "no" to the "Fuehrer" was often a death sentence, but, as a popular "Aryan" hero in Nazi Germany, despite a pummeling defeat in his second fight with the "Brown Bomber" from Detroit, Schmeling couldn't just be dispensed with the usual way.Nazi leadership had to be more creative in disposing of a boxing legend, who was proving to be such a difficult convert to the "super-race." So he was drafted into the German Army and parachuted into Crete as part of the Wehrmacht airborne invasion force in May, 1941. A hero's death in service to the Third Reich would have been useful.But, despite jumping with injured kidneys from his second Louis fight, Max Schmeling survived the jump and the war. He went on to a modest, but financially successful, career as a pro-wrestling referee/celebrity in the U.S.
Joe Louis, though arguably the greatest Heavyweight who ever fought, did not fare so well financially after his fights with Schmeling.Defrauded by his associates, he was near to destitution in post WWII Jim Crow America.He had no friends, black or white, willing or able to help him out.Except, Max Schmeling.His old antagonist in the "sweet science" came to Joe Louis's rescue financially, in an act of grace that is seldom noticed, due to their more spectacular common humanity shared in the boxing ring.Sports can do that, and often does.
It is not only in the world of sports where such gestures occur.And it is not only from a person in position of white privilege to a person of color.I witnessed an act of grace in the other direction this past weekend from a black news anchor and commentator, Msnbc's Joy Reid, towards a white farm couple in Kansas.Ms. Reid was interviewing them about their suffering, due to venality and incompetence of President Trump and Republicans in Congress.As Kansas citizens, impacted by Trump Republican policies, they lacked access to health care, their number one concern, like millions of black Americans.The interview was lengthy, thorough, and depressing.That, of course, is her job.But, at the end, Ms. Reid, revealed a "surprise" she had for them: a taped message from Country Music Star, and longtime supporter of troubled farmers since the 1980s, the late Willy Nelson.I shared the couple's tears at this lovely gesture.
Acts of individual empathy that cross the divide of injustice French revolutionaries described as "aristocracy of the skin," as touching as they may be, are not enough, and never have been in a society as systemically racist as America has been for all of its existence.When Nelson Mandela used the sport of Rugby to reach across centuries of Anglo-Boer racism in South Africa in the 1990s, he needed the cooperation of whites who were sick of the legacy of Apartheid to, at least, begin a new era of massive, "organized empathy" toward a society where white folks, who cannot live in the skins of black folks, could at least try to walk in their shoes.
Sustained, multiracial and multitudinous protests in the United States and around the world, against murderous patterns of behavior by white cops towards black citizens in this country can only result in a "3rd Reconstruction," following the efforts under Presidents Ulysses S. Grant and Lyndon B. Johnson, if "organized empathy" occurs at all levels of criminal justice: municipal, county, state, and federal.I asked my KGB friends if I should dare to believe this could happen.
High Plains Reader: Dear Friends. The Reverend William Barber organized a "virtual," poor peoples campaign this week across racial, class and regional lines.It is digitally in step with the 21st Century, but also spiritually astride great moral movements of the past.The Supreme Court struck down (President) Trump's assaults on gay rights and immigrants.Speaker Nancy Pelosi's George Floyd Justice in Policing Act of 2020 reaches the full House this week. Are we finally seeing a wave of organized empathy from white, as well as black leadership in this country?
Jim Crow XV: Maybe. The policing bill passed on "party lines," which is like saying that the "battle lines" between Democrats and Republicans have been once again clearly drawn, but not decided as long as "Grim Reaper" Mitch McConnell rules the Senate.Most House Republicans, with the exception of the likes of Matt Gaetz (FL), were trying to sound sincere about people of color, but kind words are no longer enough in legislative and executive branches in America.
Mr. Swamp Fox: This bill is serious business if not watered down: no chokeholds, no no-knock warrants, limiting military grade equipment; mandating use of dashboard and body cameras, and more intensive training on racial, religious and discriminatory profiling in law enforcement.
Chicago Dog: Not to mention, a Misconduct Registry for bad cops who get moved around jurisdictions or otherwise protected like pedophile priests among Dioceses in the Catholic Church or sexually abusive coaches at Big Ten Universities.Also, amending the criminal statute from "willfulness" to "recklessness" to better identify and prosecute police misconduct, and reforming qualified immunity so police can be held more responsible when they violate constitutional rights, and more items to make sure that black lives matter as much as white ones.
HPR: Is that why white police officers are starting to quit in large numbers?
Putin: It's easier for them.Many people would rather change occupations than their behavior.
HPR: Can society remain safe if so many cops quit at once?
Rasputin: Likely safer.There are lots of good cops to begin with.However, these good actors have been pushed aside and ignored by police associations defending the bad actors among them.
Mr. Crying Wolf: Also, the Covid-19 economy, made worse by Trump's bungling, has created all kinds of unemployed, but healthy, and trainable young men and women; many with sound, responsible military training, who would be happy to "serve and protect" their own communities; like the National Guard already does.
Lena: Justice for people of color, women, poor people, the weak and the vulnerable have been the rallying cries of bloody revolutions like the English, American, French, Russian, and Chinese upheavals in the past. You still struggle to realize and reconcile the French, and World revolutionary ideals of Freedom (Liberté); Equality (Egalité); and Community (Fraternité).
Señor Perro: Your American Revolution placed limits on arbitrary power in pursuit or prevention of these ideals in your Constitution; thus allowing for lawful enactment of truly revolutionary human ideals.The Covid pandemic has exposed your failures to live up to the lofty words of your forefathers in a highly painful, but educational manner.
Jim Crow XV: Since 1980, Republican Party voter suppression, and electoral indifference have been the greatest threats to peaceful, lawful change in the direction of social and economic justice in the United States.According to David Litt (Democracy in One Book or Less) the number of Americans legally barred from voting has more than doubled, and the odds of a bill passing Congress have reached a fifty year low.But, the biggest problem has been indifference.
Chicago Dog: Not this time.Without a Democratic blue tsunami on November 3 that sweeps both Houses of Congress and the White House, tyranny wins; regardless of what Trump does.
Ms. Recovering Republican Lap Dog: Trump already has shown that he doesn't care what happens to this country by fiddling with his cell phone, while agonized victims of his economic incompetence testified at the White House.He then led another race baiting rally to spread infections of hatred along with Covid-19 in Tulsa, OK.But only 6,200 showed up.This version of "let's you and him fight" was badly overhyped; its failure of some solace to the sane.Milling MAGA supporters, balefully exiting the rally, were themselves baited by Juneteenth holdovers, while line dancing black lives matter supporters in the historically tragic Greenwood section a few blocks away, were having more fun celebrating Barack Obama's "audacity of hope."
Putin: Trump may hope for better violence at his next rally, but he could be facing diminishing returns, having failed to provide any details on a "smart restart" to the American economy, other than begging China to help him out, before jetting out to whine in Tulsa.According to Tulsa law enforcement, there was less violence between MAGA and Black Lives Matter supporters than incidents of bitter rivalry college football games.If these young folks, armed or not, ever start to discuss what they have in common -- joblessness, lack of health care access, deep indebtedness; all due, not to each other, but to Trump, VP Mike Pence, (Treasury Secretary) Steve Mnuchin, (Attorney General) Bill Barr, (Secretary of State) Mike Pompeo, (HUD Secretary) Ben Carson, and (Education Secretary) Betsy de Vos -- Republicans will be caucusing in a phone booth.
Rocinante: Trump indoor rallies, despite such idiocy in a pandemic, are not attended just to soothe his fragile and embattled ego.Up until now they had served to soothe the egos of his bewildered "base," singing an "Archie Bunker" swan song of their dying illusions about supremacy based on "white privilege," forever a swindle on folks without access to gobs of money.But many of their children and grandchildren, cousins and neighbors are no longer with them.They, having rejected the fraudulent dogma of aristocracy of the skin, are with black lives matter protestors for the rest of Trump's Presidency and beyond, demanding an American moral recovery, without which economic and medical recoveries will ring hollow.
Torquemada: Rich Mitch McConnell has long known that, except for an ability to make bad situations worse, Trump doesn't matter as long as money keeps flowing to the rich from the rest of you.The Grim Reaper's only hopes are to sabotage democracy with full on voter suppression, backing by Trump's rabid supporters in Senate battleground States, and coupled with permission to some of his Senate colleagues to shed crocodile tears on behalf of "black lives matter."
HPR: That's so depressing!What can be done?
Chicago Dog: A great deal.Courage is as habit forming as cowardice.Tolerance also can be as habit forming as bigotry.Vast majorities of Americans of all ages, colors and political leanings are exhibiting in the streets, the media, and their neighborhoods that they are ready for this sort of thoroughgoing change.
Mr. Swamp Fox: That leaves it up to "organizers of empathy:" Joe Biden's and Nancy Pelosi's Democrats, Steve Schmidt's and Rick Wilson's Republicans, Bishop Barber's and Indivisible's grass roots organs.Just as "testing, tracing and treatment" are the keys to combatting the Covid-19 virus, "registration, voting; legislative and executive actions" are the keys to combatting the viruses of organized bigotry, venality and neglect.Only by delivering voters in ways that put teeth into legislation and regulations to halt police violence, and compassion into the hearts of those who have heretofore been indifferent to the "least among them," can civilized equity prevail. It is daunting, but Americans have done it before:
Contagious Courage Demands Eruptive Empathy
A Rugby moment in South Africa
Did show Mandela's grace; the world to see.
A single act, collective empathy;
Example for us all in U.S.A.
Max Schmeling did it too; for sake of sport;
And media's Joy Reid, for farmers' sake.
The time has come to put a crucial brake
On bigotry's long run.The time is short.
It has not been enough to just pass laws;
As long as certain cops are left to roam
That do not answer for their heinous crimes.
We still neglect our poor, but flap our jaws
About injustice in our neighbors' home.
We have to change ourselves, to change the times! - Headless Horseman