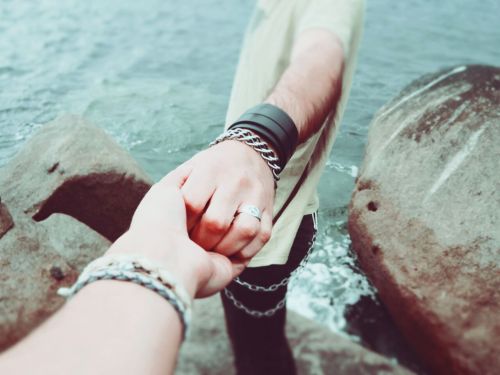 My name is Faye Seidler and I was a trans youth who grew up mostly in rural North Dakota and Minnesota. My parents seemed to move every year, which meant every year was a new school system, and new people. It was hard to really keep any friends, because I knew every year it'd be different people.
I wasn't openly trans or even knew what being trans meant at that age. I didn't have anyone I ever trusted to have that conversation with. I also didn't know anyone who could really help me sort these feelings out. Nobody around me had the tools to really help me process it and so I stayed silent.
In this silence, I suffered.
There was a lot of things that went through my head as the years went on. I didn't have a lot of hope in the future. I never saw a place where I could be happy. I didn't see a place where someone could love me. Every day my body felt more distant and alien, but I kept thinking if I suppressed those feelings, I could be happy. If I pretended I was a normal teenager, I could blend in, and get by.
But I couldn't blend in. I was different, I was quiet, and I was a target. I remember vividly many times when kids would look around the room to make sure the teacher couldn't see, before punching me. They didn't know I was trans and I cried because the only thing I ever did was try to hide and be quiet.
I share this, because I can't possibly know the pain some trans youth in our state feel today, but I can empathize. I know the isolation, I know the despair, and I know what it means to have everything about your body and how people treat you feel existentially wrong. However, I will say this as well.
You can be trans and happy.
I know that's not something I would've just accepted when I was younger, so let me really make a case for it. The first thing is you are absolutely not alone. There are dozens of organizations and individuals throughout this state that want you to send an email or pick up a phone, because we want to listen to you. I'll list them all below. We want to hear about your struggles, we want to provide support, and heck, we can also just talk about a new Netflix series and you can have a normal conversation with someone who just gets your identity.
Not everyone is going to have the best community, family, friends, or school in this state. Some people are not going to have local support, but you will always have people like myself that have your back, no matter what. And it breaks my heart that I can't always do much or sometimes even offer anything substantial to help, but I can always offer a friendly ear.
I promise you the world opens up when you turn 18 and have the option to move to a place where you can actually shine as a person. Fargo has three colleges, hundreds of jobs, and it ain't the worst place to be trans.
I promise you, that no matter how dark your life gets, there is no irredeemable point where happiness is lost forever. We can fight and we can fight together, so step by step this life becomes better.
When I was younger I honestly never thought I would ever be happy. I never thought that life would get better or that I would find someone who loved me for who I am. I never thought I'd live past 25 or be accepted as anything other than a freak. It wasn't until I talked to another trans person, who actually understood me, that I finally had hope. It wasn't until I had a conversation about my gender dysphoria and feelings of wanting to be a woman validated, that I could start to see a real future for myself. It wasn't until someone could see me for who I actually was, that I could start to see myself. And as I transitioned, as I surrounded myself with supportive and accepting friends, all those impossible weights started to feel improbably light and easy. A life that seemed too hard and unbearable, became a place I wanted to wake up in, a place I loved, and a place I wanted to make a difference.
I still have struggles today, especially as a trans activist, but I've never been happier. I've never felt better about my body or more hopeful in my future and the work I do. As far as I know, this state has done nothing to help you and will continue to drag its feet, so we need to help each other.
I do all the work I do today so nobody has to go through what I did alone. And, here are two final thoughts to leave you with: It is not your fault being in an area that does not have the culture or tools to see your authentic self. Second, even if you can't do anything until you're 18, you can still have a very successful transition and a heck of a lot more years of joy than sorrow. I honestly want to hear your story, I want to see you grow, and see what the young trans people of North Dakota do years from now. So, please, stick around and keep sharing your stories with me!
For everyone who wants to get involved in the several initiatives we are starting to make sure all students are safe, please email me at Fayeseidler@gmail.com. If you're already doing something, let me know, so I can connect you with people who want to help!
All the love,
Faye
Support Networks
Trans Masculine Specific Support: FTM Big Brother Group Northern Plains
https://www.facebook.com/groups/169845787054258/
Transgender Specific Support: Tristate Transgender
https://www.facebook.com/TristateTrans/ |Tristatetransgender701@gmail.com |701-404-9955
Grand Forks LGBTQ+ Oriented Support
https://www.facebook.com/UNDTenPercentSociety/ | (701) 777-3000
Bismarck LGBTQ+ Oriented Support, Education, and Activism: | dakotaoutright@gmail.com
http://dakotaoutright.org/ | Dakotaoutright@gmail.com
Minot Trans Oriented Support
Nodaktransgenderalliance@gmail.com
Suicide Hotlines
Trans Life Line: https://www.translifeline.org | (877) 565-8860
This lifeline does not contact emergency services without express consent
Trevor Project: https://www.thetrevorproject.org/ | 1-866-488-7386
[Editor's note: Faye Seidler is the North Dakota Safe Zone Project spokeswoman]