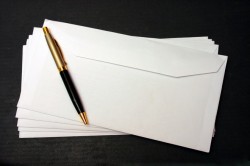 To the editor:
In the online version of the Forum on Sunday December 6 edition sandwiched between editorials by Jack Zaleski about a poetry book of regional and local people describing past memories of Christmas and Jim Shaw's sadness at the loss 35 years ago of arguably one of the most famous contemporary musicians, John Lennon; was a letter listing the reasons for government not supporting public art by city commissioner Tony Gehrig. The contrast in sentiments of that letter sandwich prompted me to create this parody of the 1897 New York Sun's response to a young girl named Virginia, whose friends questioned her belief in Santa Claus.
Dear Editor, I am over 10 years old.
Some of my friends say there should be no publicly funded art.
People say, "If you see it in The Newspaper, it's so."
Respectfully, Anthony Gehrig.
Please tell me the truth, should there be public funding of art?
Anthony, your friends are wrong. They have been affected by the skepticism of a skeptical age. They do not believe except they see. They think that art cannot exist which is not privately supported. All art, Anthony, whether it be men's, women's or children's, is important. In this great universe of ours humans are a mere insect, an ant, in their intellect, as compared with the boundless world about them, as measured by the intelligence capable of grasping the whole truth and knowledge.
Yes, Anthony, there should be publicly funded art. It should exist as certainly as love and generosity and devotion exist, and you know that they abound and give to your life its highest beauty and joy. Alas! How dreary would be the world if there were no public art! It would be as dreary as if there were no Anthonys. There would be no childlike faith then, no poetry, and no romance to make tolerable this existence. We should have no enjoyment, except in the balance of supply and demand. The eternal light with which art fills the world would be extinguished.
Not publicly support art! You might as well not believe in sewer systems! You might get corporate or private entities to sponsor an artist painting a commission, what would that prove? Not all important expressions of the human condition exist in a quantity or form that can be offered for sale or private sponsorship. Is art only for those in large metropolitan areas that garner wealthy supporters? What about the rural areas of America that were the lifeblood of this country? Should they not share in humanity's greatest expressions? Creation happens in a unique combination of active, quiet, educational, spiritual and observational moments. Nobody can conceive or imagine all the wonders that are unseen and unseeable in the world.
No publicly funded art! A thousand years from now, Anthony, nay 10 times 10,000 years from now, humans will continue to make glad the heart of publicly supported art.
So back to the poetry book mentioned by Zaleski and to John Lennon. Maybe both were privately supported by the law of supply and demand or private donations, but in between those two extremes lies the documentation and greatness left to us of the Works Progress Administration's commissioned paintings by many famous painters of the time. Had these works not been commissioned we would not have those national treasures documenting one of the most historically trying times of our country's past. Small towns in North Dakota benefit by publicly supported art in the form of artist residencies, travelling visual art shows, and affordable youth experiences such as Missoula Children's Theater. Arts experiences are not just for those that can afford them.
Respectfully,
Karen Perry-Anderson
Past Board Member of The North Dakota Council on the Arts
Current board member Fargo-Moorhead Visual Artists and The Spirit Room