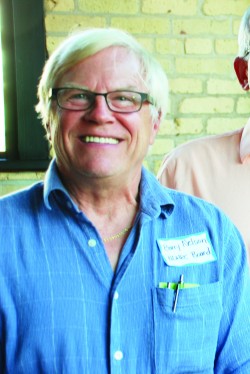 To the editor:
Naive or not, I used to believe that we here in the Fargo-Moorhead area had four reputable news sources to go to for our information and news about local, regional and state happenings. Incidents which have happened in the last several months have caused me to seriously question that belief. Social media has received disproportionate attention lately in the manner in which it is used as sources of information. I recognize how news sources have now turned to social media, not only for news leads, but in ascertaining people's opinions about hot topic items. My concern spiked this week, when someone shared on social media a clip from a local opinion show. The topic was a news lead about the number of refugees coming into the area in the next several months. The premise seemed solid....get the facts about how Lutheran Social Services of North Dakota, the local resettlement agency handles the complex and delicate task of helping victims of war and oppression resettle into our community. The interview was so-so.....it was obvious that the interviewer had an agenda...but--hey, I get it...this is an opinion show. Watching the clip I was horrified by what I observed. It was either a case of sloppy or incompetent information, or a crass attempt to "whip up the troops" in the most negative fashion. As the CEO of LSS spoke about the facts of resettlement, there were images of people obviously coming across the border, of armed guards, holding cells. This was not depicting the faces and pictures of refugee resettlement which is an organized, and legal, attempt to provide relief to people who have been classified as refugees. It was clear that these images would generate fear and hatred. Which is exactly what it did.
My second cause for concern was the response I received when I called the station responsible for this show. He acknowledged that he had not watched the show so he could not address my specific concern. He also clarified that the talk show is not a news program. But, it became clear to me in my conversation that this news director also had an agenda. Even though he stated his purpose is to get "both sides of the story", the types of comments he made to me clearly placed him on the side of not understanding the complexity of our immigration program, and of being extremely negative about the program and the people who are being assisted.
Ultimately my concern is fourfold: we bemoan the fact that, as a country, we are becoming more and more polarized. Now we have the local news industry appearing to feed into that polarization. Second, this kind of programming seems to play to the most hateful and ignorant part of our community. I no longer can read the comments that flow from this station's news stories because of the misinformation and hatefulness. I am embarrassed to think that this is one of the public faces of our community. Third, the boundaries between "hard news" and opinion seems to be continuously becoming more and more blurred. What is news about, putting out leading questions and reporting the responses to those questions as news? More and more this seems to be replacing the hard work of talking to experts, leaders and others who may have more than an opinion on which to base their responses.
Finally, refugees are real people. They care for family, faith and future. They live amongst us, working, going to school, raising their families and starting their own businesses. It is ironic at this time in our community when the number one barrier to business expansion is the shortage of an available workforce, where businesses are being challenged how to figure out how to recruit and retain their workforce with anywhere from 6000 to 10,000 jobs going unfilled, that a very vocal part of our community is denigrating and vilifying one of the solutions before us.
Barry Nelson
-Fargo