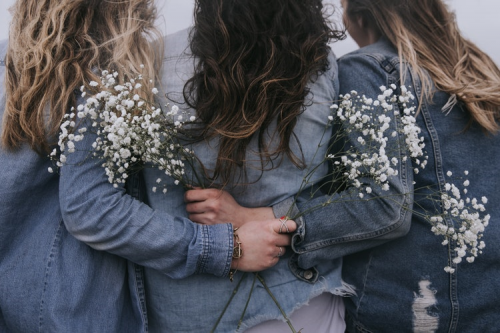 October 4, 2018
Dear Senator Heitkamp,
As a follow up to our Op-Ed respectfully signed and submitted to both you and Senator Hoeven on August 16, 2018 by 41 North Dakota Native Women Leaders, we thank you for voting no on the Supreme Court nomination of Brett Kavanaugh. We also want to thank you again for taking time to visit with us last month while our delegation traveled to Washington, D.C.
We know there is much work to be done moving forward but not one of us can do it alone. We hope to continue to work together in support of one another as we navigate through these challenging times. As mentioned in our meeting with you in DC., every action we take is for future generations. It's very important we continue to build trust and meaningful relationships throughout our communities together for our future.
We, North Dakota Native Women leaders, thank you for taking courage for our future generations, because they matter most. We also would like to thank you for acknowledging that any appointment to the Supreme Court of the United States is important to all citizens; and that the absence of morality and ethics can tarnish the integrity of our judicial system and our country.
We thank you as grandmothers, mothers, sisters, aunts, and Native women for ensuring that our grandchildren will know the value of standing for what is right and that regardless of our gender, we are all created equal.
We thank you Senator Heitkamp, we encourage our other congressional delegates to follow your exemplary leadership.
Respectfully,
41 ND Native Women Leaders
Melissa Merrick-Brady Angel Young Nicole Donaghy Spirit Lake Nation Standing Rock Sioux Tribe Standing Rock Sioux Tribe
Twyla Baker Andrea Denault Ashly Hall MHA Nation Turtle Mountain Band Crow Creek Sioux
Of Chippewa
Prairie Rose Seminole Cedar Gillette Natasha Gourd MHA Nation & Northern Cheyenne MHA Nation & Spirit Lake Nation
Turtle Mountain Band
Of Chippewa
Marlo Hunte Beaubrun Glenda Rush Danielle Finn Standing Rock Sioux Tribe MHA Nation Standing Rock Sioux Tribe
Lisa DeVille Billi Jo Gravseth Jodi Spotted Bear MHA Nation Standing Rock Sioux Tribe MHA Nation
Sandra Bercier Amanda Myhre Kandi White Turtle Mountain Band of Chippewa Standing Rock Sioux Tribe MHA Nation
Sheridan Seaboy-McNeil Tammy Hammer Stephanie Decoteau Standing Rock Sioux Tribe MHA Nation Turtle Mountain Band of
Chippewa
Denise Lajimodiere Cheryl Kary Melanie Nadeau Turtle Mountain Band of Standing Rock Sioux Tribe Turtle Mountain Band of Chippewa Chippewa
Margaret Landin JT Shining One Side Amanda Vivier MHA Nation Turtle Mountain Band of Turtle Mountain Band of
Chippewa Chippewa
Sunshine Carlow Mary Baker Chairwoman Myra Pearson Standing Rock Sioux Tribe MHA Nation Spirit Lake Nation
Linda Bradfield Gourneau, MD Tawny Cale LaDonna Allard MHA Nation Turtle Mountain Band of Standing Rock Sioux Tribe
Chippewa
Anita Charging Kelly Charging Ruth Buffalo MHA Nation MHA Nation & MHA Nation
Turtle Mountain Band of Chippewa
Alayna Eagle Shield Amber Finley Tonya Hertel Standing Rock Sioux Tribe MHA Nation Standing Rock Sioux Tribe
Lillian Jones Wendi Wells Hillary Kempenich MHA Nation MHA Nation Turtle Mountain Band of
Chippewa